HAPPY MOAN-DAY CONTEST FROM INDONESIAN 2020 Jan 31
I write this contest in two languages, Indonesian and English.
I hope that with these two language contests Indonesian Scorumians can understand and participate in this contest.

《English》
The fierce duel between Manchester City and Manchester United in the Carabao Cup on Thursday (1/30/2020) was not only presented on the pitch. The audience was also involved in a fierce feud in the stadium stands.

maintaining trust is harder than getting it.
be the person who can maintain the trust before the trust is gone.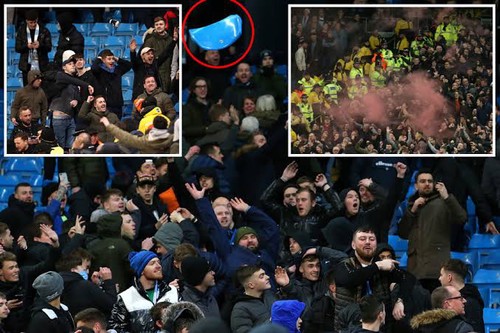 This incident was seen in several video clips spread on social media. Manchester City fans started the chaos by stretching out their arms and making airplane-like gestures.
The business never deceives results.

The gesture touched on the plane crash incident in Munich in 1958. 23 passengers were killed in the incident, eight of whom were Manchester United players.
remember every game there is losing and winning.
not a game if no one loses.
make defeat an experience, and don't stop trying.
your success is in you.
think of defeat as the beginning of victory.
Obviously, Manchester United fans did not accept the incident. As soon as the match was over, they retaliated by throwing the audience seats at the nearest City fans.
today is better than yesterday. and make tomorrow better than today.

rich people can also be poor.
and even poor people can become rich.
Until this news was revealed, Manchester City had not provided any clarification regarding this incident. But the club is believed to crack down on the perpetrators of bad gestures by watching CCTV replays.
even so, it's not natural for us to be enemies.
let's be siblings even though we are different.
It's clear that this incident tarnished Manchester City's success in reaching the Carabao Cup final for the third time in a row. As you know, City are 3-2 on aggregate ahead of Manchester United.
Josep Guardiola has given his comments.
remember the wheels, and take lessons from them.

Despite not knowing exactly about what happened, the Spaniard was not happy with what his own fans were doing.
be a good fan of the people you enjoy
Like Guardiola, Ole Gunnar Solskjaer as the Manchester United boss also cannot accept the actions taken by his team fans. Because according to him soccer is a game that should be enjoyed by everyone.
Regret always comes later, be wise in making decisions, then you will never regret.

well, if in England this incident just happened. but in Indonesia this kind of thing is common and even every time there is a match, there will always be a flying chair. For example a ship in a video game. the latest hit his opponent.
and you should never imitate this bad behavior

《indonesia》
Duel sengit antara Manchester City dan Manchester United di Piala Carabao, Kamis (30/1/2020) tidak hanya dihadirkan di lapangan.
mempertahankan kepercayaan lebih sukar daripada mendapatkannya.
jadilah orang yang bisa mempertahankan kepercayaan sebelum kepercayaan itu hilang.
Penonton juga terlibat dalam perseteruan sengit di stadion.

Kejadian ini terlihat di beberapa klip video yang tersebar di media sosial seperti youtube twietter dan instagram.
Penggemar Manchester City memulai kekacauan dengan mengulurkan tangan mereka dan membuat gerakan seperti pesawat.
ya, membuat tangannya seperti pesawat yang akan jatuh.
Gerakan itu menyentuh insiden kecelakaan pesawat di Munich pada tahun 1958.
usaha tidak pernah membohongi hasil.

23 penumpang tewas dalam insiden itu, delapan di antaranya adalah pemain Manchester United.
ingatlah disetiap pertandingan ada kalah dan menang.
bukan permainan jika tidak ada yang kalah.
jadikan kekalahan sebagai pengalaman,dan jangan berhenti berusaha.
kesuksesan anda, ada pada diri anda.
anggaplah kekalahan sebagai awal dari kemenangan.
Jelas, penggemar Manchester United tidak menerima insiden itu.
hari ini lebih baik dari hari kemarin. dan jadikan esok lebih baik dari hari ini.

Segera setelah pertandingan berakhir, mereka membalas dengan melemparkan kursi penonton pada penggemar City terdekat.
aneh memang,tetapi inilah fakta yang terjadi dilapangan.
Sampai berita ini diturunkan, Manchester City belum memberikan klarifikasi mengenai insiden ini.
orang kaya juga bisa miskin.
dan bahkan orang miskin bisa menjadi kaya.
Namun klub tersebut diyakini akan menindak pelaku gerakan buruk dengan menonton tayangan ulang CCTV.
meskipun kendati demikian, tidak sewajarnya kita saling bermusuhan.
marilah menjadi saudara walaupun kita berbeda.
Jelas bahwa kejadian ini menodai kesuksesan Manchester City dalam mencapai final Piala Carabao untuk ketiga kalinya berturut-turut. Seperti yang Anda tahu, City agregat 3-2 di atas Manchester United.
gagal dalam bertanding adalah hal yang lumrah dan wajar.
Josep Guardiola telah memberikan komentarnya.
ingatlah roda,dan ambil pelajaran darinya.

Meski tidak tahu persis apa yang terjadi, pelatih Spanyol itu tidak senang dengan apa yang dilakukan penggemarnya sendiri.
jadilah penggemar yang baik untuk orang yang anda gemari
Seperti Guardiola, Ole Gunnar Solskjaer sebagai bos Manchester United juga tidak bisa menerima tindakan yang diambil oleh penggemar timnya.
mereka tidak lagi menikmati, sepak bola adalah permainan yang harus dinikmati oleh semua orang.
penyesalan selalu datang belakangan,bijak lah dalam mengambil keputusan,maka anda tidak akan pernah menyesal.

nah, kalau di Inggris kejadian ini baru saja terjadi. tetapi di Indonesia hal semacam ini biasa terjadi dan bahkan setiap kali ada pertandingan, selalu ada kursi terbang. seperti kapal dalam permainan. yang menghantam lawannya.
dan anda jangan pernah mencontoh prilaku buruk ini.

This incident has passed one year in Indonesia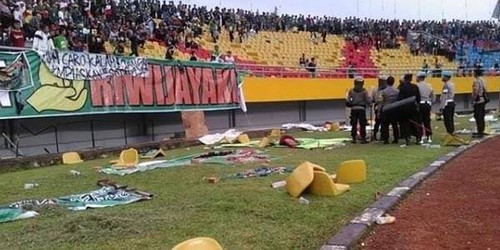 it looks like the virus in country +62 has started to the nearest country.
be careful and stay alert to VIRUS +62
sepertinya virus di negara +62 sudah mulai menyebar ke negara terdekat.
hati-hati dan tetap waspada terhadap VIRUS +62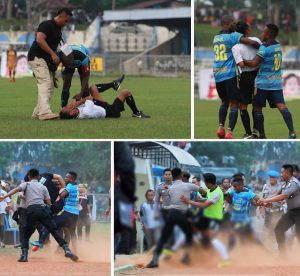 Indonesian Football Field Turns into Fighting Arena
Do not think that there is only noise between supporters, you can often witness the bad behavior of the players when the match takes place and the severity can be watched live on national TV.

Lapangan Sepak Bola Indonesia Berubah menjadi Arena Pertempuran
Jangan berpikir bahwa hanya ada keributan di antara para pendukung, Anda sering dapat menyaksikan perilaku buruk para pemain saat pertandingan berlangsung.
weleh weleh ada ada saja kelakuan anak jaman now.
Behind every kick of the ball there must always be a thought.
*Kamu harus berusaha untuk meraih impianmu. Kamu harus berkorban dan bekerja keras untuk itu semangat adalah jalan yang harus kamu tempuh
*Aku pernah sekali menangis karena aku tidak memiliki sepatu untuk bermain sepakbola, tetapi suatu hari, aku bertemu seorang pria yang tidak memiliki kaki dan aku bersyukur masih ada kaki walaupun tidak ada sepatu
*Sometimes the struggle can be returned with sadness, just hope that sadness quickly recovered.
*Nothing is unbeatable except God and parents. Indonesia can, Indonesia Champion
note
Do not regret the past, do not worry about the future because there is always hope and the best possible for a new beginning. Because it's never too late to start doing good.

scorum is the best
Masa lalu adalah sejarah. Hari ini adalah goresan, hari esok adalah harapan, selamat datang 2020. Seiring perginya kenangan 2019

The past is history. Today is a scratch, tomorrow is hope, welcome 2020. As memories go by2019
You can also find my post at the link below

https://golos.id/ru--blokcheijn/@irak23/happy-moan-day-manchester-united-and-city-fans-chair-throw-chair