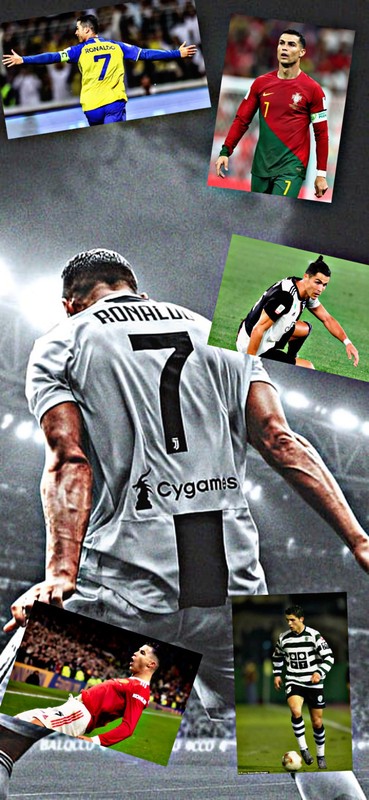 Football is a sport that has captivated millions of fans around the world, and has produced some of the most talented and legendary players in history. Among them, there are a few names that stand out as the best of the best, such as Pele, Maradona, Messi, and Ronaldo. Each of them has their own merits and achievements, and it is hard to compare them across different eras and contexts. However, in my opinion, there is one player who has surpassed them all in terms of consistency, versatility, and longevity. That player is non other than Cristiano Ronaldo.
Cristiano Ronaldo's name resonates through football history, a testament to unrivaled skill and fervor. From humble beginnings on Madeira's shores to becoming the highest-paid player at Al-Nassr, his journey is extraordinary. Let's delve into the riveting tale of the man who redefined football excellence.
The Rise from Humble Beginnings
Born on the island of Madeira, Ronaldo faced early adversity, battling a heart condition that demanded surgery. With unwavering determination, he burst onto the scene with Sporting CP, offering glimpses of the greatness that would define his career.
The Manchester United Marvel
In 2003, Ronaldo's life-altering journey led him to Manchester United. Here, he blossomed into a force to be reckoned with, achieving Premier League titles, FA Cups, and the crowning jewel, the UEFA Champions League. The Ballon d'Or followed, a testament to his unrivaled prowess.
The Galactico Era at Real Madrid
In 2009, Ronaldo embarked on a new adventure, donning Real Madrid's iconic white jersey. This transfer marked a seismic shift, making him the world's most expensive player. His tenure in the Spanish capital was a goal-scoring masterclass, shattering records and etching his name in La Liga and Champions League history.
The Italian Sojourn at Juventus
In 2018, Ronaldo's surprising move to Juventus in Italy continued his relentless pursuit of excellence. He added two Serie A championships and a Coppa Italia to his illustrious trophy cabinet, profoundly impacting both team and league.
The Middle Eastern Odyssey
In 2023, Ronaldo's journey led him to Al-Nassr in Saudi Arabia, catapulting him to the world's highest-paid player. This move showcased his ability to excel in diverse footballing landscapes, propelling the club to victory in the Saudi Pro League.
A Rivalry for the Ages
Ronaldo's footballing journey is inexorably linked with Lionel Messi, two titans of the game. Their contrasting styles, staggering statistics, and global fanbases elevated football to new heights. However, recent statements from both players suggest that the rivalry, while etched in history, has mellowed with time and distance. What football fans are waiting for is the moment Messi and Cr7 will be seated, dinner together in some posh restaurant. Perhaps this may further reduce the back and forth of friendly rivalries traversing the football community.
Comparative Brilliance
While luminaries like Messi, Pele and Maradona left indelible marks, Ronaldo's goal-scoring volume surpasses both. With over 850 career goals and 5 Ballon d'Or awards, he stands as the epitome of footballing greatness. His penchant for hat-tricks and braces is unparalleled, turning games with stunning displays.
A Dream Unfulfilled
Ronaldo's career has been marked by countless achievements and accolades, but there is one that has eluded him so far, the FIFA World Cup. Despite being Portugal's all-time leading scorer and most capped player, Ronaldo has not been able to lift the coveted trophy for his country. His best finish was a fourth place in 2006, where he scored his first World Cup goal against Iran. He also scored in the 2010, 2014, 2018 and 2022 editions, becoming the first player to score in five World Cups. However, he could not lead his team past the quarter-finals in any of them. His last World Cup appearance in 2022 ended in disappointment, as Portugal lost to Morocco in a shock upset. Ronaldo's dream of winning the World Cup remains unfulfilled, but his legacy as one of the greatest players of all time is undeniable.
Perceived Injustices by Football Bodies
Cristiano Ronaldo, known as Cr7, is a highly decorated football player with an illustrious career. However, he has experienced disappointment and controversy over prestigious individual awards. Expressing dissatisfaction, he's been notably overlooked for honors like the Ballon d'Or, FIFA Best Player, and UEFA Player of the Year. Ronaldo's reactions have ranged from anger to sarcasm, particularly when Lionel Messi emerged as the victor. Instances include his absence from the 2019 Ballon d'Or ceremony, where he finished third, and his cryptic Instagram post expressing his desire for more recognition. In 2020, he left the FIFA Best Player ceremony after Messi's sixth win and made a pointed comment about already winning everything. In 2021, his exclusion from the Ballon d'Or shortlist visibly upset him, leading to accusations of bias and unfairness. While Ronaldo's fervent desire for recognition highlights his competitive spirit, it also prompts questions about sportsmanship and humility.
Share of Controversies
Ronaldo has faced his fair share of controversies throughout his illustrious career. In 2018, he was accused of sexual assault by Kathryn Mayorga, an allegation he vehemently denied, asserting that the encounter was consensual. A settlement of $375,000 was reached, but Mayorga later sued, contending coercion. The lawsuit concluded in a private settlement in 2019, as the criminal investigation was shuttered due to insufficient evidence. In 2017, Ronaldo was embroiled in a tax evasion case, accused of concealing €14.7 million in income through offshore companies. Despite maintaining his innocence, he accepted a hefty fine and a 23-month suspended jail sentence in 2019. Beyond legal entanglements, Ronaldo's fiery competitive nature sometimes took center stage. Notably, he tossed a reporter's microphone into a lake during Euro 2016, and in 2020, his frustration led him to exit a game before the final whistle after a disputed goal. Accusations of disrespect towards opponents also punctuate his career, such as when he belittled Iceland's performance in Euro 2016. In 2021, he conspicuously bypassed a handshake with Lionel Messi after a Champions League match. Ronaldo's penchant for avoiding handshakes extended to his own teammates and managers, with notable incidents involving Jose Mourinho in 2012 and Paulo Dybala in 2021. These incidents serve as a reminder that even sports icons are not immune to controversy and emotion.
---
Why Cristiano Ronaldo is the G.O.A.T
Ronaldo's impact transcends statistics. His unmatched work ethic, adaptability, and versatility redefine the game's parameters. From Madeira to Madrid, Turin, and Riyadh, his unwavering commitment to excellence remains his defining trait. In an era of fierce competition, his longevity and consistency set him apart, inspiring generations. In the realm of football, greatness is defined by the enduring mark left on the sport's collective memory. Pele and Maradona are monuments to golden eras, but Cristiano Ronaldo's legacy is a living testament to boundless human potential.
Cristiano Ronaldo, or Cr7 as he is popularly known, is the G.O.A.T (Greatest Of All Time) for several reasons. First of all, he has been consistently performing at the highest level for almost two decades, breaking records and winning trophies in every club and league he has played in. He has won 32 major titles in his career, including seven league titles in England, Spain and Italy, five UEFA Champions League titles, four FIFA Club World Cups, one UEFA European Championship and one UEFA Nations League with Portugal. He has also won five Ballon d'Or awards, the most prestigious individual honor in football, and four European Golden Shoes, the award for the top scorer in Europe. He is the all-time top scorer in the UEFA Champions League with 134 goals, the all-time top scorer for Portugal with 111 goals, and the second-highest scorer in men's international football history behind Ali Daei of Iran. He is also the only player to score more than 50 goals in the Premier League, La Liga and Serie A, and the first player to win league titles in five different countries.
Secondly, he has shown incredible versatility and adaptability throughout his career, playing in different positions, systems and styles. He started as a winger with dazzling skills and speed, but later evolved into a prolific striker with lethal finishing and aerial ability. He can play on either flank, as a central forward, or as a second striker. He can score with both feet, his head, or even his backheel. He can create chances for his teammates with his vision and passing, or take on defenders with his dribbling and pace. He can also contribute defensively with his work rate and positioning. He has played under different managers with different philosophies, such as Sir Alex Ferguson, Jose Mourinho, Carlo Ancelotti, Zinedine Zidane and Massimiliano Allegri. He has also adapted to different leagues and cultures, such as England's physicality and intensity, Spain's technicality and flair, Italy's tacticality and discipline, and Saudi Arabia's novelty and challenge.
Thirdly, he has demonstrated remarkable longevity and durability throughout his career, maintaining his fitness and form despite his age and injuries. He is 38 years old as of 2023, but he still shows no signs of slowing down or declining. He still scores goals regularly for his club and country, breaking records along the way. He still trains hard every day to keep himself in peak condition. He still plays with passion and hunger to win every game. He still inspires his teammates and fans with his leadership and charisma. He still strives to improve himself every day to reach new heights of excellence.
Fourthly, his pivotal move to the Saudi Arabian league in 2023 marked a seismic shift in the global football landscape. Departing from a stellar European career that included stints with iconic clubs like Manchester United, Real Madrid, and Juventus, Ronaldo ascended to become the highest-paid player worldwide, raking in a staggering $120 million annually with Al-Nassr. This move transcended personal gains. Ronaldo's decision was a catalyst for change, a visionary step towards revolutionizing the sport. His arrival in Saudi Arabia ignited an unprecedented surge of enthusiasm, captivating millions of fans across the region. This surge, in turn, inspired a legion of football luminaries to follow in his footsteps, igniting a chain reaction that catapulted the Saudi league to global prominence. Notable names like Neymar, Sadio Mane, Karim Benzema, N'Golo Kante, Jota, Reuben Neves, Jordan Anderson, Kalidou Koulibaly, Fabinho among others, joined Ronaldo in this transformative journey, infusing the league with their exceptional skills, unparalleled experience, and magnetic presence.
---
In conclusion, Cristiano Ronaldo is the G.O.A.T because he has been consistently performing at the highest level for almost two decades, breaking records and winning trophies in every club and league he has played in. He has shown incredible versatility and adaptability throughout his career, playing in different positions, systems and styles. He has demonstrated remarkable longevity and durability throughout his career, maintaining his fitness and form despite his age and injuries. He has surpassed other football stars in terms of consistency, versatility, and longevity. He is a phenomenon that transcends football itself. He is a legend that will be remembered forever.
Postscripts
In my extensive analysis of Ronaldo, I have delved deep into why I firmly believe he holds the title of the Greatest of All Time (GOAT) in the world of football. It's essential to acknowledge that the content I've shared here is entirely rooted in my subjective viewpoint. Just as I respect your right to hold a different perspective, I anticipate that you may not concur with my estimate. What's truly remarkable is the platform we have here, bestows you the freedom and time to express your own viewpoint on who you consider rightfully deserves the title of the GOAT.
---
Sincerely @izge.