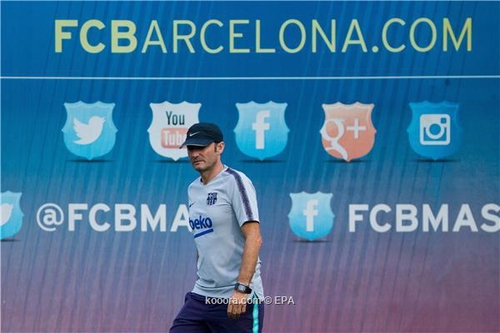 Spanish press reports revealed the squad that Barcelona will face Sevilla with in the Super Cup , next Sunday, at the stadium of Tangier, Morocco.
According to the newspaper Mundo Deportivo, the manager of the Catalan team, Ernesto Valverde, will play goalkeeper Jasper Silesen essential in the meeting, at the expense of his colleague Marc André Ter Stegen.
According to the newspaper, Valverde will play some newcomers to the game from the start, such as Clement Lenglitt, Arthur Milo, and Munir Haddadi, while welcoming several of the team's stars.
The squad came as follows:
Goalkeeper: Jasper Silesen.
Defenders: Gerard Pique - Clement Lengliet - Nelson Simidou - Jordi Alba.
Midfield: Sergio Busquetes - Arthur Milo - Ravinia Alcantara.
Offensive: Lionel Messi - Osman Dembli - Mounir Haddadi.