Feeling human perhaps, after a somewhat tough time Jammerbugt FC, "The Blue Wave" came back on the winning track with a 3-0 win against Tarup-Paarup IF, and then we have had a chat with center back, Nikolaj Lyngø, who has from early next year signed with new-established USL team Hartford Athletic.
Jammerbugt FC were after two away games back home playing at their notorious strong Sparekassen Vendsyssel Arena, where the team from the Danish island Funen Tarup-Paarup IF were visiting. Head coach Bo Zinck had during the week been mentioning that the team was suffering from mental fatigue, but it wasn't showing at all that Saturday afternoon.
Only seven minutes into the first half captain Christian Rye finished a lovely built-up offensive play in the left side. After patiently moving the ball around in the back four a space was created in the left side and after a couple of combinations the ball landed at the edge of the 18-yard box in front of the feet of Christian Rye, who was able with a nicely felt first-time finish to make it 1-0. The Blue Wave kept dominating after the goal and after 41 minutes it became 2-0 by Morten Thomsen. After a change of control at the middle of the field and a lovely weighted pass in between the two Tarup-Paarup IF center backs, Morten Thomsen was alone with keeper Mathias Glintborg and he did not fail. He made a nice dribble past the keeper and secured a 2-0 lead at halftime against a team, who had a numerous of national players in their starting-eleven. Tarup-Paarup IF had five players in the Danish national team squad against Slovakia back in September due to the stand-off between Danish FA and the Players Association.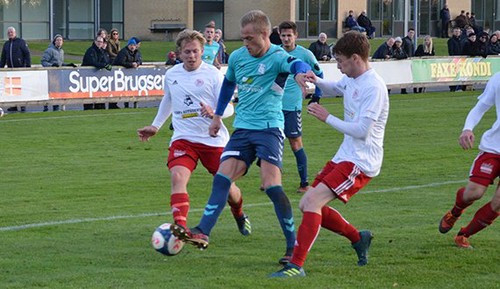 Despite (former) national players Tarup-Paarup IF couldn't strike back and Jammerbugt FC's Viktor Ahlmann conclusively closed the game with his goal to 3-0 after 47 minutes. The rest of the game was characterized by Jammerbugt FC domination and a Tarup-Paarup IF team who seemed like they would like to go home.
Head coach Bo Zinck was brought to shame in relation to his statement about mental fatigue and it was an obvious happy and satisfied coach shortly after the game. He credited the safe win to a mature and powerful effort all the way around:
"We brought so much power and energy into the game, that it became one-way traffic towards their goal".
The three point were massively important and secured a shared overall second place in the 2 division only one point after Kolding IF at the top of the table and one point ahead of Brabrand at fourth place. Brabrand, who last season where relegated the Danish second tier, the Nordic-Bet League, is Jammerbugt FC's next opponent in what will be the last round this fall before the winter-break.
From the Danish third tier to the American USL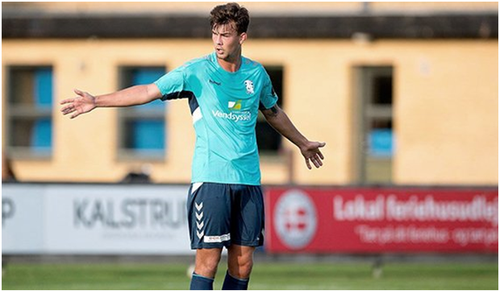 Center Back Nikolaj Lyngø who came this summer on loan from Danish top-flight club Aab are at the end of his loan period at Jammerbugt going the America. He has signed a season long contract with newly formed USL team Hartford Athletics who is based in Connecticut and are coached by former Aab-legend Jimmy Nielsen.

Despite being only 20 years old Nikolaj Lyngø isn't frightened by going to the States:
"I'm very excited for the chance to try a new culture, both on and off the pitch. The city of Hartford might be a relatively small city in American standards, but it's bigger then my current city Aalborg which is the fourth biggest city in terms of population in Denmark".
The comparison sums up what the tall center back can expect when he joins he's new team at the end of January – things are just (much) bigger over there, as an example the daily set-up. The clubs in the USL runs what would be considered a full-time set-up, with training sessions in the morning and overall better facilities. This played a big role in the Danish center back decision:
"The project and the ambition within Hartford Athletic really appealed to me. That the club runs with a close to full-time set-up, makes me confident I can grow and develop both as a player and as a person".
Nikolaj Lyngø became aware of the interest from Hartford Athletic after being approached on the social media Facebook. "One day there was a message from the staff of Hartford Athletic, which immediately made me happy and after a short period of thinking I was sold".
Despite his advantages in terms of height and physics, the 20-year old defender characterizes himself as a modern defender who likes to play out from the back and a defender who likes to take part in the offensive part of the game. Finally, Nikolaj Lyngø expresses great gratitude to his time for loan at Jammerbugt FC, who has prepared him well for his upcoming adventure.
Click on this link to have full video footage from mycojoo on the Tarup/Paarup game.

Jammerbugt FC – Tarup/Paarup IF: 3-0 (2-0)
07' 1-0 Christian Rye
41' 2-0 Morten U. Thomsen
47' 3-0 Viktor Ahlmann
Jammerbugt FC: Emil Kobberup – Søren V. Pedersen, Nikolaj Lyngø, Lasse Steffensen (Simon Jensen), Mads Larsen – Michael Byskov (Nicklas Sørensen), Robert Kakeeto (Anders R. Jensen), Christian Rye, Sead Gavranovic – Viktor Ahlmann, Morten U. Thomsen.
Contributor of the articles of Jammebugt FC - Stats & History
Emil B. Kobberup, goalkeeper and now writing my first article on Scorum, great stuff and looking to do many more.