With the underwhelming first game to kick off the World Cup being between Russia and Saudi Arabia I thought I'd get you riled up in preparation for the real games to come (notably Spain vs Portugal!!) with some of the worst diving, cheating and violent moments that have ever happened in the World Cup. I'm sure you can guess some of them already!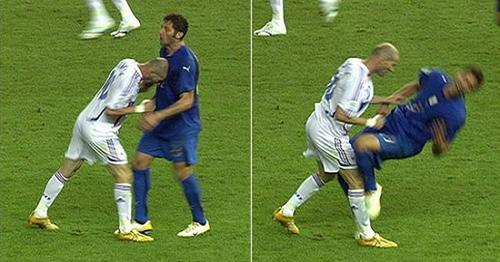 10. Diego Simeone's Dive - Argentina vs. England, Round 16, World Cup 1998
In a case where the referee got the cards completely the wrong way around, David Beckham was given a straight red card for a flick on the leg of Diego Simone when England played Argentina in round 16 of the 1998 World Cup. England surprisingly took Argentina to penalties having survived a whole second half with 10 men but subsequently lost on penalties. But what made this decision particularly bad was the fact that Simone had fouled Beckham with what arguably looked like the far more aggressive challenge and ended up with just a yellow card to Beckham's red. Simone didn't help the matter for Beckham as he dived onto the floor holding his face in agony for just getting tapped on the back of his leg by Beckham's foot - what you would deem a manipulative dive employed for just one reason...get him off!

9. Michael Owen's Penalty Dive - Argentina vs. England, Round 16, World Cup 1998
Remarkably earlier on in the same game as the above Michael Owen dived even worse than Diego Simeone. Atleast with Simeone there was some actual contact with Beckham before he put on his theatrical display. Through the replay video you can see here there is clearly no contact between Michael Owen and Mauricio Pochettino as he goes down in the penalty area. Michael Owen somewhat to his credit atleast admitted later on that he had dived in that game. Perhaps the Beckham Red card was karma for Owen's own cheating?

8. Nigel De Jong's Kung Fu Kick On Xabi Alonso - Netherlands v Spain, Final, World Cup 2010
Netherland's Nigel De Jong came up with a ferocious kung fu kick on Spain's Xabi Alonso in the 2010 World Cup Final. The most surprising part about this is the referee gave De Jong a mere yellow card. Think back to number 10 where Beckham is sent off for a flick on Diego Simeone's leg!

7. Arjen Robben Dive - Netherlands vs. Mexico, Round 16, World Cup 2014
In round 16 of the 2014 World Cup, Mexico were robbed of their first quarter final in 28 years when Arjen Robben decided to dive in the penalty area. The replay of the so called challenge clearly shows no contact between Robben and the Mexican player Marquez. What it does show is that Robben was cheating with his initial reaction to the challenge looking completely disproportionate to the challenge.

6. Luis Suarez Bite on Giorgio Chiellini - Uruguay vs Italy, Round 16, World Cup 2014
In a moment more comical than violent Luis Suarez's bite in the 2014 World Cup on Giorgio Chiellini is more haphazard than effective as he ends up stumbling all over Giorgio Chiellini like a salivating lap dog. He also attempts to cover up his clear signs of biting afterwards by yanking the Italian's shirt back up over his shoulder before he can show the referee. What sums Luis Suarez up in this video clip is after he has finished his incessant biting frenzy on the Italian's shoulder he then rolls around on the floor holding his face in a desperate attempt to avoid a red card - fail!

5. Zinedine Zidane's Head Butt on Marco Materazzi, France vs Italy, Final, World Cup 2006
In the 2006 World Cup Final France's Zinedine Zidane was sent off for headbutting Italy's Marco Materazzi in the chest. It is probably the most memorable head butt you will hear about in soccer even though better head butts have been delivered by the likes of Everton's Duncan Ferguson and Wimbledon's Vinny Jones. Still many wondered years later what caused Zidane to react the way he did and it was revealed in a 2016 book by Materazzi that he had insulted Zidane's sister (not Zidane's mother which many believed to be the case)

4. Fernando Torres - Spain vs. Chile, World Cup, 2010
Fernando Torres performed possibly one of the worst dives ever seen in a World Cup, simply because unlike any other dive he wasn't anywhere near Marco Estrada to even believe there could have been contact. Torres rolled over and covered his face to reveal his complete intent to cheat against Chilli in the 2010 World Cup. What is more amusing is you don't really know whether Torres accidentally tripped over his own foot and then decided to use it as a form of cheating or whether he meant to entangle himself in his own legs from the start.

3. Rivaldo's Dive Against Hakan Unsal, Brazil vs Turkey, World Cup 2002
This has to be the most pathetic dive ever to be caught on camera at the World Cup and one where Brazil's Rivaldo had no shame of doing so right on the corner flag where the crowd had an eagle eye view. Even later after the World Cup Rivaldo was unapologetic for his diving in an interview where he stated.
"I was glad to see the red card," "Creative players must be able to express themselves if football is to stay a beautiful game. There's too much foul play and violence in football. It doesn't matter where the ball hit me. It was only the intent that mattered."

If you watch the video after he gets hit in the hip with the football he jumps on the floor holding his face in agony. Rivaldo managed to convince the referee that the Turkish player deserved a red card.

2. The Battle of Santiago, Chile vs Italy, World Cup 1962
This arguably deserves to be at number 2 due to the sheer number of fights that broke out between Italy and hosts Chile on the pitch. Two players were sent off during the game and the police needed to intervene four times. You couldn't really imagine police coming onto a football pitch to control players these days. Amongst other crazy violent moments in the match a Chilean player Sánchez broke Italy's Humberto Maschio's nose with a left hook, but the referee did not send him off. The two teams engaged in scuffles and spitting but Chile had the last laugh defeating the Italians 2-0.

Emotions were running high before the game due to two Italian journalists writing about what a dump Santiago was. They wrote that "Santiago was a backwater dump where the phones don't work, taxis are as rare as faithful husbands, a cable to Europe costs an arm and a leg and a letter takes five days to turn up", and its population are prone to "malnutrition, illiteracy, alcoholism and poverty. There comments were not well received by Chileans especially since Chile was trying to recover from one of the worst earth quakes the world had ever witnessed in 1960.
1.Diego Maradona, Hand of God, Argentina vs England, World Cup Quarter Final, 1986
It will always land at number one on many soccer top 10 lists of shocking and memorable moments, no matter what dirty antics crop up in future tournaments. There can simply be no other act of cheating greater than Maradona's winning handball goal vs England in the 1986 world cup quarter final.