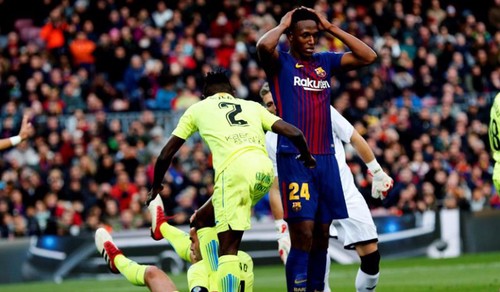 One of the moves left by the last day of the Premier League market was the transfer of Yerry Mina, who is now a new Everton player. The signing was closed at around 32 million euros. It never ceases to amaze me how fortunate Barcelona is, that they could get 20 million winnings from *the worst defender I've seen in the Spanish League.*

I know that many of you Yerry Mina may seem like a good player, but let me tell you that you can not be more wrong. I do not have a hate agenda against this player, but I am very happy that he has failed in a great club like Barcelona, ​​which I predicted since he arrived.
The truth is that Yerry is a frightening defender and I make it very clear in the 8 games he played in Spain. *It is slow, clumsy, has no advance or good placement, is not good with the feet and hand to hand against the strikers always bare all their shortcomings.*
So how is it that someone so bad came to Barcelona? First for his aerial game. I can not deny it, it's very good at that thanks to its great height. In defense he wins all the balls and when he goes to the opponent's area he is a danger, he scores many goals which also made him attractive in the eyes of other clubs. But the other reason, and the most important, why Yerry Mina came to Barcelona is because of the horrible sports leadership of the club culé.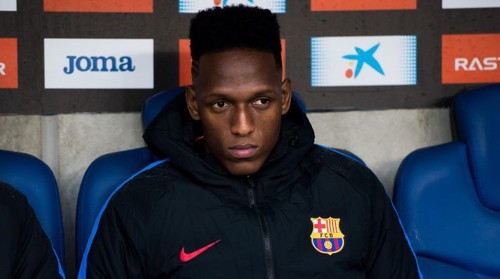 That is another reason why I wanted so much the failure of Yerry Mina and is that I can not stand the bad signings, even if it is my eternal rival. Barcelona had everything to sign Davinson Sánchez when he was in Ajax and for a lower price than they paid for Yerry. But no, they were wrong Colombian and let escape to be one of the best defenses in the world for the next decade, to sign the bullshit Yerry Mina. But in Barcelona they are so lucky that the Colombian had an eye-catching World Cup scoring goals, he was revalued and they could even earn him money.
Another reason why I can not stand Yerry Mina is how ridiculous he is. It's good that I dance to celebrate their goals, it's their way of being and I respect it, but celebrate celebrating a goal in the penalty shootout of the Copa de Catalunya? Let yourself be ridiculous, boy! And not to mention the vendehumo that he is, that he took off his shoes in his presentation at the Camp Nou made him abhor him instantly. But once all that media smoke happened and he had to show on the field why he was there, failure as only he could do it, showed that he simply did not have the level for such a big team and that his signing simply responded to the media.
Of course, I admit that not everything is the fault of Yerry, but of the vomitable Colombian journalists who flood regional sports signals and their vapid, incoherent, blind and partial opinions. Every time I hear them talking about their athletes, they just make me sick, because they are not able to take off their shirts to give their opinion. For them, Colombian athletes are the best, they deserve to be starters where they go and any setback that happens is the fault of others and a systematic war against them, but it will never be because the Colombian footballer is not up to par. The worst thing that could happen to Latin America is that Colombia reached the 4th of the 2014 World Cup Finals, because they have become simply unbearable and there is no room to reason.

The most absurd thing that I get to hear is that, upon arriving in Barcelona, ​​Yerry had to be a starter over Umtiti, because he was much better than this one; and that Yerry was not a titular because her representative did not have the weight or enough fame. Can you believe that? What I did was to laugh. Anyone who has seen 3 football matches knows that Piqué and Umititi are light years away from Yerry Mina.
Do you know what is the worst? That as much as he detests Yerry Mina's game, I'm sure he will do very well at Everton, because the Premier League is designed for players who can not defend, like him. Fortunately, I will never see him again for the Spanish league, suffering and humiliating himself. I am already satisfied, because my predictions regarding the sporting failure that Yerry Mina meant in Barcelona were met to the letter.