Sharing more pictures and clips from my own adventures attending sporting events around the world.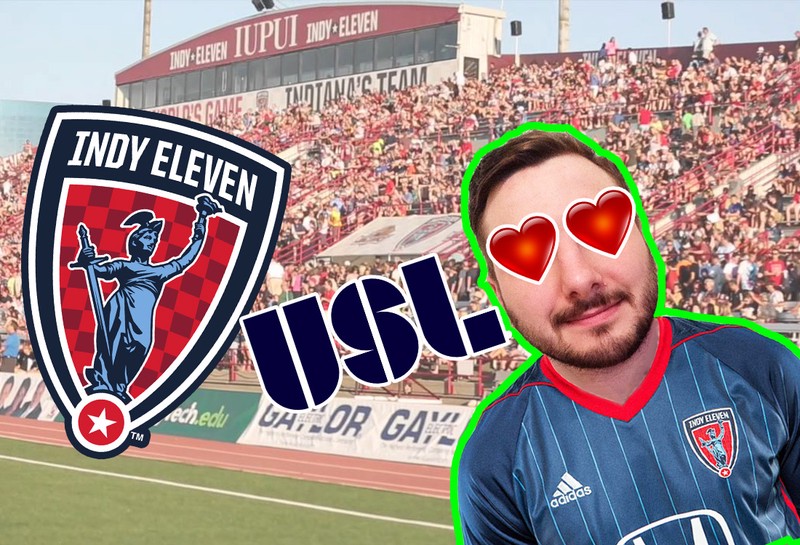 I can't really express the excitement welling up inside me when I first heard Indianapolis, the closest city to my childhood home, was getting a professional soccer team. Not all that long ago, only back in 2011-12, when the rumors of the Indy 11 actually seemed like they were coming true. For those of you who don't quite understand the magnitude of this revelation, let me explain.
I've been a soccer fan almost my entire life, but I grew up in a very rural conservative place: Indiana, USA. Now yes, Indiana has a long sport's history, and Indianapolis is home to the Colts (NFL) and the Pacers (NBA). But soccer was nowhere to be found.

Not only was it not accessible, it was generally ridiculed. As American soccer fan, I cannot begin to tell you the amount of times I was made fun of and criticized for liking soccer by both Americans and non-Americans. Americans will generally make fun of the sport of soccer, and soccer fans from abroad will make fun of Americans playing soccer.
You can understand how frustrated it is to not be accepted by either group. Such is a life of an American soccer fan pre-2000s.
So when in 2011-12 rumors began to circulate that Indianapolis was getting a professional soccer club, I was through the roof. I was immediately a fan. And not only was I onboard, so was the entire city of Indianapolis. Tickets for the first match sold out in 10 minutes--season tickets shortly after. It was as if my home state was rebuking a century worth of stigma and fully embracing the global game. And thus was the beginning of how the roots of soccer grew in Indiana.
Please note: all of these photos/gifs are mine. Feel free to use any of them but please give me credit.
Now come along with me as I take you on a trip attending an Indy 11 match.

Here is one of the entrances to Carroll Stadium in Indianapolis. This is where Indy 11 solely played the first 3 years but now the team plays some matches in the Colt's NFL stadium (Lucas Oil), while still playing some matches at Carroll Stadium.
Stadium concerns have been an issue since the founding of the club. Like many newer teams, Indy 11 was created without a permanent stadium solution in place. The owners of the team sought over $20 million from the city to build a large soccer stadium in downtown Indianapolis. However, the city refused, and instead, gave them almost 2 million to update and expand Carroll Stadium.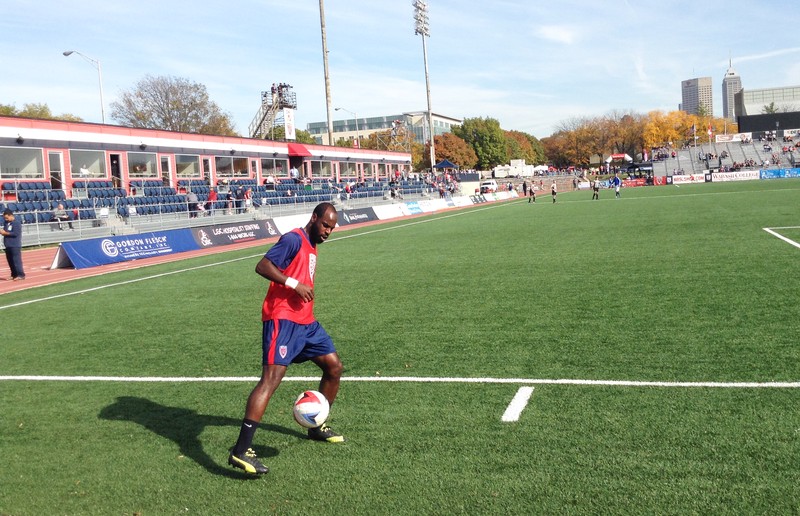 Don Smart (above) is Jamaican striker/midfielder and was bought by Indy in 2013. He quickly became a mainstay for the club, appearing 95 times for the club and scoring 10 goals. In 2017 he was sold to Miami FC. Don Smart was with Indy for the inaugural season and help get the club off the ground. For that, I am always grateful for his time with Indy.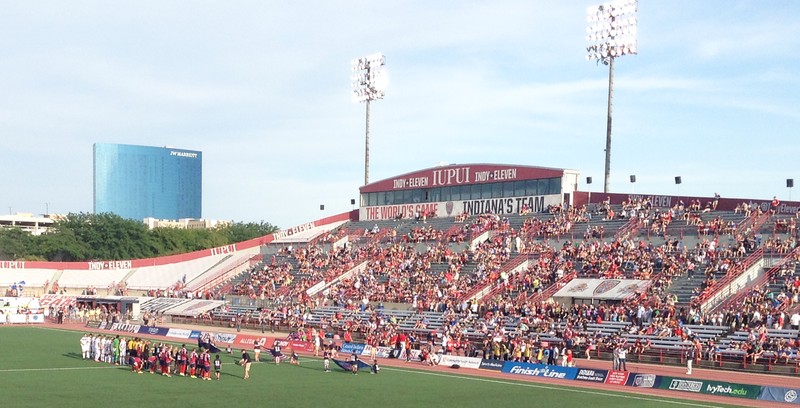 Indy 11 was able to secure 7,000 season tickets for their inaugural year. And sold out almost every home match in the first year, packing over 12,000+ people in Mike Carroll on a regular basis.

One major factor to Indy's financial success with the club is largely do to the supporters group: Brickyard Battalion. Abbreviated as BYB, the battalion has its own section right behind the goal. Here tickets are cheaper and seating is standing only. Due to the excessive drinking and rowdiness, younger children are generally not allowed in the section.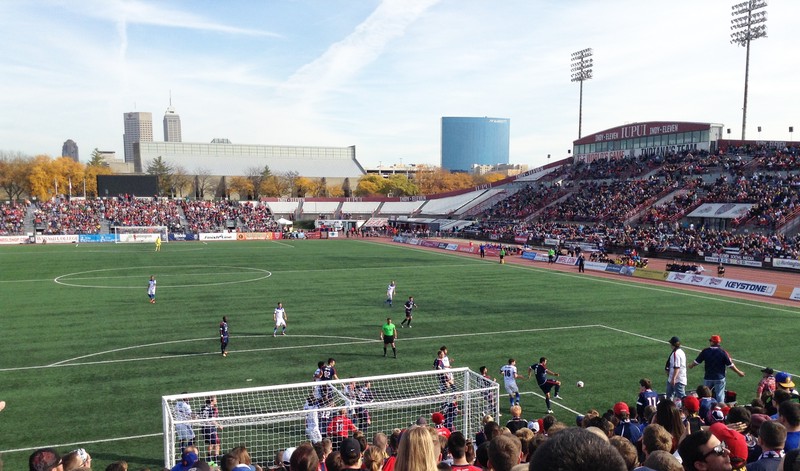 One pitfall that Indy was able to avoid was trying to host matches in a stadium far from downtown. This is something many new clubs have fallen prey to in the past. Mostly do to a lack of land or the insane price to hold matches in downtown areas. However, Indy was able to agree to a deal with IUPUI University, in Indianapolis, and was able to use their stadium as the home for Indy 11.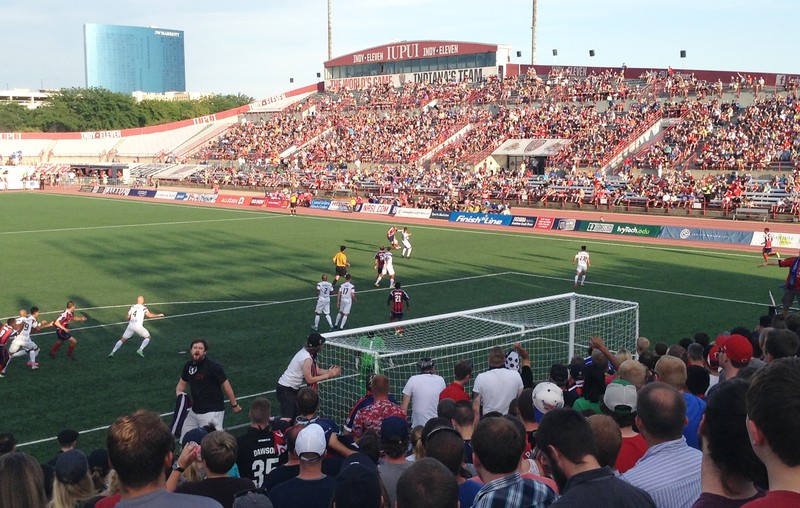 Indy's first years were difficult. Finishing their inaugural season in 9th place, things didn't get better until 2016. However, things began to lineup for Indy, and they began to enjoy success in the league, finishing the Spring 2016 season in 1st and the following fall season in 2nd.

It wasn't long until the Brickyard Battalion began to create its own culture. I know some soccer fans are staunchly against capo's, but since Indy is still in their infancy stage, capos were a huge benefit in building a repertoire of chants and creating the supporters culture we wanted.

Despite some minor disagreements with the Indy's front office, fans of Indy should be pleased with how the FO has handled supporters and their requests. Unlike a lot of stadiums, smoke flairs are not banned at matches, so every goal scored is met with blue and red smoke emanating from the BYB.
A trip to see Indy play wouldn't be complete without me getting a beer dumped on my head while celebrating in the BYB. Tifos, two-sticks, banners, smoke flairs and even a small brass ensemble can be found in the supporters section. The BYB is where the fun is at.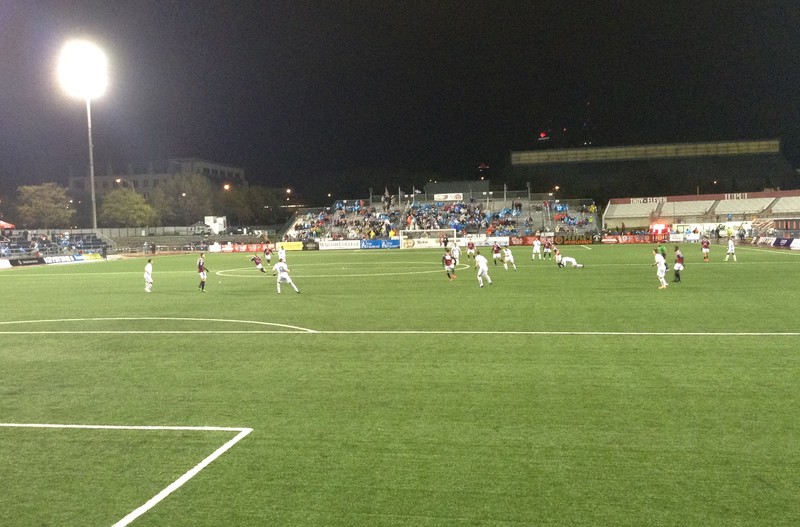 Unfortunately I don't get to see Indy play as much as I use to. Since then, I've moved 14 hours away to North Carolina. I still get to see Indy play when I come home during the fall, but if I'm lucky, I may only get to see them play twice a year. I also haven't even been back to see them play since they relocated part-time to Lucas Oil Stadium. Nonetheless, they will always have a special place in my heart as my one and only hometown team.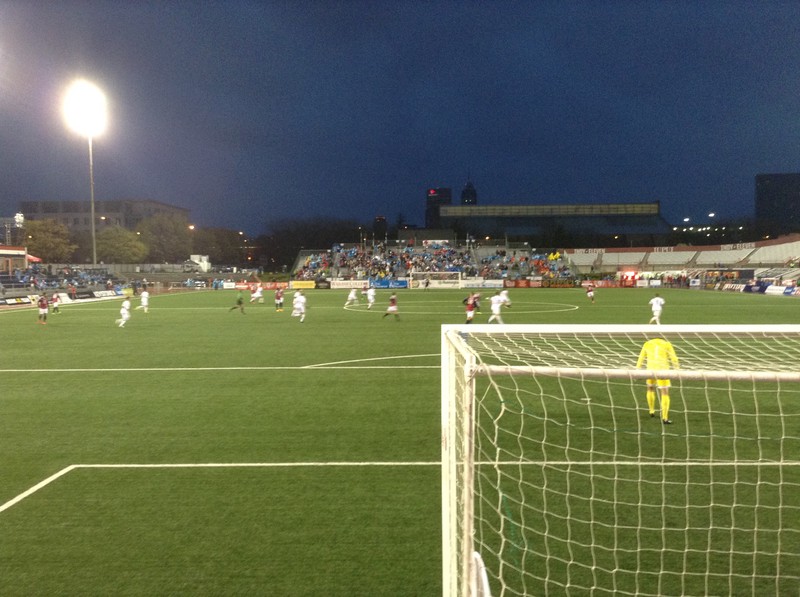 Full Match Highlights
Below is highlights from a match I was at back in 2015. The team was still struggling, and they picked up a big comeback win at home. Great memories.

Thanks for reading. If you liked this post, be sure to check out my other articles in the series:
From My Adventures: Thailand Premier League Pictures | Buriram United

From My Adventures: Thailand Div. 4 Photos | Mahasarakham F.C.
_______________________________________________________________________________________