Week one of the MLS 2019 season has come and gone, leaving behind a bucket full of things to talk about. So let's pour it out and see what happened.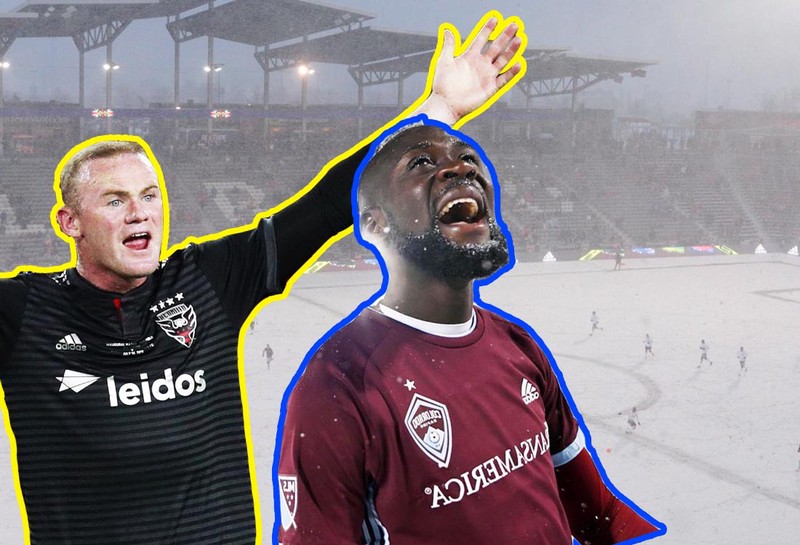 First off, a big thank you for everyone's support on my last MLS post. I was a bit skeptical about posting MLS content here, as it's a league that not many people follow and one that is the butt of every soccer joke out there.
Needless to say, it's difficult to find constructive conversations about the league online, and I'm so happy that Scorum is one place that we can talk about the MLS and not be lambasted. That I'm thankful. So big ups everyone.
Now with the first MLS week over, I thought I'd take a look back and talk about the major plot points coming out of the start of the season. In case you missed it, here's what happened.
Wayne Rooney: Still Got It

The topic of old-washed up European talent coming to the MLS is a tired and fruitless conversation much like the players themselves often are. The attitude among MLS fans towards this practice has dramatically changed over the years. In the past, fans were excited to get huge European names in the league, but now they are confrontational to the idea.
Too often these older players come to the league looking only for paychecks. Then when they perform poorly, after clubs spent loads of money on them, the fans and league usually turn on them. Don't come to the MLS if you aren't wanting to actually play. What passed a decade ago won't cut it anymore.
Since then, European players coming over have stepped up their efforts. I believe this began with Henry and has extended with the likes of Kaka and Rooney. These guys have embraced the league, expanding its appeal and helping cement its legitimacy to outsiders (a wasted effort if you ask me).

This weekend Rooney help lead DC United to a 2-0 shutout victory against returning champions Atlanta. Here's what Rooney said after this weekend, "The standard of play here maybe took me by surprise a bit. I don't know if any of you watched the Newcastle game the other day but Almiron was the best player on the pitch by a mile."
The Atlanta United shutout was the first recorded clean sheet of the MLS season. A big win for DC, ending with Rooney's name in the headlines. Not a bad start for the club, while Atlanta began to see the reality of life without Almiron.

Caleb Porter's Crew Held to a Draw
Okay, so this really isn't league-wide news, but as many of you know, I'm a lifelong Crew fan, so you won't be getting any league updates from me that don't mention the Crew. That's the truth.
New Crew manager, Caleb Porter, was given his first real test in 2019 with the Black and Gold. The Crew hosted Eastern rivals, NY Red Bulls, ending in a 1-1 draw. It wasn't the most convincing performance by the Crew.
I saw many issues that have plagued the Crew for years. This is clearly demonstrated by the 6' opening goal by New York. Watching an out-of-sorts frantic Crew defense give up an easy opening goal has become a rite of passage for all Crew fans.
It's like I'm in a strange Twilight Zone episode. Where things keep changing, but the more they change, they more everything stays the same.

But not all hope was lost. The Crew did excellent not letting the early blunder derail them for the entire match. It was Crew legend, Federico Higuain, minutes before halftime, who delivered a dangerous cross that was headed in by Crew defender Gaston Sauro to equalize.
The second half was more of the same. Both sides had their chances. The Crew, late in stoppage time, that had the best looking opportunity to win the match but alas failed to do so, and Caleb Porter's new Columbus Crew start their season with draw.

Colorado - Portland Coldest Match in MLS History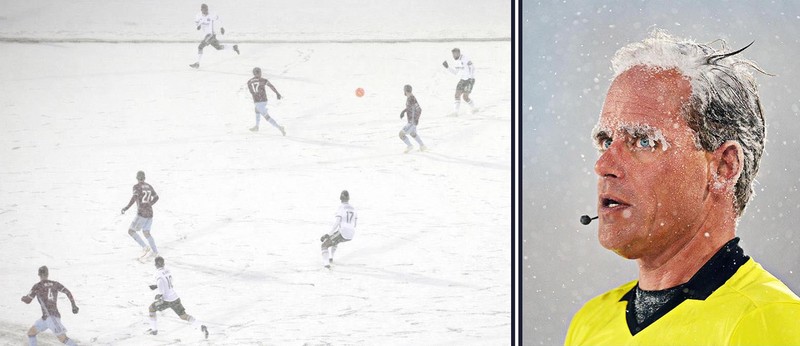 The Colorado vs Portland match made history but not really for what happened on the pitch—well if you could even see it. The two clubs made league history when they played their match in the coldest temperature recorded by the league. It was -18 Fahrenheit or -27 Celsius with inches of snow being dumped on the field.

Despite the extreme weather, the match didn't fail to entertain, ending in a 6 goal draw. Fans had to wait until the dying second of stoppage time before Colorado equalized with a late goal ending the snow-affair at 3-3.

But that's not the full story, Colorado had come back twice already in the match to equalize, and the final 3rd goal to end it in a draw was done with 10 men. If you want to know what peak MLS is, it's freezing in the snow, watching 10 men come back twice, to end it with a stoppage time last second goal to make it 3-3. So very, very much an MLS moment.

Referee Injury in Expansion Derby

There's a league tradition that if any two teams enter the league during the same year they are by default rivals. Orlando and New York City both entered the league the same year and their inaugural season was marked by comparisons between the two clubs and how they adapted to the league.
Both teams opened their season, like they had before, by playing each other in an expansion derby. The game ended 2-2 and was also Nani's first match in the league, offering lots of talk about.
There was an interesting turn of events in the 35' minute when one of the assistant referees goes down with an injury. Cue the substitution hand motion, and we see a rare sight of a referee injury resulting in a substitution.
Attention on the officiating didn't stop there, when late in the match, there was a question of a handball. Well there wasn't really a question, it was a clear handball. Why it wasn't called was the question. MLS does have VAR, and the call was reviewed but not overturned. Watch the play here and let me know what you think.
Final Thoughts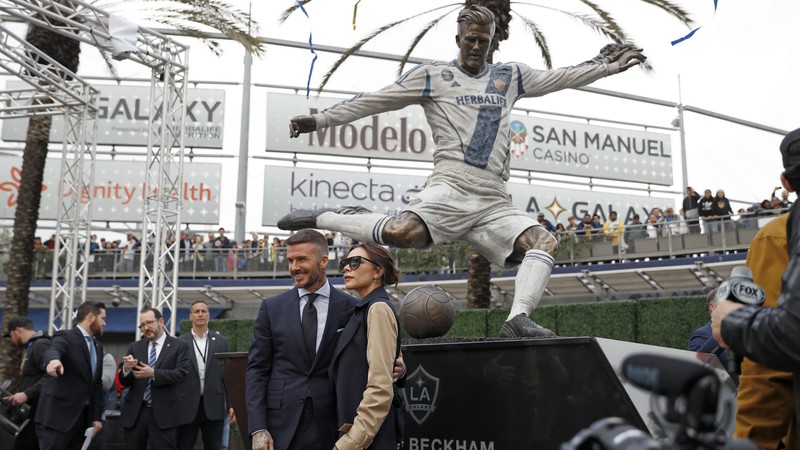 So they build a statue of David Beckham, and LA revealed it over the weekend at their season opener. I'm still scratching my head about why they would build him a statue. He signed with the league in 2007 and did little on the field to leave lasting impressions. His transfer to the league did sell a lot of kits and got everyone talking about the MLS but it was all fleeting.
I think Beckham's real contribution to the league came after his retirement. He continued to own stake in the league and help promote the MLS since arriving Stateside. I couldn't care less about LA building him a statue; however, I'm very excited to see what he does with Inter Miami. His team is supposed to enter the league in 2020. I'm hoping this statue PR event is such the first step in ramping up hype for his expansion team in 2020.

_______________________________________________________________________________________