USA vs England – Americans heading to 3rd consecutive World Cup Final, relegating England to another 3rd place consolation match.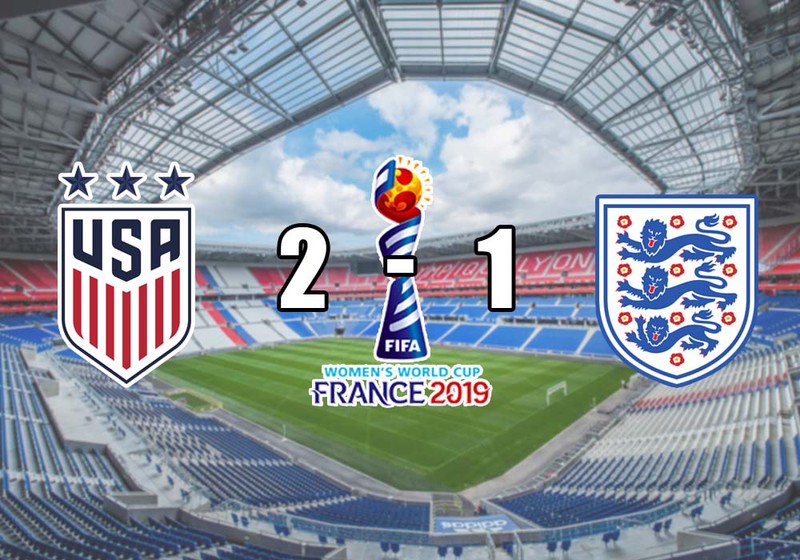 No Megan Rapinoe in the starting XI.
Wait what? Megan Rapinoe to be replaced in the starting XI by Christin Press?
Press has done well to come off the bench this tournament so far, but now she's been handed a starting position in the biggest match this WC. She'll need to be cool, calm, and collected to not let her nerves rattler her while stepping up in the biggest moment.
Before the match, my concern was Jill Ellis' lack of effective substitutions, often waiting until 85+ minute mark before making any changes. With Rapinoe absent, Ellis will have to be clever with how she handles this match.
Ellis' ineffectiveness to manage late games almost cost the US the match against a surging French team, almost tied it up before the final whistle.
But so many question marks remained around Megan Rapinoe. Fans and reporters heard conflicting reports about her: that she was injured, that it was tactical, that she was health, then it was a hamstring complication. She dressed but didn't warm up.
Even when asked directly about Rapinoe before the match and again at halftime, Jill Ellis chose to not comment each time. Never giving a clear answer either way. It was all very strange and worried me tremendously before kickoff.
First Half
It was immediately clear the Americans approached this match with different tactics. They were happy to drop back and let England possess the ball early---then look to quickly attack on the counter. For the Americans, the name of the game early on was transitions. Earning an early corner, the US forced the English keeper to make a reflex save, punching the ball out.
It only got worse for England. The US attacked with ease, down the flanks, through the mid-field, from set-pieces, leaving the English confused with no way to stop what was unfolding before them.
Then it happened: another early goal for the US, making it the 6 matches in a role USA has scored in the first 15 minutes.
No Rapinoe. No Problem.
Christen Press finished far post with a forceful header after a cross from the right flank. The real star of the play: Rose Lavelle. Her dummy play to open up the winger on the right was vital to making the play. But even before that, earlier in the sequence, it was Lavelle again who cleaned the ball up in midfield and began the transition leading to the goal.
But the Americans made a phone call, and the English answered. Merely 9 minutes later, England was able to force their way back in the game with a simple wide open cross to find thumbing English striker Ellen White open in center of the box. It was volley-finish that blurred by the American keeper, hitting the far post, before deflecting into the goal, bringing it all level once again.
Meanwhile, with all this scoring, Alex Morgan started to get jealous. The English goal by Ellen White brought her to 6 goals in the tournament, beating Alex Morgan for the Golden Boot, and…well…that just wasn't going to stand.
Just over 10 minutes later form the previous goal, a big looping areal ball hovered over England's penalty box before a charging Alex Morgan leaped into the air and headed it home, giving the US the go-ahead goal before the end of the half.
Second Half
A much slower start to the second half from both sides. The opening minutes of the half turned into a bit of a slugfest, as both counties tried to transition and get an early goal. Each side taking bling swings at one another before things began to settle down.
The momentum seemed to slowly lean towards the US in the second half, as the Americans picked apart sloppy pass after sloppy pass by the English defenders. Neville obviously sticking to playing out the back, even at his own defeat. The US kept asking questions of the keeper but couldn't be clinical enough to get another one in.
Then disaster struck. A ridiculously simple run by Ellen White split the US defenders and the through ball put her one-on-one with the keeper. It was a routine finish from the deadly striker. Exactly what the US didn't want.
However, the goal was not fated and was quickly called back for offsides. To be honest, even as an American supporter, I thought it was a bad call. She was offsides but only by the smallest fraction. Without VAR the goal wouldn't have been good. It was so tight you couldn't see it with your bare eye.
But the footballing gods giveth and also taketh. And just as the US had good luck, a lucky makeup call goes to England giving them the softest penalty kick off all time, and the good luck swings the other way. It was a massive lifeline call for England, a late pk in the 80+ minute after a long VAR check. It was exactly what they needed.
But if there is one thing you should know about Americans is that we do not give up. Our tenacity, our will, our desire to go headlong into the unknown is what has always defined us. We would not go gentle into that good night. There was no way we would be knocked out like this.
With our backs against the wall, there was no one else to save us other than our keeper Alyssa Naeher. Here's the secret about Alyssa Naeher: she's incredible. The problem is that US has only let in 2 goals this entire tournament and she hasn't been called upon yet, so she hasn't got a chance to shine. She stood quietly in the shadows until it was her time.
I'm not sure what I can even say about Alyssa Naeher in this moment, other than implore you to watch her in action and let her speak for herself.
A Big F*CK YOU to the Daily Mail
I'd like to use this final moment, for those still reading, not to once again highlight the US Women's amazing performance today. They speak for themselves. Instead, I'd like to finish with pointing out the most ridicules, insane, off-the-hinges, smear of the US Women's team and what they stand for. The perpetrator: The Daily Mail.
This hit-job piece not only figured out a way to be misogynistic to our women, but they also figured out a way to work in some braindead right-wing talking points, bringing up the US Democratic Party and even trying to mock a US House Representative Alexandria Ocasio-Cortez.
This shit would be funny if it wasn't so sad.
I really like DeadSpin's rebuttal: Nation With Zero Women's World Cups Thinks Defending Champs Are Too Arrogant
But one final note, to those who think and align themselves with the drivel the Daily Mail shits out, all I can say: we live for it. We really do. We derive so much pleasure from pissing off Europeans who turn their noses up at us. It's literally been a national tradition since 1776.
Oh also, Phil Neville can suck a fat one. What a goon.
_______________________________________________________________________________________