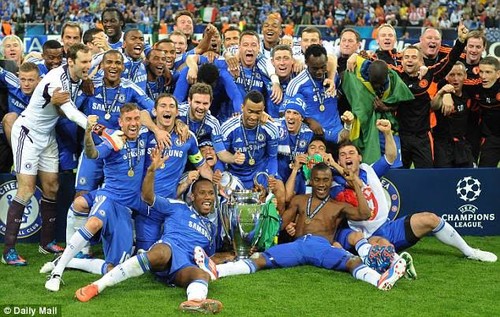 It's probably no news but to Chelsea fans it's a beautiful memory one that they will relish for a long time, and 2012 will always be a year they'd remember.
Of course it was the holy grail and the first time Chelsea was ever going to win the lustrous title. It was something I never expected, before the start of that champions league campaign a friend of mine told me to place a bet of of 20 dollars to win 500 US dollars on Chelsea winning the UEFA champions league, I could've definitely placed it because I had a spare 40 dollars with me, however I looked at the current state of Chelsea as at the time, the then manager Andre Villa Boas was doing a terrible job managing the club when the season started so I calculated all these risks and refused to place the bet because the odd was terrible, it was like a cow passing through the eyes of a needle.
The season drew on and the day Barcelona was defeated by that glorious Ramirez chip my friends and I who were fellow Chelsea supporters became very hopeful of the fact that the champions league may be coming to Stamford bridge.
The day for the finals between Chelsea and the other finalist it was a cloudy day and I couldn't go to work, some people found it strange that a football game could be affecting me psychologically. But in different areas of my neighborhood, there were so many Chelsea fans and they even bought cows and painted the cows In deep Chelsea colour because they believed it was certain for the blues to win win the UCL after they had taken Barcelona FC apart, but the truth was that I was skeptical, I had watched Chelsea lose in 2008 to Manchester United in that UCL finals that left me gutted for months.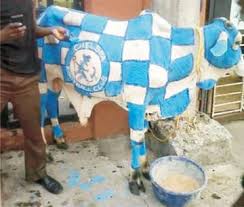 The morning became afternoon and afternoon slowly crawled into evening then it was 8:45PM for the game, I felt restless and nauseous totally afraid anytime the Bayern team attacks the Chelsea defence I was extremely gutted and heartbroken when Bayern Munich scored, I could feel my heart beating and I was pissed and angry I couldn't take it anymore it felt so intense, I switched off the TV and went to bed but I couldn't sleep, I was thinking about how to endure the pain of a second final, when I heard a roar outside the air rented in GOAL! GOAL!! GOAL!!! it was the Chelsea fans and the euphoria was deafening really I leapt up from my bed and went to my neighbors home and I couldn't believe it, it was a bullet header from Didier Drogba from a deep cross from the corner courtesy of Juan Mata I screamed voice and leapt into the air like a spartan it was glorious.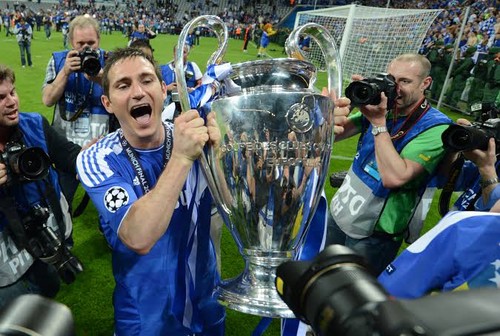 The game suspensefuly went into extra time and the voodoo and memories of 2008 came back again, "what if we lost"? It was the most freightning moment of my life and I never felt more numb or more cold, my finger was shaking and I counted the penalties with against us go in, then I leapt for joy when Arjen Robben missed his penalty it felt sweet in my bones then came the decisive penalty from Didier Drogba.
My neighborhood was silent as a graveyard as Drogba stood over the penalty and we watched keenly as he ran and sent the goalkeeper the wrong way as the net bulged and the ball inside the net. It was 11:45pm midnight and there was a thunder of noises that rented the air and even awoke people that's slept it was like a cacophony of sound of GOAL!!! and I was mad with glee, it felt like a dream. My friends and I hugged each other tightly as we bathed ourselves in alcohol and sang the Chelsea anthems, we celebrated and lit fireworks 🔥 in the air and screamed victory chants till the next day. It was the most memorable match in my life