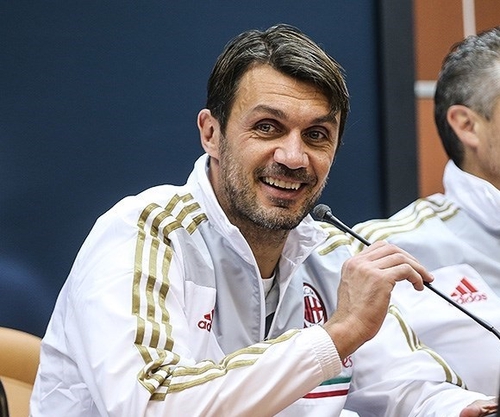 The new AC Milan course is further strengthened by the appointment of Paolo Maldini as the new Director of Strategic Development in the Sports Area. Paolo is a living legend in the Rossoneri history for his exceptional class, for talent, leadership, loyalty, and his record of successes, unparalleled. These qualities will play a decisive role in getting Milan back to the greatness it deserves.
The surname "Maldini" touches the heart of all the Milanese, symbol of a dynasty of dedication and success. The glorious history of the Maldini family began with the unforgettable Cesare, father of Paolo, captain of the team that won the first European Champion Clubs' Cup in 1963. The strength of the Maldini is testified by the historic Rossoneri number 3, which was withdrawn, and in future can only be worn by other Maldini.
Paolo's story in Milan is unparalleled. He made his Serie A debut when he was only 16, on January 20, 1985. During his career as a defender, Paolo won 26 trophies: 7 national championships; 1 Italian Cup; 5 Supercoppeitaliane; 5 UEFA Champions League (playing in 8 finals, a record he shares with Francisco Gento); 5 European Supercups; 2 Intercontinental Cups and 1 World Cup for Club. Paolo retired at the end of the 2008/09 season and after 25 glorious years in the Rossoneri shirt, with 648 appearances in Serie A, an absolute record, and 419 games with the captain's armband.
Paolo Scaroni, President of AC Milan, said: "There are no words to describe what Paolo Maldini represents for Milan It was a privilege to see him play and win countless trophies in the field, I am happy and honored to work with him in his new role Paul's leadership and experience will be of great benefit to the Club, as well as his passion and energy, and today's appointment is a further sign of Elliott's commitment to building a solid foundation for a long-term success, it will not be easy and it will take time, but we have ambitious goals and the arrival of Paolo is an important step towards the return to the great Milan ".
Translated from Italian to English if you are interested in the article in Italian language please follow the link https://www.milannews.it/primo-piano/ac-milan-comunicato-ufficiale-paolo-maldini-nuovo-direttore-sviluppo-strategico-area-sport-303810
I do not own the article or the picture posted just translated! for your convenience.