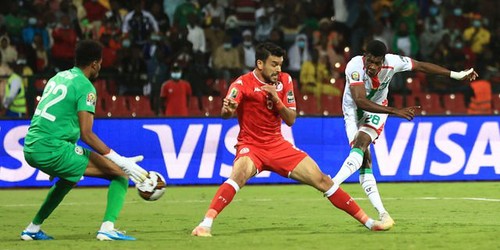 Dango Ouattara was on the scores sheet as 10men Burkina Faso defeated Tunisia, and this is the Third time Burkina Faso made it 3 in a role to the semi-finals in the Afcon.
Ouattara was a hero and then a few minutes later in the game he then went on to receive a red card in the game, as his yellow card which was initially given turned into a red card, following the Botswana referer going to check the VAR and after doing that overturned his decision.
Ouattara elbowed Ali Maaloul and as a result of that, he was sent off, so Burkina Faso has progressed to the semi-finals after defeating Tunisia first in 1998 and 2017 to advance to the semi-finals. So they either meet Senegal or Equatorial Guinea on Wednesday.
Earlier on Cameron, the host defeated the Gambia, and with that, it qualifies them to play either Egypt or Morocco who have a game to play tomorrow, so Cameroon, will focus on the game tomorrow to know their faith on who their next opponent is will be.
They started the game so well with Aston Villa player
Bertrand Traore, among other players who are substitutes in the game, another player who was not in the game was their vice-captain Issoufou Dayo as a result of injury.
Tunisia seeks the equalizer in the game, but they're unable to find it, which made Burkina Faso defeat them by a lone goal and advance to the next stage of the tournament.