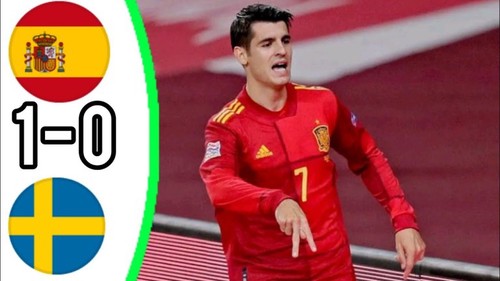 It is all about the European team playing some of their essential games, as Spain secured their place in the Russia 2022 world cup in Qatar come next year.
It wasn't the best of their performance but the key point is for Spain to advance to the world cup next year. Spain mixed some experience in the squad both from the defense and the midfield to the attack.
It was Morata's 50th game for Spain, as he showed yet again why he is an outstanding player in. this team. So morata scored the only goal in the game which helped Spain advance to the world cup next year.
The game means so much to him and the club was also happy for him as he helped them advance to the next year.
Spain lead the group as they advanced to the next round In the group ahead of Sweden and followed by Greece and Georgia and co all followed in the pecking order.
On the other Portugal was defeated by Serbia with both goals coming from Mitrovic and Tadic both in the first half and second half respectively, and it means that Serbia advance to the world cup ahead of Portugal who needs to find their faith through a qualified game.
Zlatan Ibrahimovic, Isak and Forsberg we try to help their team in qualifying for the world cup .so we see how this set of players works things out in helping their there country progress to the world cup.
But where we Spain reach in the world cup next year with this their young talented squad? We will hope to see how it goes.