This Sunday will be played the 247th edition of the most passionate derby match in the world. We are talking about Boca vs. River Plate. This rivalry that dates back more than a century. These matches have been saved in the memory of any hardcore football fan.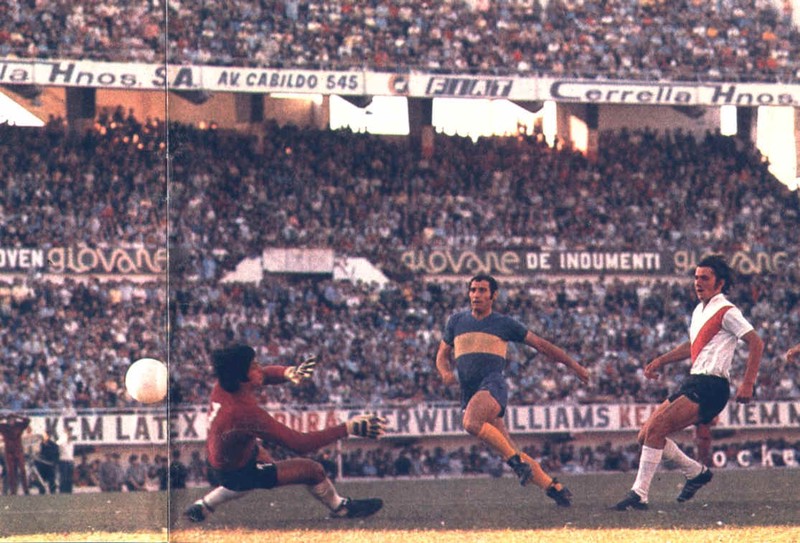 That's why today I bring you ten 'SuperClasicos' that were engraved in my memory forever. Enjoy them!
10.- River came from winning the first leg of the quarterfinals of the Copa Libertadores. For the return, Carlos Bianchi prepared a surprise for Tolo Gallego putting Martin Palermo on the bench after a Cruciate Ligament operation. El Tolo commented that if he put Palermo in the bench he would put Franchescolli. Everything went wrong for the Millionaire that night and Boca won 3-0 with a Palermo goal. To make the night more humiliating Riquelme made a nutmeg to Yepez that will be kept forever in memory.
9.- Copa Sudamericana Semi-Final, Marcelo Barovero saves a decisibe penalti agains Boca.
8.- You can not forget the second that marked forever the life of the last great idol. Carlitos Tevez was expelled for celebrating the famous Gallinita, after converting into the Monumental a goal with which River was left out of the Cup.
7.-River had descended and after his year of punishment in the promotion division, They returned to the first division and played away against Boca.
6.- Can you write about the history of Boca without naming Maradona? Difficult. Diego scored in the golden history of the superclassics with his ontological goal to Fillol, in the 3-0 of the 81 Metropolitano.
5.- Aimar vs Riquelme, pure Magic.
4.- In 2002, full golden age of Boca, River went to the Bombonera and gave him a great exhibition. That 3-0 will always remain in the memory of the Millionaire's and marked for life Ricardo Rojas, who converted this goal of Vaseline:
3.- Cardona Silences the Monumental.
2.- Copa Libertadores: Boca fans throw pepper spray at River players. The match was cancelled and River qualified for the Quarterfinals.
1.- The Last One. Argentinian SuperCup.
Who do you think will win tomorrow?
This are the Odds on BetCoin