In Switzerland, the league was resumed this weekend, but only partially.

After the winter break, the 19th round of the Swiss Super League was to take place this weekend. However, at the moment the winter in Switzerland is anything but taking a break and therefore only 2 of the 5 matches could be played: BSC Young Boys - Xamax Neuchâtel and GC Zürich - FC Basel.
BSC YB - Xamax
The leader BSC YB played at home against the last placed Xamax. YB wanted to make this difference clear early on and put a lot of pressure on them right from the start. This pressure led to an early lead. In the 14 minute, Benito scored after a beautiful corner variant that started with a double pass between Aebischer and Fassnacht. YB kept the pressure high and still came to numerous chances, but the game went into the break with a 1-0.
Only 3 minutes after the break it was already 2-0. After a nice cross from Schick Ngamaleu scored with a header from about 11 meters. Both teams still had a good chance, but there were no more goals and so it remained 2-0.
At temperatures around the freezing point, the champion showed a solid performance. In the midfield, the departure of top performer Sanogo was well absorbed, Aebischer and Sow had the action well under control. YB celebrated a small anniversary, it was already the 50th championship game in a row in which they scored at least one goal.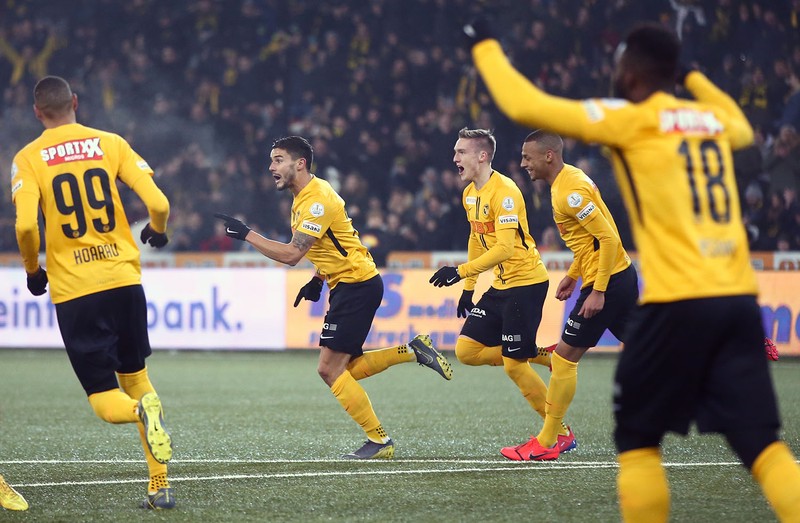 GC - FC Basel
FC Basel returns strengthened from the winter break. For a long time the Baslers had to fight with many injuries, but now most of them are back, only Eray Cömert is not ready for action.
The game was steered in a very clear direction early on, Basel dominated from the start and took the lead in the 19 minute. Only 7 minutes later, defender Alrind Ajeti was put off. He had already seen yellow in the 3 minute after a rather red worthy foul. Despite the yellow card, he commits another impetuous foul at the edge of the penalty area and rightly sees yellow-red. The very young team from Zurich would have been probably also otherwise overwhelmed, starting from the dismissal they never stood a chance. Until halftime it is 0:2, at the end 0:4. But it could also have been worse.
With a full line-up and Van Wolfswinkel in this form (he scored a hat-trick!) FC Basel will probably have no trouble keeping the second place in the table. Shortening the gap to YB now seems realistic again, but the 19 points distance are probably decisive for this year's League.