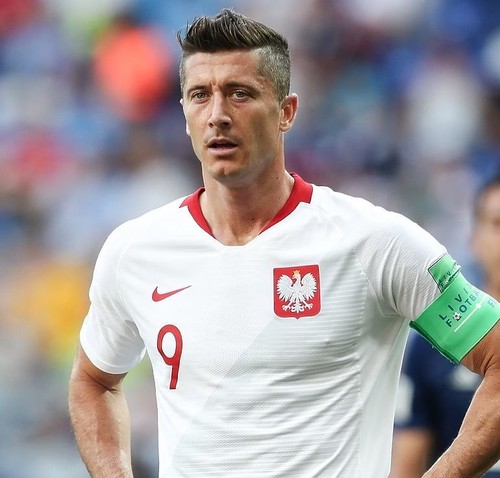 In this text I would like to give you a picture of how Lewandowski influenced the football environment in my country, Poland.
We all know that Robert Lewandowski is a phenomenon on a national scale. He carries the burden of the Polish National Team, as well as Bayern Munich. Hence the pressure it has to cope with. We love him for goals, which he scores, but when disasters come, a lot of criticism falls on him. Not everyone knows, however, that apart from scoring priceless goals, he does and has already done much more for Polish football.

It is a model that he missed
"I want to be like the Lewandowski"- that's what every dad of a young footballer has heard. The fact that Robert has contributed to the increase in the number of children in football schools is obvious. Young people are staring at our representative. When they see on the TV screen how he shoots a goal behind a goal, it works on their imagination. They imitate his behaviour, after scored goals they enjoy like him. The youngest have an idol from their country who grew up and trained in the same places. They do not have to look abroad, such as RL9. Having an idol from Poland makes us even more aware that we can achieve success. It gives hope to all those who wait for hours for an autograph and have posters with its image in their room. He is for all young players a personality, which was lacking in his life. As in one of his advertising campaigns, he is at the forefront of the RL9 generation. As we all know, Lewandowski is a 100% professional. He cannot imagine sitting at home at the end of his career and reaping the benefits of what he has earned over the years. He has many plans in his head. As he says himself, he is closer to creating football academies for children than to being a professional trainer. He intends to share the knowledge he has acquired over the years of training. After all, he knows everything that no trainer in Poland has had the opportunity to get to know. Again, he tries to give others what he has not experienced himself.
He cleared the routes
Thanks to his talent and hard work, he managed to get out of the Polish club ball and hit the West. It might seem that he had it easier than two other Poles in Dortmund: Lukasz Piszczek and Jakub Blaszczykowski. After all, he wasn't there first and he could move into the band much faster. However, the truth is different. Robert wanted to write his own story, show that he can do it himself. This is one of the reasons why he spent more time with players of German origin. However, he was not ashamed of the country he came from. On the contrary, he made sure that our players were treated in the same way as others. He was able to point out to the then BVB coach Juergen Klopp, even after one of the matches, that he has too many claims to the Poles. We were able to find out several times that he is not afraid to express his opinion. As in the situation when he was critical of Bayern Munich's transfer policy. The fact that he is the best earning footballer of the Bavarian club is also due to his obstinacy and tenacity. Now nobody will say that a foreigner will not earn the most. He can be self-confident because he has already done a lot of good for the Munich people.
He changed thinking
Robert's success had an impact on the awareness of part of football society. In many interviews he emphasizes the importance of physical development, not only from a football point of view. The fact that he became such a good striker is the result of his training in many other disciplines, such as judo. Already in childhood, thanks to practicing many sports, he acquired skills which he could later use in professional football. These words certainly reach the coaches in Poland and some of them are modernizing their training plans in order to provide the best possible conditions for the development of young players. Thanks to Lewandowski one more thing has changed. They started to pay more attention to the diet of the athletes. It would be hard to make it different if a star of such a large format emphasizes how much it owes to well-balanced meals. He said in one of his books that while playing in Borussi Dortmund, he ate a lot of sweets. He did not see the problem in this, because it was not back and was still well built. It was only when he changed his diet that he saw how much his training performance increased. Together with his wife, they make athletes more willing to reach for innovative nutritional solutions. They simply know that this will help them.
As you can see, Robert Lewandowski is not only a footballer who scores a lot of goals, but also a person who makes the public aware. It has a real impact on the development of Polish football and the changes taking place in it. Thanks to his attitude on the pitch, many young people started to play football. However, for those who have been training for years, he showed that when they go abroad, they cannot feel worse than others.