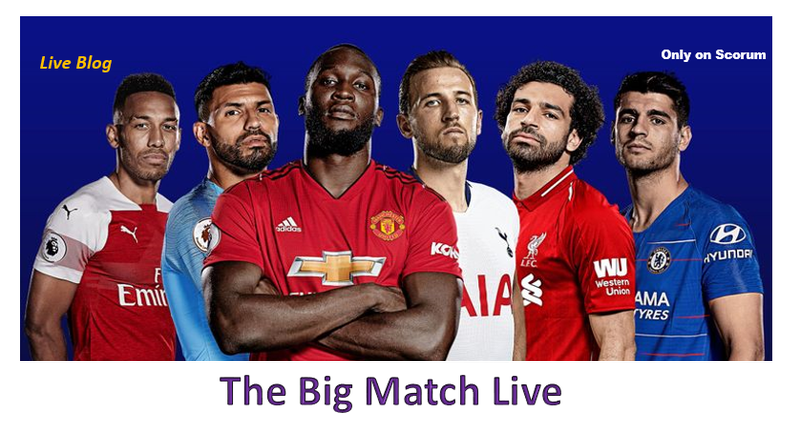 Good evening everyone, Welcome to Scorum's Big Match Live. As usual, we are back just 1 hour before the big match of this weekend. The Competition for Premier League title race is getting closer and closer every week. After Manchester City registered a narrow 1-0 victory over the Bournemouth, Liverpool needs some help from their city rival Everton to reach back to the top. Liverpool fans have been dreaming to win their first Premier League title for nearly 3 decades and this year after the solid all-round performance they stand themselves as one of two contenders to win this season's, Premier League.

Today, the blue side of Merseyside will host the red of Merseyside for the 200th top flight meeting at Goodison Park. The stage is all set for Merseyside Derby. As the Merseyside Derby means a lot more to supporters of both clubs, the tempo will be high, and the atmosphere inside the stadium will be so special for this occasion. We are going to hear a lot of roaring sound from supporters of both clubs while cheering for their team. And as usual, we can expect it to be wild and lot more cards coming from the referee's pocket in this match. As we are already entered towards the last 10 games of Premier League, every single point from now on will be significant for Liverpool and can decide whether they finish at the top of the table or finish at second.
You can enjoy the full match preview of this match on my yesterday's post here:
https://scorum.com/en-us/football/@lama10/scorum-live-blog-preview-everton-vs-liverpool-risk-free-betting
Risk-Free Betting:
Already 9 out of 10 free-bets were claimed on my yesterday's post, hurry up and claim the remaining 1 risk-free bet of 5 SCR for this match on Betscorum. Here is the Betscorum link for this match
https://betscorum.com/en-us/game/6516
Predict and Win Contest

I will host 2 Predict and Win contest on both half of the game in the comment section, reward will be 5 SCR of each contest. Only the reply under my comments will be valid for the contest. If multiple users predict the correct result, the reward will be shared.
If no one made correct prediction of one contest the reward 5 SCR of this contest will be added on other contest making it contest of 10 SCR
---
Pre Match Analysis: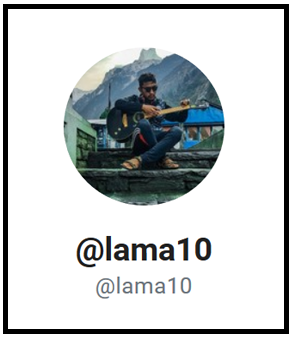 The blue has performed below their par throughout this season under new boss Marco Silva and has been struggling to catch-up their form. In recent years, the Merseyside derby has become one of the most anticipated fixtures for both team and today's one is the most significant Merseyside Derby for Liverpool. We can expect the nerve-shredding encounter today and as always we can expect a lot more drama. Everton is always ready for this battle and gives a blow to Liverpool. And by winning today's match, they can ruin on Liverpool's dream of winning a Premier League. As Everton have nothing to lose from this match, they will play freely. After City's move back to the top, Liverpool will be on more pressure for this match. Liverpool has been doing great so far playing their natural game and if they want to take all 3 points from this match, they need to forget pressure mount on this match and play their natural game. Liverpool has struggled a number of times this season in their away matches in both Premier League and Champions League, so this is the best time for them to catch their away from before their trip to Munich. These two teams have shared point 4 times in their last 5 Merseyside Derby at Goodison Park and 4 of those 5 fixtures ended with a binary scoreline from both team.

My Prediction: Everton 1 - Liverpool 1

---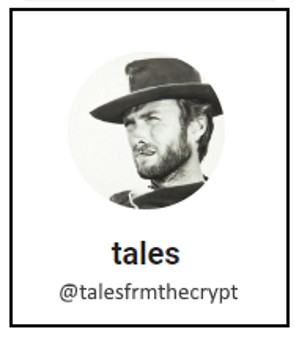 Recent history suggests that this will be a close fought game that could well be decided by the odd goal. Everton have generally looked to shut up shop at home to their Merseyside rivals resulting in just 3 goals being scored in the last 4 derbies at Goodison. However, you feel that with this game the Toffees have nothing to lose and with Marco Silva's team not really set up to defend perhaps now is the time to throw caution to the wind and look for a first derby win in 8 years. As for Liverpool, they will look to continue where they left off against Watford and it would certainly be an opportune time for the forward line to hit form again. It is a very wet and windy day in the UK and as such, I don't envisage a flowing game.
My Prediction: Everton 1- Liverpool 1

---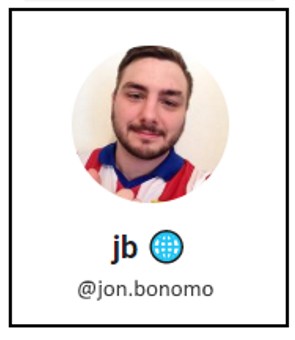 Everton haven't won the Merseyside Derby in 18 matches, and I don't expect them to change that today. However, the task at hand won't be easy for a thinned out and exhausted Liverpool squad. Everton are also coming off a confidence-building midweek win and will look to hunker down to stave off Liverpool's attack. The Reds haven't been in their best form over the past 2 weeks, and I expect more lineup rotation here, causing another disjointed performance. Nonetheless, I think the Reds will get it done.

Match Prediction: Everton 0 - Liverpool 1
---
Starting Lineups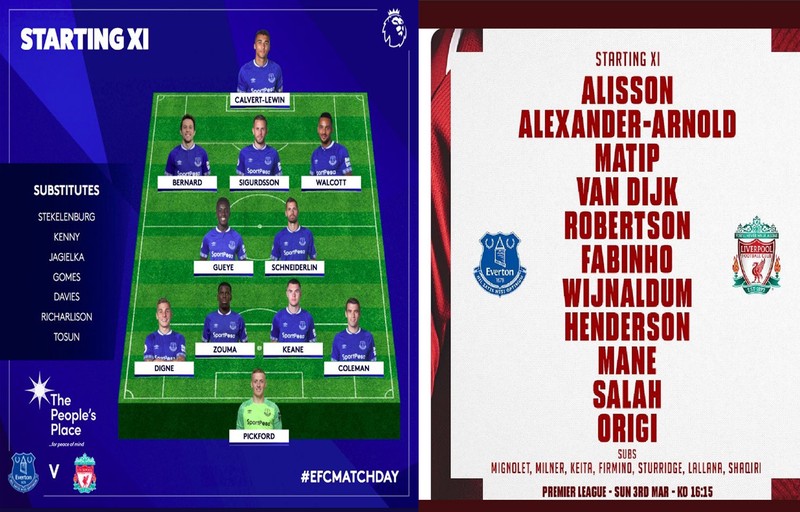 Everton has made the 2 changes from the side that one over Cardiff City. Zouma returns back to the squad after suspension and replaced Jagielka at center back to pair up with Keane and Bernard replaced out of form Richarlison.

Liverpool has made only one change in their squad from the side that beat Watford just 3 days ago. Henderson returns back to the squad replacing James Milner in the midfield position.

---
Major Updates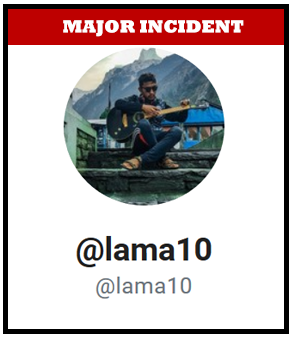 27'
Liverpool came up with the best chance of the match and Jordon Pickford made a brilliant save on one vs one with Mohammed Salah. Salah failed to capitalize Liverpool's best chance on the counter-attack.
Everton 0- Liverpool 0

---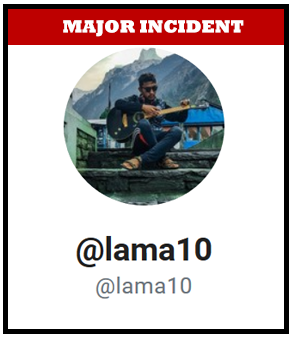 45'
End of first half, the scoreline is still 0-0. Liverpool enjoyed the 62 percent of ball possession in the first half, Everton still has no shots on target. Liverpool was the better side in the final 30 of the first-half.

---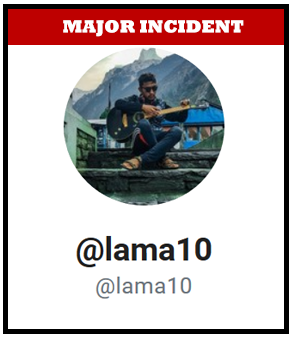 57'
Salah failed to capitalize another chance, his first touch was little heavy which gave more a little time for Everton defender Micheal Keane to clear the ball for a corner.
Everton 0 - Liverpool 0.

---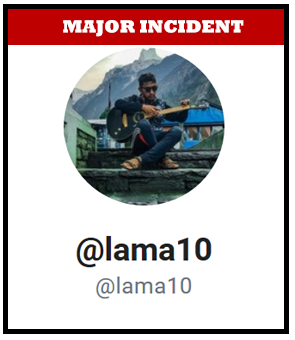 End of the match:
No team succeeds to find the opposition net after full time, both teams had found a couple of chance to score the goal. Three consecutive away draw has forced Liverpool to move at the second position 1 point behind the first place Manchester City. Everton back 4 have put the solid performance to stop Liverpool's attack.

---
Bookings
1.Theo Walcott (Everton 6' Yellow Card )
2. Robertson (Liverpool 76' Yellow Card)
3. Fabinho (Liverpool 81' Yellow Card)

---
Substitutions

59' Everton Walcott 🔻 - Richarlison ⏫
63' Liverpool Origi 🔻 - Firmino ⏫

63' Liverpool Wijnaldum 🔻 - Milner ⏫
75' Everton Calvert-Lewin 🔻 - Tosun ⏫
84' Liverpool Mane 🔻 -Lallana ⏫
---
Player Ratings