Martyr's Memorial A-Division League, Nepal's top division league football is going on. It was stopped after the disastrous earthquake in 2015 in Nepal and finally started this season. Manang Maryshangdi won it the previous season. In this season of the league, 14 teams from Kathmandu participated. Because of lack of stadium after the earthquake, the home and away system was avoided for this season.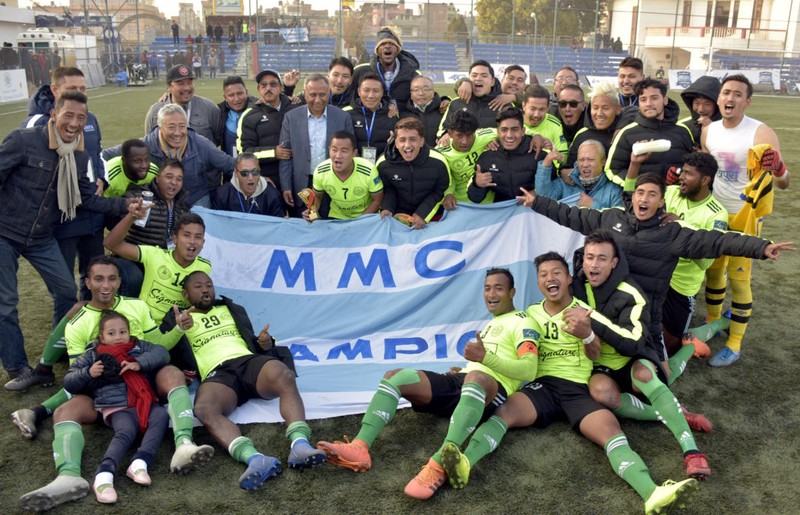 Manang Maryshangdi had been excellent throughout the campaign and now has claimed their 8th League title after defeating the Sankata Football Club by 3-1. With the completion of the 11th round, Manang Maryshangdi won all the rounds to clinch the title with 2 games to spare. After winning all 11 matches, Manang collected 33 points and are 8 points ahead of the second-placed Sankata Football Club. Also, if Manang wins 2 remaining matches, Manang will be the first and only team to finish the top-flight season with 100% records and without losing a single point.
In the decisive match yesterday, Manang played Sankata Football Club. Sankata was in the second, 5 points behind the leader Manang. They needed to win this one to keep the title hopes. But Manang convincingly defeated Sankata by 3-1 to wrap the title. It was an easy win for Manang after a heroic performance from Bishal Rai. Manang was gifted with the first goal following the corner by Bishal Rai. Bishal Rai assisted the next in the 82nd minute from the corner as Pujan Uperkhoti scored a fantastic header. In the 87th minute, Adilaz scored from Bishal Rai's cross for the Manang's third. Cedric Abba got the consolation for Sankata in the 89th minute.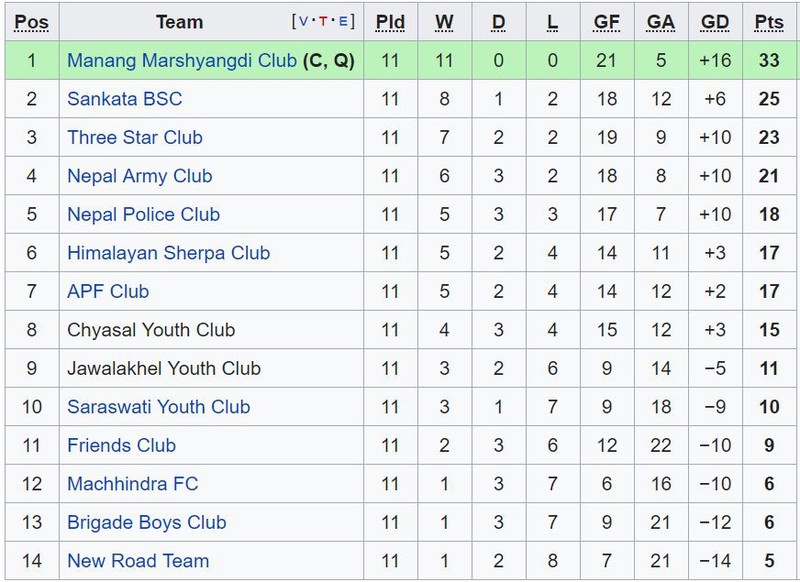 Along with the title, Manang Maryshandi will get 50000 USD and a chance to play in 2019 AFC Cup. Manang is the most successful in terms of League title after clinching their record 8th title. In the race, Ranipokhari Corner Team is in second with 6 league titles. Also, in the league, it is going to be a 3-way contest for the second spot. Sankata, Three Star and Tribhuvan Army will be fighting for it. And the best news for the team at the bottom is that there would be no relegation this season.