The first of Manchester Derby is here, and it is going to be a most interesting match this weekend in Premier League before we move to the International break and is one of the most awaited derbies in the English football after the emergence of the Manchester City.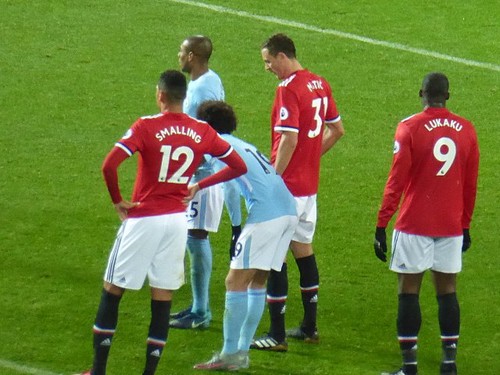 In the memory of every United's fan, there should be the comeback United made last year at the Etihad Stadium. United was 2-0 down in the halftime but came back strong in the second half to defeat the Champions by 2-3. Paul Pogba was the hero of that match scoring 2 quick goals after the restart. Smalling got the winner for United in the thrilling come back. And the past month had been all about comebacks. United made a significant number of a comeback in every match. This midweek, they made another incredible late comeback to defeat Juventus by 2-1 in the 90th minute. This is not only winning comeback they got in the 90th minute. They achieved the 90th-minute winner in the other 2 occasions against Bournemouth and Newcastle. Also, they made a comeback to almost defeat Chelsea from 1-0 down but was enforced to settle for a 2-2 draw after Barkley's additional time goal. Thus, we might see yet another drama here.
But for City, the season had been again a story of dominance. They are undefeated this season in the league winning 9 matches and drawing 2. They would still be haunted by the last season campaign as United was the only team to defeat them at home in the league. They wouldn't want to repeat the same mistake. They would be without Kevin de Bruyne in this match but it has made no difference. After de Bruyne got injured in Carabao cup, they won 2 back to back games by scoring 6 goals. The first came in the league as City thrashed Southampton. In the midweek, they again got a 6-0 victory against Shakhtar Donetsk in the Champions League. The players in the City camp should be fit and lively as they didn't waste most of the energy in midweek and rested their important players including Aguero.
For United, they should be in high confidence after defeating undefeated Juventus at Turin with late equalizers and winners. They would want to repeat this performance here to break the undefeated season of City. United although can't match the City's quality but we should not deny that United is capable of getting something out of Ethiad. Looking into United's team, we might see the same starting line up that started against Juventus. In the midfield, it is going to be one of Herrera and Fellaini to join Matic and Pogba. Fellaini earned lots of praise during the comeback win against Juventus. Also, Lukaku is certain to miss this one again having missed the previous 2 games now. Sanchez would again lead the line with Martial. One of Rashford, Lingard or Rashford should be in the right wing. Unlike City, United should be tired because of a tiring game at Turin this midweek.
To conclude, most of us would pick City as the winner but I still believe United have a chance here. After terrible September, United hasn't lost any league matches winning 3 and drawing against Chelsea. I don't know why United always start poor in the first half, but what I know is United is going to start poorly again. If City doesn't run riot against United in the first half, we have a chance here to win it or at least to draw it. I am hoping for yet another dramatic game and a comeback win for United.
What are your thoughts on this match?