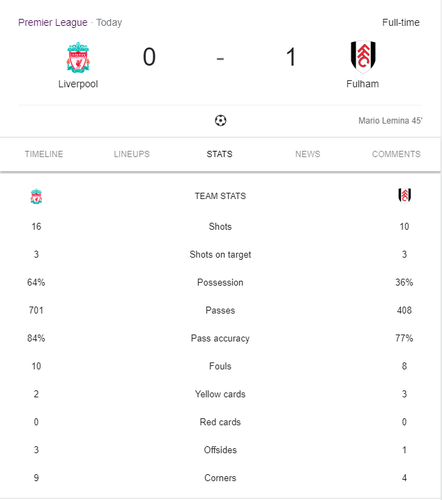 Have you seen Fulham play lately, if you have seen them play then you will find it hard to believe that they currently occupy the 18th position in the league table. The summary of their last 10 performance on the pitch is nothing short of the perfection tag, given the tools Coach Parker had been given to work with.
Fulham didn't start their English campaign poorly result wise as they are always loosing but you can't fault how they play. Most times they have been unlucky in games that they should have won. But the team has improved towards the end of last year as they have always made it tough for their opponent to beat them.
Their performance against Liverpool came at the back of another impressive performance against Spurs where they robbed of a point in the game. The incident in which var had to intervene and at the end of the day, the referee still made a mess of the situation by cancelling their goal. They played Tottenham for most of the match and that highlights the bad luck they have had to deal with this season.
Mario Lemina was the unfortunate culprit in the last match against Tottenham and he made things right as he scored against Liverpool in the 45th minute at Anfield and the goal went on to be the goal that claimed 3 points for his side.
Liverpool problem got compounded and a lot of Red faithful are asking for the coach head to be served on a spike now. Liverpool problems have gone beyond injuries, rumours have it that the coach has lost the dressing room and also the support of the players. People say the rift between Salah and Mane is the main cause of Liverpool problems.
Nevertheless, we can turn a blind eye to the array of injury Liverpool have suffered this season and the calibres of players to missed out on the action. For now, it remains to be seen if KLOPP will be sacked or given more time to turn things around. At the moment, Liverpool will be wise to keep as head coach and make him see this season through.
Fulham remains 18th and needs just a point to stay clear of the danger zone. Although they have played a game more than the team on 17th , they are both levels on points.