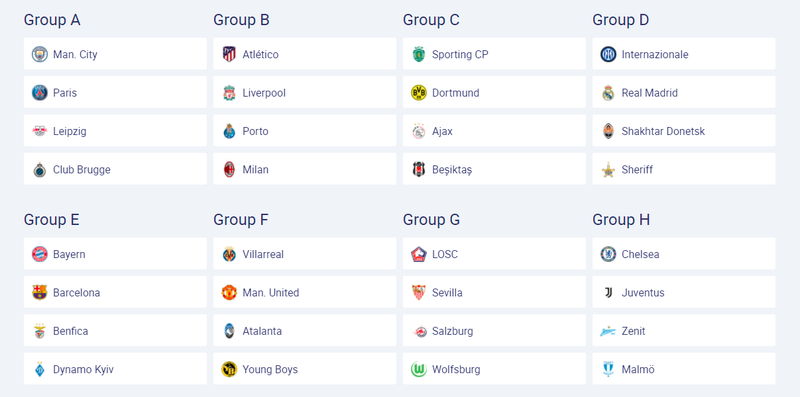 The first ball of this year champions league is yet to be kicked but some outcomes could be predicted and guessed correctly. The best club tournament as been the source of optimum joy for many teams and their fans and a much higher audience is expected to see this year champions league football as bigger footballing activities has already happened off the pitch of play.

To save time for my readers as the post will likely be a long one, the following are what will be talked about in this article; The tightest (toughest) group, likely winner come May next year, golden boots contestants, football clubs who are dark horses in this tournament but has a shot at winning the prestigious trophy and records up to be broken. The article will follow the pattern of the outlined courses for quickly traceability by readers.
And yeah, kindly grab a bowl of popcorn and a drink as I pour out my all into this post to make you feel the likely possible outcomes just as much as I see it. Cheers to reading. Before going into details, the image below is a screenshot of the team that will be participating in this year champions league and it also shows their group
Group more likely to offer more competition
First on the list must be Group A as it consists of teams that have been consistent for seasons now. Aside from Club Brugge in the mix, the top two from this group as to be at their best as slacking up might cost Man city or PSG or Leipzig a chance to advance to the knockout stage.
Now it is hard to predict the team likely qualify from Group B as all the teams in that group also appear strong while some have recruited well during this summer transfer window. While Liverpool and Athletico may likely be the favourite, the likes of Porto and Milan must never be underrated as they have had a great season the last time out.
Group C also appears tough in its own right as most teams' places in the squad are average and the team which is supposed to be highly rated did not have the best campaign last season (Dortmund). The teams that might line up against each other might not be favourites for the title or big teams with big money at the bank and that's what makes the group competitive as they all share the same traits.
Group F was supposed to be one of the toughest groups when the champions' league group was made but with CR7 at Manchester united, things might have gotten a little complicated for the rest of the team. But that won't make the group less competitive as virtually all the teams playing against Man United have played against Ronaldo at one point, in that regrading, they will be banking on past encounters to stop him
Likely winner of the 2021/2022 Champions league tournament
Chelsea were surprise winners the last time out, but they have grown as a team and as a unit this time around. With lots of teams whose focus will be winning the prestigious trophy, it is safe to say that this year race for the title will be much more complex and interesting. The blues were surprised winners last time but this time they rank higher unlike never on the list of teams more likely to win the gong.
With that out of the way, other teams that are considered by me to be a real front runner for this gong are Real Madrid, Manchester City, Manchester United, PSG, Liverpool and of course Bayern. My exclusion of teams such as Barcelona and Juventus might shock some people but if we are to be true to ourselves, we could see that these teams are weaker than ever and doesn't have the same chance or fear factor as the rest of the teams earlier mentioned.
PSG to me is the first to come to mind as they managed to build an intimating team and they have left no weak spot visible to rivals. The arrival of five signings in an already star-studded team has even made PSG the team every other football club would like to avoid. Messi in a team that consists of Neymar and Mbappe coupled with talents such as Ramos, Donnarumma, Verratti, Di Maria and of course Icardi will always be feared as they are all a group of extraordinary talents with a hunger to win.
Of course, they are closely followed by Manchester united as has the assemble of players such as CR7, Sancho, Bruno, Pogba will make any opposition shiver. This is coupled with the fact that they have a more solid defence consisting of Varane, Maguire and the De Gea who is back to his best. The presence of Pep Guardiola at Manchester City has helped boost their credentials and they will be hungrier for a title they narrowly missed out on months ago. Liverpool also seems to be in the mix as they managed to keep a healthier squad than they did last season.
Highest goals scorer contender
This will be made as short as possible as not a lot of players really have a shot in coming on top as the golden boot winner for this competition. In that regard, the first player I feel will win this gong will be Mr champions League himself 'Ronaldo'. He hasn't had a great champion league the last time out, but few will be willing to bet against him to win this year individual gong has he is back home where he truly feels much more appreciated.
Messi might be without a club goal this season so far but that won't stop him from trying to win the prestigious golden boot for this tournament. He is by far the player with the utmost chance to win this award as his new surrounding and teammate offers him that opportunity and Leo will, of course, be looking to capitalize on that. Also, the presence of Leo in the PSG team killed the chance of Neymar and Mbappe winning the gong.
Lewandowski continues to shine beyond his age as he continues to rank up more goal records while scoring virtually in all matches. He has been having a fairy tale champions league campaign in recent seasons and it is likely that the same thread follows this season as they resume back to champions league football this evening.
The presence of a recognised central forward in the Chelsea team will not only spin them to win more major honours but will also make them clinical in front of goals. Lukaku back at the Chelsea camp has been charged with getting the goods and as such, he will be opportune to score more goals due to the calibre of players in this Chelsea squad. Lukaku had the backing of a creative arsenal to support him in winn9ng this gong for the first time in his career.
And of course, in closing, Halaand completes the list of players with a much better shot in winning the golden boot. His team might have little shot of winning the competition, but his huge talent and goal-scoring talents set him aside in his league and will offer more competition who is likely to come out on top as the winner of this year champions league golden boot.
Dark horses in the champions league title race
Chelsea football club was not among the team rated to win the champions league title last season and it won't have taken God or probably Octopus Paul to see Chelsea lifting the title in May as even a Chelsea fan could not still believe it. It's a month past already but the memories seem fresh and now that we are a team to beat, let us look at the team that I rate as the dark horse of this year champions league competition.
Villareal might be termed an outsider but this team has been up and doing as their coach emery has been able to instil a winning mentality in them. Being a four-time Europa winner himself, he will be secretly wishing to win the title and although they will have to put in their best and hope lady luck comes their way. The team is well drilled and although they don't have a lot of stars in their team, they surely have play like a unit as every player isn't afraid to put their body in line for their teammates.
Their ability to play as unit while attacking and defending on the pitch of play is truly something that makes them almost impenetrable. They also have good strikers who are very good finishers and hardly waste chances when being presented with them.
Records up for grabs in the champions league this season
I had to reply on the help of google to properly get this and to be sincere, they are a lot of records up for grabs. The UEFA website showed a lot of records yet to be broken by our two favourite record breakers and this season offers them a chance to draw nearer towards breaking the records. The link to read more about the possible records that are up for grabs will be pasted below the post.
So, the records up for grabs are bulleted below:
• Most final goals
• Most goals in European cup finals
• Most goals in single European cup final
• Most appearances in UEFA Champions League/European Cup
• Final wins with the most teams in UEFA Champions League
• Highest number of teams scored for in UEFA Champions League
• Oldest goal scorer in the UEFA Champions League final
• Oldest goal scorer in the UEFA Champions League, group stage to final
• Oldest goal scorer in the European Cup
• Fastest UEFA Champions League goal
• Fastest UEFA Champions League final goal
• Fastest UEFA Champions League hat-trick
• Goals in most UEFA Champions League seasons
• Most goals in a single European season
• Best goals per game average in European Cup/UEFA Champions League
• Best goals per game average in UEFA club competition
Some records might likely be broken this season by the any of the duo of Messi and Ronaldo but most of the reords is wide open for the taken by any player in the tournament. To know more about this records, kindly [click]( https://www.uefa.com/uefachampionsleague/news/0250-0c511bb99d95-5e1624f9caa1-1000--records-ronaldo-and-messi-have-not-broken-yet/) here to read more from the UEFA site