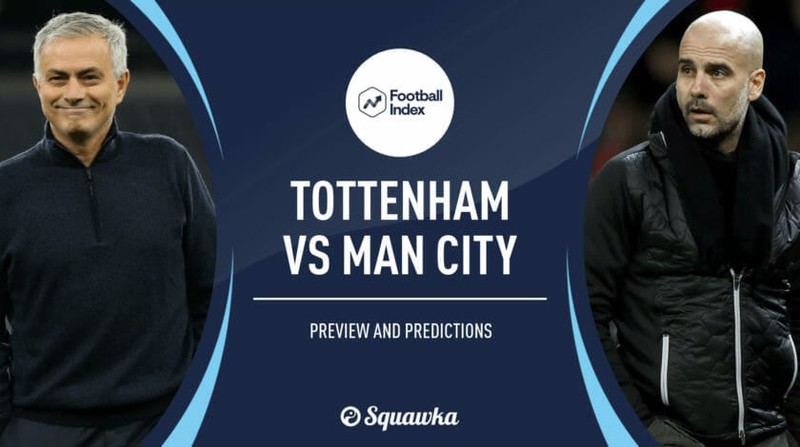 both teams have the best league coaches in their ranks and yet on the team have outperformed the other by a mile. manchester city has won their last five games in the league and currently tops the division with five points while also having a game in hand. Tottenham, on the other hand, had lost three games in their last five matches in the premier league. manchester city will be looking to extend their lead on the table while Tottenham will looking to change their fortunes and win this game.
manchester city has been able to turn the tides in their favour this season as they look out of sorts earlier this season. they are currently on 15 games winning run and it's unlikely they could be stopped by any team at the moment despite not having two of their finest available for some time. KDB and Kun will definitely be out of the match and still, yet they appeared not to be missed. the array of talents in then Machester city ranks have all performed when called upon.
while manchester city continues to outscore teams, the biggest and most influential part of the team has been their defence. for the first time in Pep's career, he can boost a defence worth challenging for any title and they have conceded the least goals in the league while trailing their city rival manchester united in the record for most goals scored. sterling has been the team captain in the absence of Kelvin and so far under his guidance, the team has won all matches and he is yet to play a bad game. he has done fantastic well as a captain and he became the third player to score 100 goals under Pep Guardiola management with the 2 others being Kun and Messi.
Mourinho has a had difficult season so far with Tottenham and he appeared to be out of plans to carry the team forward. while spurs boast world-class players in their ranks, their lack of team depth has been their major issue and it has affected them in a big way. also, on numerous occasions, players have let him down while some players have been out of form. Mourinho himself carries some part of the blame as his conversation approach to games has made the team timid and being prone to attacks.
Tottenham has been on a winless streak in their last five premier league games and they will be looking to halt their run but manchester city offers the most time difficult route in achieving that. the fact that Tailsman Kane is back in the squad will be one reason to bring a smile to the Spurs faithful. he has scored in more matches than he has played against them and they will hope he does the same today. their last outing resulted in a loss in the cup game against Everton. the 5-4 loss will be ginger to propel this team to victory and its likely to be the start of a turn around for the Spurs team
match score prediction: high flying manchester city will be looking to add to their record while Spurs will be looking to at least take a point off city while also doing some damages. Kane back in the starting lineup will be a welcome boost and also a headache for the manchester city defence to worry about. the game will likely end in a 2-1 victory for the pep side and mark a frustrating putting for Mourinho once more.
fantasy premier league to select from each team; with man city having a double game win, selecting three players from their ranks is a great move, on that note, Foden, Diaz, and sterling should be selected. for spurs, the usual due of Kane and Son should be considered.