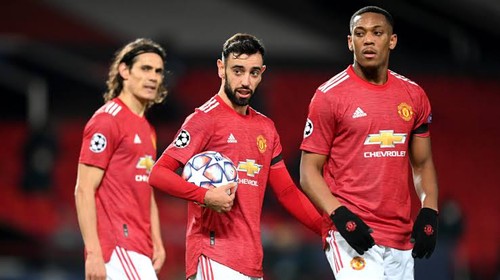 Looking at the English league table, one could think he/she made a mistake citing Manchester United as second on the league table. Liverpool only tops them with a superior goal difference. That has made the red devil's dream of winning their first premier league trophy since Alex Ferguson retired as head coach.
The closest Manchester United has come to winning the league was in the 2017/2018 league campaign. Jose Mourinho was the coach then and he came up short as he ended the season as second on the log table just behind Manchester united. He still rates that as one of his greatest achievements. Of course, he was sacked two years later.
Manchester has been known as a habitual serial winner and it's understandable to see them looking frustrated and angry by finishing a season empty-handed. With Sir Alex Ferguson winning over 13 premiership titles for the Red Devil's, it's is expected for his successor to win at least one for a start. That has not happened in years now and so many coaches have come and gone due to their failure to steer the team to capture the trophy.
Three coaches have been employed and sack within a 6 and half years period before Ole Solskjaer's signing. He was given the job on a caretaker basis in December 2018 before his permanent employment in 2019. His record as a caretaker boss was impressive, as he won 10 premier league games out of the 13 he coached.
He finished third on the league table in the 2019/2020 season in the English league. That was also a great achievement considering how good Manchester city and Liverpool we're that season. What has always been working against Ole as a Manchester United manager is his lack of trophies and concrete playing style.
Manchester United football club sometimes looks clueless while playing at times and it showed in the early games in the 2020/2021 season. The Red devil's early elimination from the champions league raises a few questions about ole's position at the club. He failed to qualify after being on the front foot by accumulating 9 points from 4 games. they got kicked out from the champions league completion after losing their next two vital games.
A turnaround of events has been noticed since their eviction from the champions league. They qualified to the semi-final of the Carabao Cup after beating Everton. Also, they have risen to second on the table from the ninth position. Their run of fours wins and two draws from six matches have brought them back to life. The two draws came against Manchester City and Leicester City.
With 16 games played, many expect the devils to continue with their form as their performance has improved. The goal-scoring duty has been shared by the whole team and more players have started picking form. Players like Pogba, James, and Eric bailey have started to impress since their reintroduction in the squad. Cavani seems to be getting better with each passing game he plays and martial is also playing well at the moment.
Fernandez remains their stand out star with his work rate, assist and goals. His all-round contribution makes him stand far ahead of Rashford in the man united team. One notable trait among this Man U team is their habit of scoring late goals which change the course of the game and also bring a reminder of the vintage Man united at their prime.
Many might see them as pretenders but I genuinely see them as a contender. Their edge entails In the large squad gotten and the possession of the best player in the league in the person of Fernandez. Although the coach's cautious approach to games might not win him more supporters no one can debate that it's yielding a favorable result.
It's been a really surprising turnaround of the club fortunes but Ole and his boy deserve the position they are. They may likely go on and win the league as Liverpool appears shaky as they drew their second game in a row. The title race is still long with over 20 matches still left to play for.
So over to you, do you see Manchester united as title contenders or pretenders