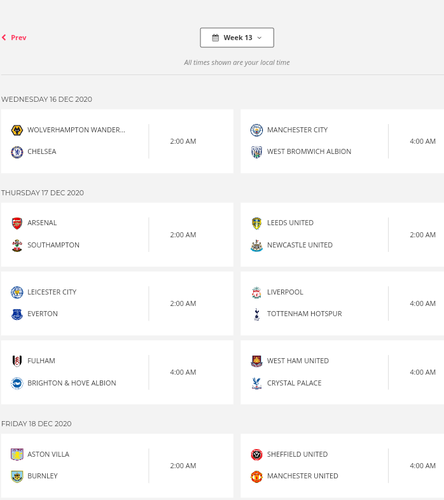 The English league week 12 ended just two days ago and week 13 is already here. This is a good thing for the fans as they get to enjoy more good football but it wears the teams and players down. Match results for game 12 were disappointing as some players suffer from fatigue and tiredness as reflected in the match played.
But this how the premier league has always been; congested, entertaining, and thrilling. On that note, enjoy the comprehensive match analysis of each game while also getting free fantasy player picks on the go. At the time of writing, the time left to pick a fantasy squad is 9 hours. So be fast with picking your idle team.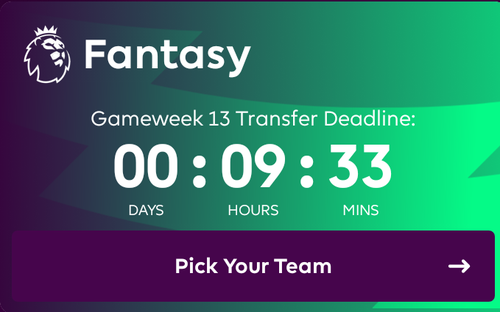 WOLVERHAMPTON WANDERERS VERSUS CHELSEA
With both teams losing the last time out, it will be logical for both teams to want to return to winning ways. Although Chelsea seems to be having the upper hand in this fixture as wolves have been in bad form season long. Chelsea was in fine form before their shock loss against Everton and this match presents a perfect opportunity to right their wrong
Tip: Chelsea to win
Fantasy tip:
Chelsea to keep a clean sheet
Oliver Giroud to score if he starts
Pulisic to star
MANCHESTER CITY VERSUS WEST BROMWICH ALBION
Manchester City has had a mixed type of performance this season as they have flopped in the Premier League and performed excellently in the Champions League. West Brom on the other hand seems to be having a nightmare campaign since their coming back to the Premier League.
The match presents the men in blue a perfect opportunity to bounce back from a disappointing draw against Manchester United.
Tip: Manchester City to win
Fantasy tip
Manchester City to keep a clean sheet
KDB to score and assist
Mahrez to shine
ARSENAL VERSUS SOUTHAMPTON
This game is going to be the match to watch as Arsenal will look to overturn series of underwhelming results. Southampton on the other hand will look to continue their winning streak by overcoming Arsenal whose home record this season is becoming worrisome. Arsenal head coach Arteta will be fighting for his job and this game presents him the opportunity to win a few people to his sides.
Tip: Southampton to win or draw
Fantasy tip:
No clean sheet to be expected
ings to score
Aubameyang to continue blanking
LEEDS UNITED VERSUS NEWCASTLE UNITED
After their disappointing ending to an incredible match against West ham, Leeds will be looking to get a win. Newcastle won their match against West Brom and they will look to build on that win. The match will be a tough one as both teams are run by coaches with different philosophies. While Leeds united happens to be an attacking side, Newcastle on the other hand is a defensive side that strives on counter-attack and set-piece.
Tip: Leeds United to win
Fantasy tip:
no clean sheet in this match
Wilson to score
Bamford to score
LEICESTER CITY VERSUS EVERTON
Leicester City is currently third on the league table after their victory the last time out. Everton also shocked many by grinding a win against the most in-form English club; Chelsea FC. Both teams seem to have derailed a bit from their early season form and this makes this match one to watch.
Tip: Leicester City
Fantasy tip;
No clean sheet
Vardy to score
Dcl to shine
LIVERPOOL VERSUS TOTTENHAM HOTSPUR
Both teams drew their last match and with both teams being positioned on 1st and 2nd respectively on the log team. Both teams have been impressive so far and just goal difference separates them. Both teams will be looking to bounce back from the disappointing draw and this next match is the wrong match to play next.
Tip: Both teams will Draw
Fantasy tip;
No Clean sheet expected
Salah to score
Son and Kane to shine
FULHAM VERSUS BRIGHTON & HOVE ALBION
Fulham got a favorable match result against Liverpool FC in the last game week and they would look to build on that result. Fulham started the league on a disappointing note and has been performing well recently. Brighton on the other hand lost their last match to Leicester with a gross scoreline. They will be looking to get a win since they haven't won a game in the last five matches.
Tip: Brighton to win
Fantasy tip;
clean sheet to be expected
Maupauy to score
Welbeck to score If he starts
WEST HAM UNITED VERSUS CRYSTAL PALACE
Both sides had a great outing last time out. With west ham winning against leads and crystal palace getting a point against Tottenham. The results were outcomes both teams will be looking to build on. Both teams playing styles are the same and picking aside from the other seems difficult.
Tip: match outcome is DRAW
Fantasy tip:
no clean sheet
Zaha to either score or assist
Cresswell to shine