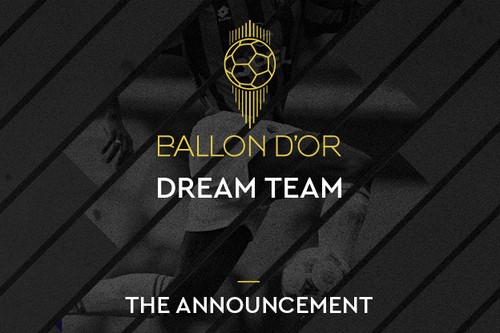 The Balon d'Or award has been one of the most prestigious and highest awards a footballer may earn during his or her playing days. The award won't be held this year as it was canceled by the France football because of the pandemic.
So when France Football announced a new award tagged "Dream team" to make up for this year's normal award cancelation, it came with mixed reactions as some names which made the list were debatàble. The award was to recognize the greatest
ever players in each football position.
The formation adopted was 3-4-3 and that was to accommodate more attacking players. In the Defense, the players who made the list were;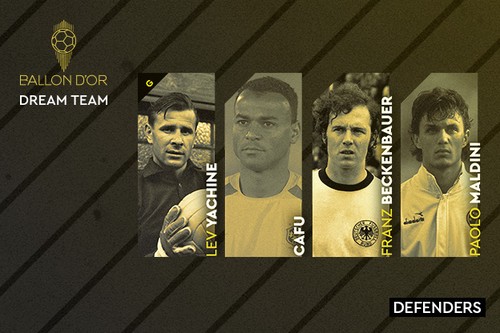 |Position|Name|Nationality|
|Goal keeper|LEV YACHINE|RUSSIA|
|Defender|CAFU|BRAZIL|
|Defender|FRANZ BECKENBAUER|GERMANY|
|Defender|PAOLO MALDINI|ITALY|
The midfield was composed of two offensive and defensive players. It might not even seat well among most people a forward was dropped back into a midfield role. The list was made up of;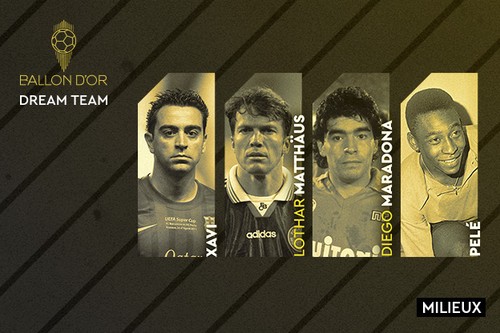 |Position|Name|Nationality|
|midfield |XAVI|SPAIN|
|midfield|LOTHAR MATTHAUS|GERMANY|
|midfield|DIEGO MARADONA|ARGENTINA|
|midfield|PELE|BRAZIL|
While the final piece of the cheese involves seeing two modern-day players making the list. These two players are still active but their legendary status is undeniable. The two are mostly regarded as the best to have graced the game. The three best forward ever were;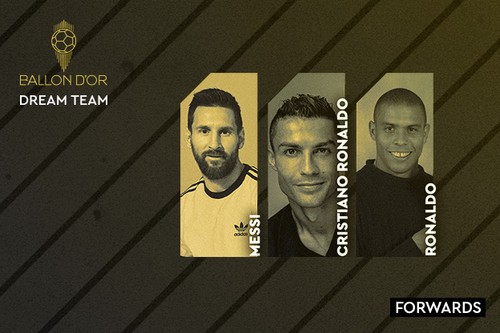 |Position|Name|Nationality|
|Forward|MESSI|ARGENTINA|
|Forward|CRISTIANO RONALDO|PORTUGAL|
|Forward|RONALDO|BRAZIL|
The Balon d'Or organizers then went further with a plot twist by releasing a second and third team. Noting that the earlier mention was for the first. The first squad formation was put out in the image below;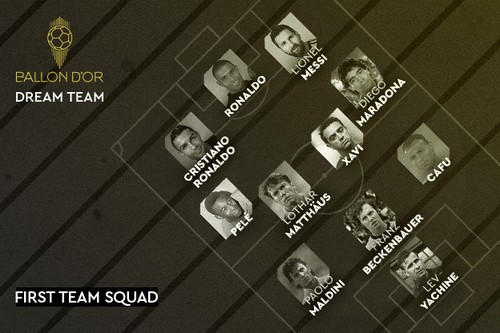 THE SECOND TEAM SQUAD
the second list also consists of just one active player while some are retired from the game with others being dead. The second team squad also adopted the 3-4-3 formation and consist of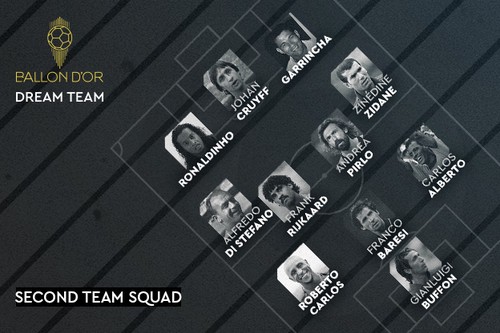 |Position|Name|Nationality|
|Goal keeper|BUFFON|ITALY|
|Defender|ROBERTO CARLOS|BRAZIL|
|Defender|ALBERTO CARLOS|BRAZIL|
|Defender|FRANCO BARASI|ITALY|
|midfield |PIRLO|ITALY|
|midfield|FRANK RIJKAARD|NETHERLAND|
|midfield|ALFREDO DI STAFENO|SPAIN|
|midfield|ZIDANE|FRANCE|
|Forward|RONALDINHO|BRAZIL|
|Forward|GARRINCHA|BRAZIL|
|Forward|JOHAN CRUYFF|NETHERLAND|
THE THIRD TEAM SQUAD
The third list consists of just two active players while some are retired from the game with others beng dead. The third team squad also adopted the 3-4-3 formation and consist of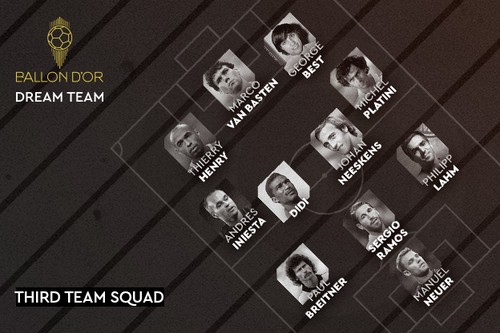 |Position|Name|Nationality|
|Goal keeper|MANUEL NEUER|GERMANY|
|Defender|SERGIO RAMOS|SPAIN|
|Defender|PHILIP LAMH|GERMANY|
|Defender|PAUL BRIETNER|GERMANY|
|midfield |JOHAN NEESKENS|NETHERLAND|
|midfield|DIDI|BRAZIL|
|midfield|INESTA|SPAIN|
|midfield|PLATINI|FRANCE|
|Forward|HENRY|FRANCE|
|Forward|GOREGE BEST| NORTHERN IRELAND|
|Forward|VAN BASTAN|NETHERLAND|
NOTABLE PLAYERS THAT DID NOT MAKE ANY OF THE LIST
- CASILLAS
- OLIVER KAHN
- D.ZOFF
- PUYOL
- CANNAVARO
- NILTON SANTOS
- TERRY
- JAVIER ZANETTI
- MAKELELE
- R. GUILIT
- LUIS FIGO
- EUSEBIO
- ROMARIO
- BATISTUTA
- KAKA