So today was a very hectic day for me but that is a story for activity which come up next after this. So while waiting for the premiership to return, I was expecting excitement but I didn't really get that today from the matches played. Over 7 games which cut a cross over 14 teams produced just 14 goals which only 8 teams only came up with that number.
***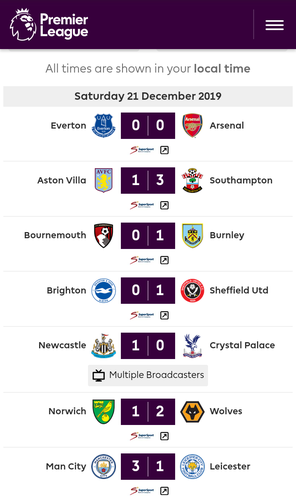 Starting with the dull first game that opened the weekend premiership game, Everton versus Arsenal. I was expecting a matchup that will produce goals but it was goalless. Can you imagine watching a football game of 90+ mins and not a single goal was picked out of the net? I was expecting Arsenal to be swift and running already but I guess the new head coach is still putting is feet on the ground.
***
Everton has been on a great run since sacking their coach. they have not lost any of the games they have played and also keeping two clean sheets in the process. That's a response you expect from a team that realises that they are not giving their all due to the calibres of players in their ranks. Their defence has stepped up and the attackers are beginning to get the goods when needed.
***
The results from the run of games Everton had played since their head coach was sack is remarkable considering the fact that they had played Chelsea, Man United and Arsenal. no one gave them a chance but they fought tooth and nail for this. They deserve this and they are worth it moment.