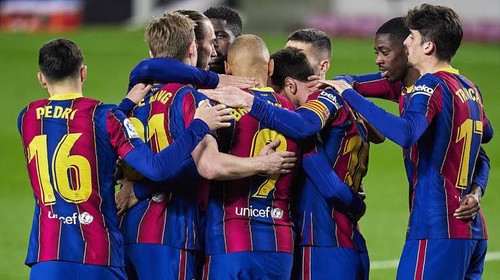 The Spanish La Liga has gotten to it's climax stage with four teams completely being dominant in the race for the trophy. As expected, the two Classic giants Real Madrid and FC Barcelona are in this as well sitting in 2nd and 3rd places respectively with Athletico leading the pack and Sevilla being 4th on the league table.
Having lifted the Copa Del Rey last weekend, FC Barcelona are in high spirits and would be looking to continue their good form till the last day of the season. However this would better be described as "almost impossible" based on the level of competition they'll be facing in the remainder of the season.
With 8 matches to go this season, Barca would claim the trophy if they get wins all through. This weekend they'll be facing Getafe who sit in 15th place. That game however, would not be the centre of focus as the accolade would go to matchday 35 when Barça would take on Athletico Madrid at the Camp Nou. This could be the return of Luis Suarez to the Camp Nou and of course the outcome of the game could very well be this season's decider.
At this juncture, one wouldn't be wrong to say that Barça currently has the ball in their court. But then again, it should be noted that one silly error could lead to their huge loss as their fellow competitors are keeping up with amazing pace. What'll happen from here is anyone's guess my friends so sit tight and watch as the last few weeks of the Spanish La Liga unfolds.
From Lee, it's bye for now y'all. Do enjoy the rest of your week.