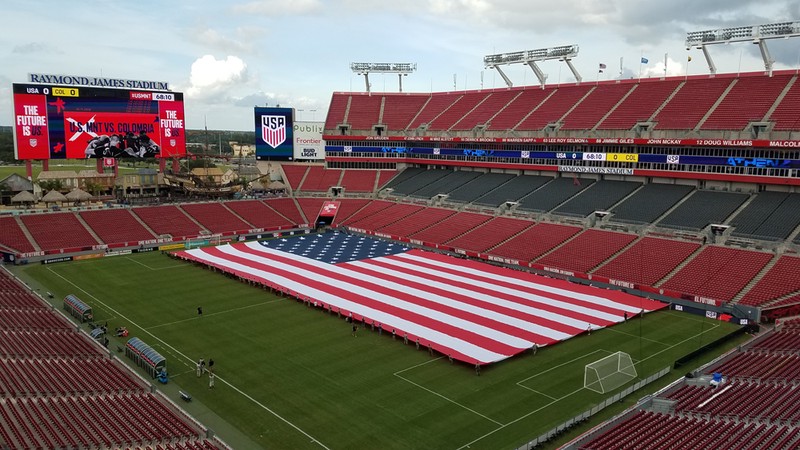 Late last night I finally made it back home after an extremely long day working the US Men's National Team hosting the Colombian National Team here in my hometown of Tampa. It's been a bit since I've worked a soccer match, I usually work the Orlando City Soccer matchups but this was the first time I've worked on an international match.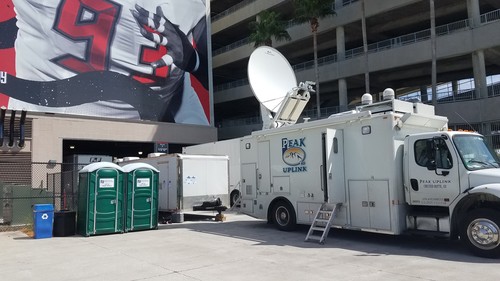 I've been anticipating this day of work since I was contracted for it a month or so ago. I knew we had a hard days work ahead of us as I arrived at Raymond James Stadium and made my way to the production compound tucked away in one corner of the venue. Here you can see an outside shot of the compound consisting of four production trucks and two satellite vehicles.

There were two main feeds produced for this match, one on Fox and the other airing on Univision (Spanish Network). I was assigned to the latter to fill the position of utility. Normally I work with audio on shoots and wish I did for this gig because they had one of my favorite consoles to mix games on inside their truck...Calrec boards make me drool! They remind me of the huge SSL consoles I learned to mix on in recording studios, except these are geared more towards live TV.

As a utility I'm basically doing whatever needs to get done, a little bit of everything. Grip for a handheld camera operator, check. Run 1,000s of feet of cabling, well everyone does this really. Build and set the beauty cam, sure why not. I'm honestly a bit sore this morning from all the work, it was certainly a gig that wasn't easy on the back.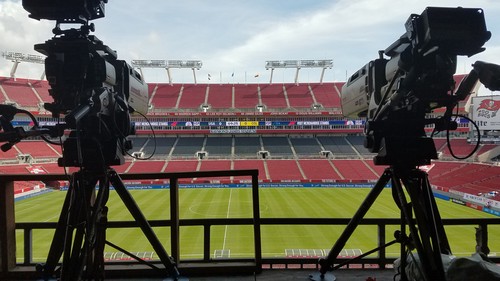 Most of the crew arrived on scene around 10:00 a.m. and by about 3 p.m. we had the stadium cabled, all equipment setup and faxed (tested) so we broke away for a meal break.

The two networks kept changing the production book on us throughout the day which is extremely frustrating, especially when you bust your back to get things done that are then 86'd from the production. Meaning they've nixed it or cut it out from the production but that's just part of the job I guess. Of course one piece of the production that would never get cut is the main field level camera, this guy has the best seat in the house!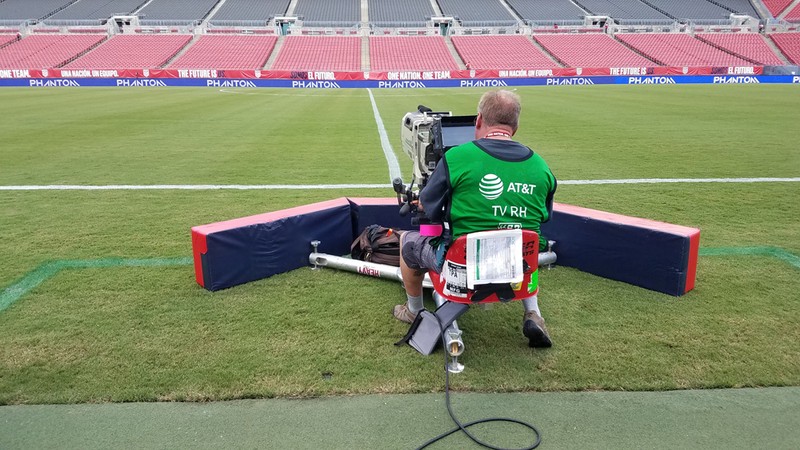 Shortly after returning from our meal break we completed another round of equipment tests, had our camera meeting and changed a few things requested by Production Coordinators last minute. After changes were made it was time for the player buses to arrive. For this, I was on the US side while the other handheld camera covered the Colombian team walking in.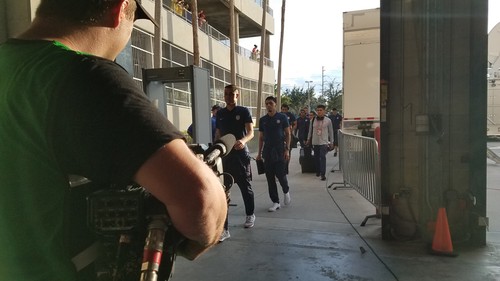 The US team actually walked directly through our production compound on their way to the locker room down the hall. We were tasked with grabbing one of them for some pre-game interviews which were hosted on a small set positioned in-between our trucks and the locker room.
As the players walked by we kept an eye out for the specific player to pull for interviews which was midfielder Michael Bradley who also plays for Toronto FC. After waiting for the Fox interview to end we knocked one out for Univison and the Spanish-speaking viewers.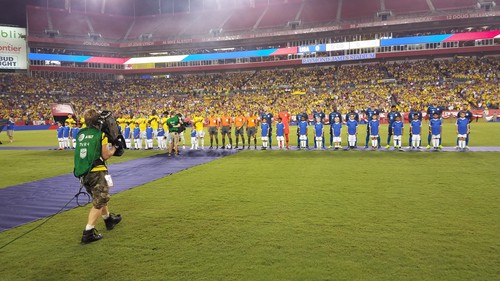 The 7:45 p.m. kickoff was slowly approaching so most of the crew moves out to the field to get ready for game time. First things first, shortly after the team walk-ins and a bit of on-field practice both National Anthem's were played.

I had a feeling there would be a ton of yellow shirts in the crowd for this matchup, Colombia fans were out in force!

At this point it was time to really focus on my work, I sneaked in a few pictures the rest of the night but was usually too busy to do so. We were positioned right next to the USA bench for the most part but we would move downfield behind the goal occasionally.

This match ended up having the largest attendance for any USMNT match held in Tampa with just over 38,000 in attendance. Colombia ended up taking the lead in the 36th minute with a goal from James Rodriguez.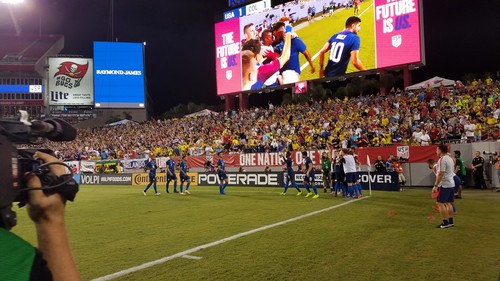 The United States team came out of halftime and responded with two goals shortly after the whistle blew. Kellyn Acosta scored in minute 50 followed quickly by another from James Woods in the 53rd minute. It looked like the US team was rolling at this point.
However, the inexperience of the US defense became apparent as Colombia pretty much dominated the pitch for the remainder of the match. They went on to score three goals in the second half and went home with a 4 - 2 victory over the US.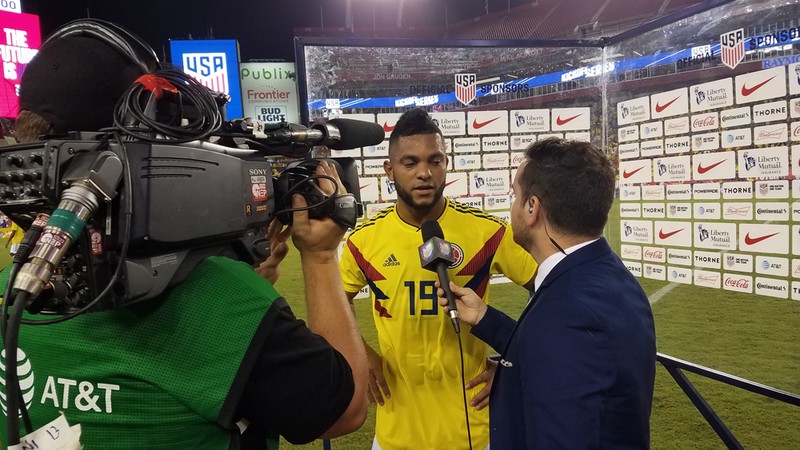 It took us maybe another four hours to strike all of our equipment throughout the stadium before being released after midnight. One of the things I really enjoy about working big gigs like this is I get to see a ton of friends and people I've worked with over the years. The TV production community is a small one and a tight-knit one at that. Relationships are built on the trust in the competency of others to perform at a high level. I saw a few people I haven't worked with in quite some time so it's always nice to reconnect and keep building your network. After all, networking is the lifeblood of freelance production work!