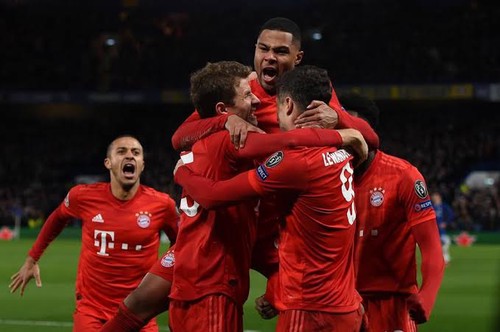 It was a relatively easy game for the defending German Champions Bayern Munich as they beat Chelsea 3-0 at Stamford bridge to almost finish off the tie.
Two quick second half goals from Gnabry under the space of 4 minutes broke the hearts of many Chelsea fans and the icing on the cake was put by no other person but Robert Lewandowski. His goal appeared to seal of the tie at 3-0 and cancel any chance of a comeback that the Blues might be hoping for. Chelsea fans will sadly be left to rue a first half that they termed decent where they could have at least gotten something from the game. Bayern Munich sure came back in the second game to punish them, and now the second leg at the Allianz Arena looks like a lost cause for Frank Lampard's men, merely a formality.
..... .................
In the other match of the day, Barcelona drew to Napoli 1-1. Barcelona had to struggle and dig deep to come back from a 1-0 goal deficit and convert all their dominance in the match to a much desired goal. The second leg of the tie will prove decisive with a lot to fight for for both teams and a place in the semi finals on the line. So I can look forward to the second leg of the tie as I am neither a Barcelona or a Napoli. Neutrals like me can definitely look forward to a beautiful game of football from the two sides.