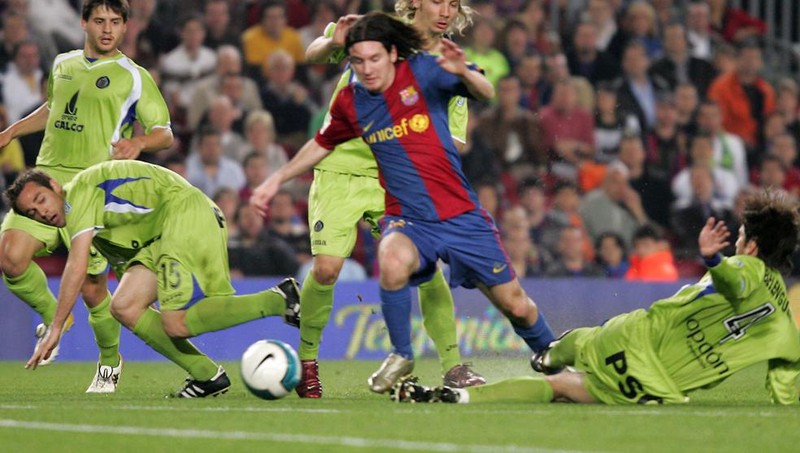 Maybe my feeling moves me a little in this publication, but for me this is the best goal in history.
There are very beautiful goals in history. Great distant shots, unimaginable skils. But I think this goal is unique. It's unique for the dribbles that Leo performs from the middle of the field and the cold blood with which it culminates.
I think this is better than Maradona's own goal, due to the historical period. Currently soccer is more tactical and broken deffenders is becoming more and more difficult.
11 years of a historic goal of the '10' Barça, although then he wore the '19' on his back. Leo Messi's 'Maradoniana' move against Getafe in the 2006/07 Copa del Rey semifinals travel around the world as one of the most spectacular actions ever seen after starting from his own field, dribling up to five rivals and shoot Luis Garcia's goal.
April 18, 2007. First time of the Copa del Rey semifinals between FC Barcelona and Getafe at Camp Nou. It was the 28th minute when Leo Messi decided to leave the entire stadium speechless with a goal in the style of his compatriot Diego Armando Maradona.
The Argentine receives a pass from Xavi Hernández on the right side of his own field and draws Paredes with a great cut and Nacho with a tunnel. The action continues, he leaves Nacho behind, and makes a double dribble between Alexis and Belenguer to enter the area and face the goal. The goalkeeper Luis García comes out, but the Argentine crack cuts again to score on an empty goal and also overcome the lateral Cortés, who came to the goal line to try to save the goal.
A simply spectacular goal, which once went around the world and even now, a decade later, continues to be remembered as one of the best goals in history. A target of a Messi that was already beginning to emerge in the first team of FC Barcelona and began to appear in the elite of world football. Now, eleven years later, the Argentine star has unmatched records of constancy, which allow him to sit on top of the world of soccer.
Here I leave the link, so enjoy the goal