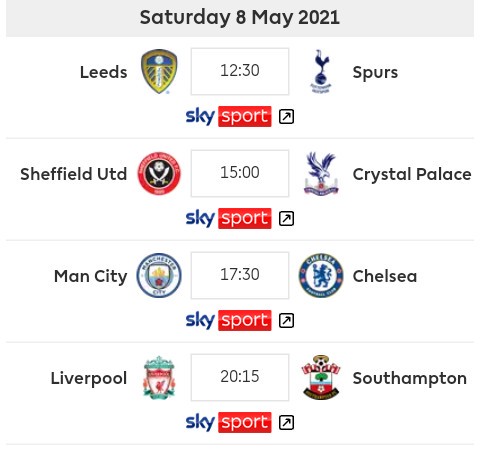 The English Barclays Premier league is drawing it's curtain gradually and the anticipation of what position what team will end is pretty much on the high as position 2 to 10 will definitely change after this game week and the relegation zone taking games more seriously and what team to get relegated might be clear off after this week.
We saw how the Magpies; Newcastle United took the bull by the horn and went all out to defeat the Foxes; Leicester at home by four goals to two, definitely, it was least expected but they needed it the most and they had to do the needful by scoring more than the Foxes.
MATCHES UP FOR TODAY
Here are today games which I will be analysing in my own way and drop PREDICTION.
Leeds Vs Spurs
Sheffield United Vs Crystal Palace
Manchester City Vs Chelsea
Liverpool Vs Southampton
Leeds Vs Spurs
Here's a game of who needs it the most but I feel Leeds United don't actually have any serious thing to fight for except for the pride of not losing at home, but for Spurs to luckily have an hand in Europe do need to win all their games hence they need this game more than ever before and they are basically in form with the Great performance of Gareth Bale in previous game with an hat-trick, Dele Ali gradually gaining back fitness and Son alongside Kane still having the Golden Boot and Ball to fight for.
PLAYERS TO WATCH OUT FOR
Bamford has proven himself not just against small sides but also against big sides as he's find a stay in the highest Goalscorer sheet and he'll definitely keep Alderweireld and other defenders busy throughout the Game.
Meslier, Leeds Goalie has proven himself to be one you can rely on as he is one of the few Goalie with high numbers of saves putting his name on top 5 of Goalies with Saves hence he'll be coming all-out to stop the combined attack of Kane-Son-Ali-Bale-Lamela.
GARETH BALE
He can be mentioned to be the most experienced player as he's won the UEFA CHAMPIONS LEAGUE Back to back and got all the experience to winning games even under pressure as he handed the UCL to Madrid against Liverpool and he's picking up form and hence a serious threat.
HARRY KANE/ SON
Kane and Son have this threatening combine effort to break any defence, they've both scored numerously and Kane still leading the list of Assists and I can assure that Meslier will be so Busy and Dallas who has been rated high as well in defence.
PREDICTIONS
Both teams will most likely find the back of the net as they are strong going forward but SPURS needs the game more hence score more:
4-2
3-1
SHEFFIELD UNITED VS CRYSTAL PALACE
Crystal Palace in recent times as been falling down the perking order as in previous seasons do not find them side where they are instead giving the big teams tough time and sitting mid-table though they are more aware than ever before and else doing all possible ways to keep winning games while Sheffield United will definitely be going back to the the Championship.
ONE-WAY TRAFFIC
It's a one-sided game as Palace should pit all they have to see to getting a great result and I want to believe that Palace with their attacking prowess get to hit Sheffield badly adding pepper to their pain.
PREDICTIONS
2-0, 3-1
MANCHESTER CITY Vs CHELSEA
Here's the Pre-UCL FINAL with both sides to meet as well in the UCL FINAL in some weeks time hence there be alot of caution in this game as I sense minds game to be played today as both sides may not put their best especially Man. City as Chelsea needs the game more to enable them dispossess West Ham and possibly Leicester to sit at Top four.
TEST OF TACTICALITY
Thus is a Pre-UCL FINAL game and definitely both teams will be test running their strength in Preparation for the final and Man. City are in a better position for the test running considering the fact that they've won the league already and Chelsea do have alot to fight for.
PREDICTION
1-1
Both teams will be careful
LIVERPOOL VS SOUTHAMPTON
Here are familiar folks and I'll go straight to PREDICTION here with a two goals advantage to Liverpool.
It's your humble writer ✍️ Mategghead