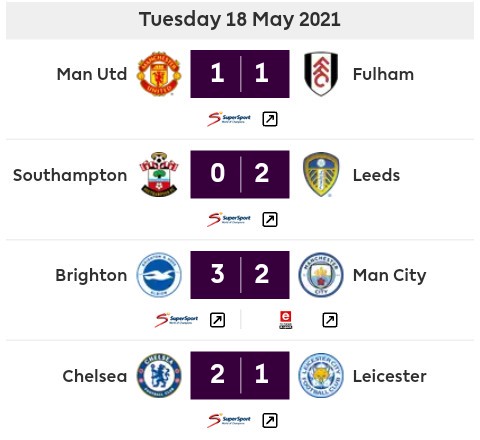 The Season is drawing it's close gradually and in no time 2020/2021 season will be added up to history, Manchester City already won the English Premier league and it seem they are only awaiting the Champions league final as they aren't giving their best at the moment with consistent rotation of the team and resting of the players possibly to free them off from Fatigue but the results they are getting right now isn't encouraging and if United hadn't lost the opportunity to chase them, am sure they'll be pushing now but it's part of the game, choosing the games to put your all to and which not to.
Fellow UCL finalist; Chelsea on the other round dear not to rest as they just sealed their place in the UEFA champions league for next season having defeated Leicester city and looking forward to the final game of the season. Chelsea lost the F.A. Cup to the Foxes last week and that caused a severe pain in the heart for Chelsea and it lovers having given their all but couldn't earn them the expected results.
United had Qualified for Champions league come next season as early as Manchester City claimed her assurance too but the Red Devils aren't sure of what spot to finish on as they couldn't beat Fulham with and be anticipating to beat Wolves on the final day to seal a second place spot.
Result
Manchester United 1 - 1 Fulham
Southampton 0 - 2 Leeds
Brighton 3 - 2 Man. City
Chelsea 2 - 1 Leicester
UNITED BLOCKBUSTER
United might not had won but set a tough record which will be tough for any club to break this season as Cavani scored a brilliant goal to therefore make his goal tally for this season 10,which imply that 3 Manchester United players had scored 10 goals and above this season; Bruno Fernandes, Marcus Rashford and now Edison Cavani. The aged and former Parisan as signed to still be with the Red Devils next season as that will be a great addition to the attacking prowess of the team, we just can't wait enough. No other team might be able to achieve this feat before the end of the season.
BAMFORD WONDER
Bamford lead Leeds United to a triumphant victory Scoring a goal and setting up another to give the traditional team a 2 - 0 victory. Leeds; which are still hoping that other teams above them underperform as they are getting the right results to see if they can possibly make it to the UEFA EUROPA LEAGUE.
BRIGHTON SHONE BRIGHT
Gundogan and Phil Foden goals weren't enough to save city a victory as the Hove Albions found the back of the net 3 times to defeat 10-men Manchester City after Cancelo got Red carded.
BLUES VS THE FOXES (GAME OF THE NIGHT)
The most anticipated game of the night was definitely this as it's more like a return leg as the Blues lost the prestigious F.A. CUP to the Foxes and definitely do seek revenge and they took it hope beating the Foxes 2 goals to 1 as both teams still seek a spot in The UCL SPOT especially for Leicester as Liverpool is chasing with the whole if their heart.
EPL GAMES Are Never DULLING AS IT'S NOT OVER UNTIL IT IS OVER.
✍️ Mategghead