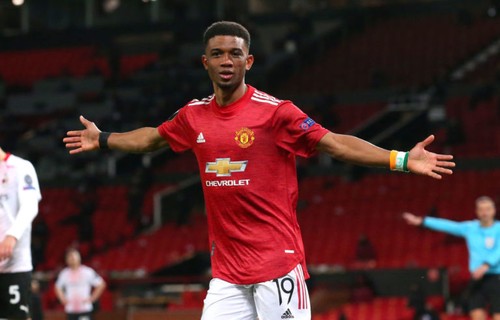 The UEFA EUROPA LEAGUE gets better and tougher with bigger teams getting involved year in, year out... This Season is at the verge of deciding those who'll make it to the Last Eight and you already have a clash of Devils... MAN. UNITED VS AC MILAN.
United hosted Milan as Milan had a better chance at kick off, playing a better football than the host in the first half but luck was against them.
Ac Milan found the back of the net very early 5minutes into the game but was cancelled for Rafael laeo not keeping offside from a nice pass from teammate Kjaer.
Few minutes later at 11minutes Milan found the back of the net but yet again VAR caught the hand of Kessie being involved in controlling the ball before getting to the destination and canceled again, though there's a speculation that the hand wasn't actually involved.
So, the Giants went in with a Goalless draw but on arrival, at 50'' Amad Diallo scored his first for United on senior Jersey after replacing Antonio Martial and enjoying an assist from Bruno Fernandes as he puts the Host in front but couldn't last for ever as they refused to clear their lines thereby conceding a late goal at 92 minutes of the game from set piece; Corner kick where Kjunic assisted Kjaer.
It was a disappointing game for United as they missed lot of Chances even the captain of the team missed quite a number of chances and now Milan with their away Goal have a better chance of Qualification since they'll be hosting the return leg.