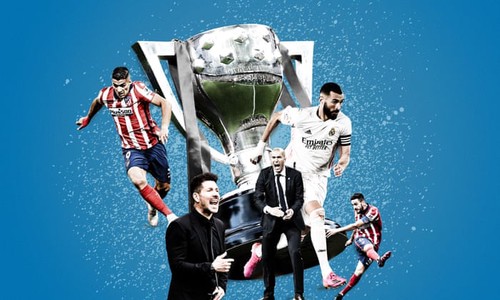 All leagues are drawing to a close already and unlike the German, Italian and English leagues that have their Champions already, in Spain and France is a different scenario as the tables are been shaken and more like power being ready to change hands with Lille and Atletico having the edge to clinch the title after a long period of time waiting for this glorious hour and now it's their league/title to lose.
LET'S LOOK INTO THE ATLETICO SQUAD
This is Simeone's tenth year with the capital Club as he joined the club as a Coach in 2011 though he'd always played their as a footballer and since he got to the club, the club had witnessed a kind of transformation that none could have ever speculated about making Atletico Madrid a club that stands to shake both Madrid and Barcelona, thereby changing the philosophy of a Top Two Spanish Giants to Top-Three.
In 2014, he broke the bond that saw only Barcelona and Real Madrid sharing the Laliga amidst themselves since when Valencia won it in the early 2000s as they defeated faced Barcelona to be Crowned Champions of Spain and gotten to the Champions league final a couple of times being beaten by Real Madrid twice in 3 seasons and been beaten off from Semifinal by Real Madrid as well and other stages of the competition as their biggest nightmare as always been Real Madrid and Cristiano Ronaldo both during his stay in Real Madrid and now in Juventus.
This season there were a lot of Reformation in the squad with Thomas leaving the squad and Luis Suarez coming in to lead the attack alongside youngfolk; Joao Felix. Suarez has scored 20 goals for ATLETICO in the league behind Benzema, 22 goals and Messi, 30 goals and they've been decisive though Suarez looks stressed out as it seem more like fatigue setting in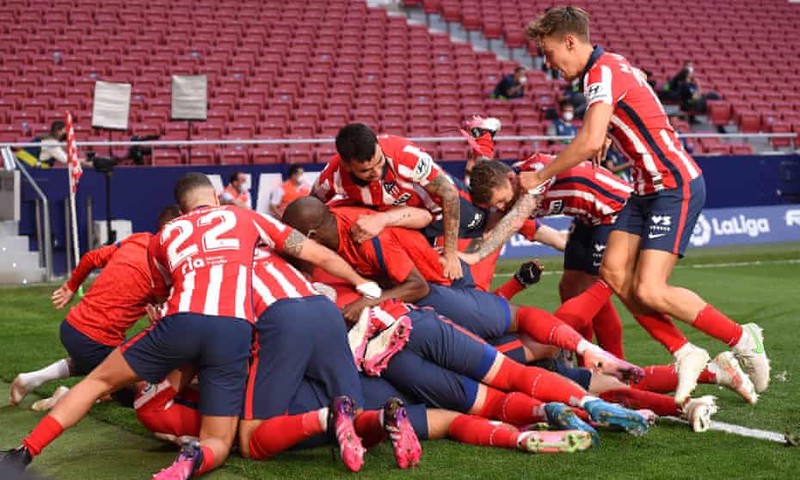 Atletico started the season pretty creating an early lead to the competition with about 10points off second placed Real and some outstandings then but they threw off such rare opportunities as both Real Madrid and Barcelona aren't in their best of forms at the moment and it's certainly Atletico's trophy to lose as they are 2 points ahead of second placed City Rivals; Real Madrid and here comes the opportunity to get crowned the second time under Simeone and within the period of Ten years.
POSITIONING
Atletico is sitting at the helm of the log with 83 points while Real is closely behind with two points difference on 81 points.
PROS/CONS TO LIFTING LALIGA
Atletico Madrid will be playing bottomside relegation threatened side Real Volladolid as Real Madrid will be playing UEFA EUROPA LEAGUE finalist; Villarreal who'll be playing Manchester United next Wednesday.
Volladolid is currently on 19th trying to see possibility of gaining a 3points while Unai Emery's Villarreal are currently 6th on the log and expected to rather rest their players ahead of the Europa league final coming up in few days time.
Atletico will have to win to gain victory else a draw and Real winning with four Goals difference will mean that Real Madrid won't be trophy less any longer considering their early exit in Copa Del Rey and then at Semifinal in the Champions league.
WE MOVE TO FRANCE
The Ligue 1 this season is with Surprise as the red Army of Lille aren't taking anything for granted with their commander; Christopher Galtier on the ship proving it worthy to fight for anything this time around.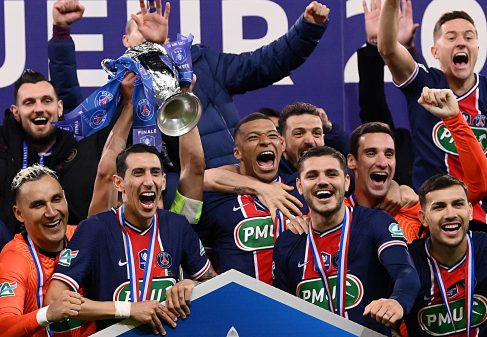 Lille sold their outstanding striker; Victor Osimhen at the end of last season and none will expect Lille to be where they are at the moment not just fighting for the title but sitting on top and doing all it takes to own it as the Captain; "Fonte mentioned that they may not have the Superstar Player who could score 30+ goals a season but they have a team" and that's just what we've seen from them basically.
Lille are currently on top with 80points as defending champions PSG are on 79points while AS Monaco is on 77 points and Olympique Lyonnais on 76 points which imply no top-four battle over here but who to emerge as the Champion.
THE PROS AND CONS
Lille will be facing a currently poor side; Angers and will be anticipating a victory as a victory implies emerging as Champions.
If Lille draws their match and PSG wins then PSG will be Champions with 82 points above Lille's 81.
If Lille loses, PSG draws and Monaco wins then the trio will be on equal points of 80 as only three points separated them at the moment yet PSG will be Crowned Champions due to Goal difference but if Monaco can win with a Large Margin then the table can be shaken towards their side.
The heat is much, CAN THIS BE LILLE AND ATLETICO'S SEASON.
TONIGHT IS THE NIGHT.
✍️ Mategghead