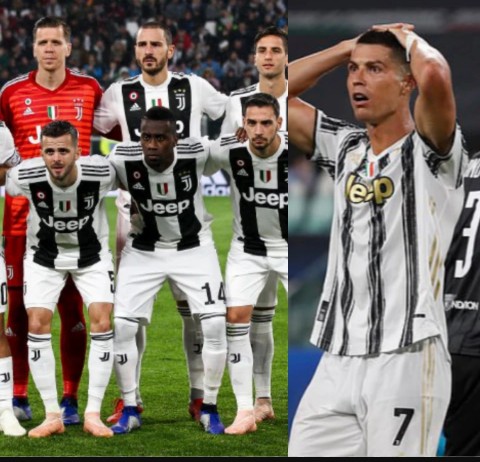 The Italian Turin-Based Giant Club, Juventus was part of the 12 Gigantic club that planned a breakaway EUROPEAN SUPER LEAGUE which the UEFA president tagged Disgraceful which is to see the big European clubs play only themselves during midweek basically targeted at having a maximum revenue from the funds generated as there's always a corruption scandal with both UEFA and FIFA and the Big clubs feel they don't get up to the level of revenue required of them as all the big teams got seriously hit by the Covid-19 pandemic that affected the World Economy and the big teams suffered it due to their large salary consideration.
The fans weren't happy about it as fans of many football clubs especially in England protested against as Arsenal and Chelsea fans had a protest and Manchester United fans invaded the pitch thereby disrupting play between Manchester United and Liverpool which is rescheduled for Thursday evening hence all teams involved in England withdrew their participations with apologies alongside the Milan clubs and Atletico Madrid making it a withdrawal of nine clubs.
Till date Juventus is yet to retrace their steps alongside the two Giants in Spain; Barcelona and Real Madrid. As Florentino Perez, the President of Real Madrid as not stopped talking about it and still see a need for the Big Clubs to own their own league and share their revenue maximally. This which is a threat to world football and UEFA had pronounced punishment and sanctioning to teams that had retraced their steps, hence we anticipate a greater punishment for this other teams yet to accept to step down plans.
The Italian football federation lead by Gabrielle Gravina during an interview session mentioned and I quote that: "The rules are clear. If Juventus are still a part of the Disgraceful- European Super league when it enters next season, they won't be able to participate in Serie A". He went further stating how there can be only one solution to this which have to be played by the Juventus owners else no way out as he added that "I would be sorry for the fans but rules are rules and they apply to everyone. I hope this holdout ends soon."
So, for Juventus to participate come next season they must retrace their super league step, the big players in this team will have to suffer with the team as the teams won't be able to participate in any FIFA or UEFA related competitions which imply the likes or Ronaldo, De ligt, Sczesny, etc. to be out from the Euro 2021to be played later this year. This may cause some players to force their ways out of the clubs left in the Super league.
As it affects Juventus, same will be applying to Real Madrid and Barcelona if they fail to withdraw participation in the Super league.
So, football fans are faced with possibilities of not viewing Cristiano Ronaldo, Messi, Dybala, Ramos, Benzema, Rakitic, Kroos, Modric, Isco, Busquet, De Ligt amidst others.