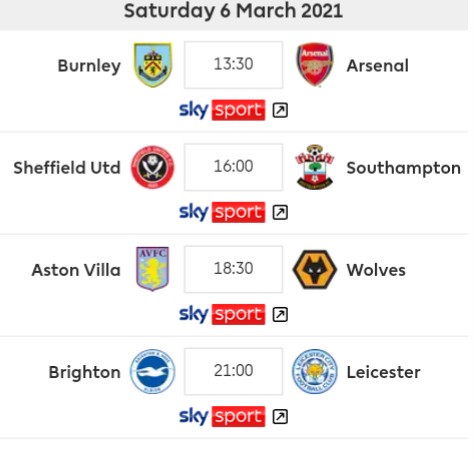 English Premier League is definitely the toughest league in the world as the Gap between the Second placed team; Manchester United and the 8th placed team is very minimal and there's no certainty about the position any team will finish this season aside from possibly the Table toppers Manchester City as they are 14 points ahead of second placed team and they are in the best of their form this period of the season unlike the commencement of the Season.
Today, the fixtures are:
Burnley Vs Arsenal
Sheffield Vs Southampton
Aston Villa Vs Wolves
Brighton Vs Leicester
Starting from the first Kick off with Arsenal traveling to face Burnley.
Arsenal knows they need to start being consistent more than ever before and considering players like Aubameyang striving to gain back their foot, I see Arsenal going away with an away Victory
Arsenal win.
Second Kick off... Sheffield hosting Southampton. Southampton were somewhere on the top five spot in the beginning of the season but starting with Ings injury and after his return they just found themselves drowning even conceding 9 from United. I see both teams scoring as Sheffield also do need to find winning ways to remain in the Top Division.
Sheffield 1 vs 2 Southampton
Aston Villa Vs Wolves
Aston Villa do have a great season and just have to intensify their plans but Wolves isn't an easy team to beat anytime anyday so I go for a draw.
Brighton Vs Leicester
Leicester, placed 3rd with a slim chance up there needs to do more to remain there this week or even to go above United by Winning so I give it to Leicester city though they've not been consistent.