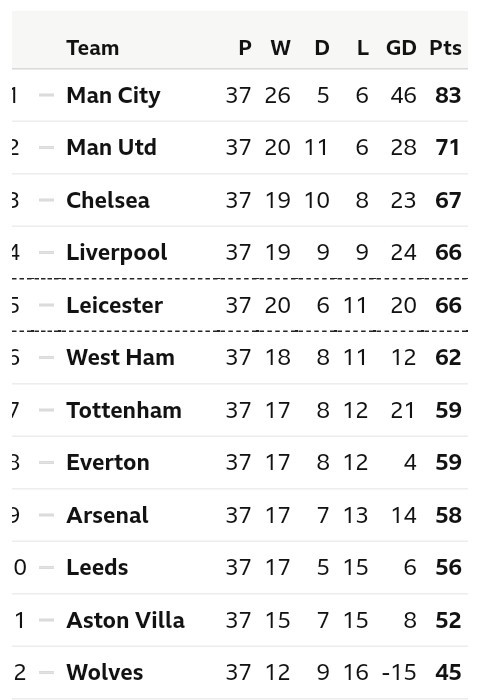 The flame of the Epl and Serie A Top Four Battle is pretty hot than what is witnessed in other leagues as Big Clubs like Liverpool and Chelsea are faced with possibilities of not making it to Champions league in England and in Italy we have Defending Champion; Juventus, A.C. Milan and Naples Napoli faced with possibilities of not making the Prestigious Europe top-flight competition.
Famous Capital Clubs like Roma (Rome), Tottenham and Chelsea (Both in London) are out of the chase for a Champions league spot this Season as both London Clubs are rather fighting for Europa league spot and the games on the final day are definitely going to be so interesting to watch especially with this rivalries and final day qualification contest.
EPL TOP-FOUR ANALYSIS
The two Manchester Clubs have sealed automatic qualifications and spot as first and second with Manchester City winning the campaign this summer with 83 points already and the Red Devils with 71 points, both sides are ahead of others as they both took the two first spots already leaving other sides with 2 spots to fight for.
Chelsea is currently seated on the third spot with 67 points, Liverpool and Leicester city both on 66 points with the Reds with an advantage of Goal difference over the Foxes to thereby seat on fourth and the Foxes on fifth. If games end with all sides winning their games then the table remains this way and the Foxes dropping already for the Europa League.
POSSIBLE OUTCOMES
If Chelsea loses and the other two sides gets a draw then Chelsea and Liverpool will qualify on Goal difference but same points only if Chelsea loses with a Goal difference and Leicester wins with a Goal difference as well but Leicester can qualify under same condition if Chelsea loses with more than a goal difference and Leicester Wins with more than a Goal difference as well.
If Leicester city should get a draw and other sides gets a draw then Leicester will qualify as third and Liverpool joining on Goal difference advantage.
WEIGHING THE FIXTURES OF THE TEAMS
Aston Villa Vs Chelsea
Villa Park is a fortress this season and will definitely be a tough one for Chelsea as a Draw seems more feasible.
Leicester city Vs Tottenham
This is the Game of the Weekend with Leicester fighting for Champions league and Tottenham fighting for Europa league spot and both sides needs maximum 3points to stand in contest
Liverpool Vs Crystal palace.
This seem on paper as an easy fixture but Zaha and Eze knows how to deal with big teams you know.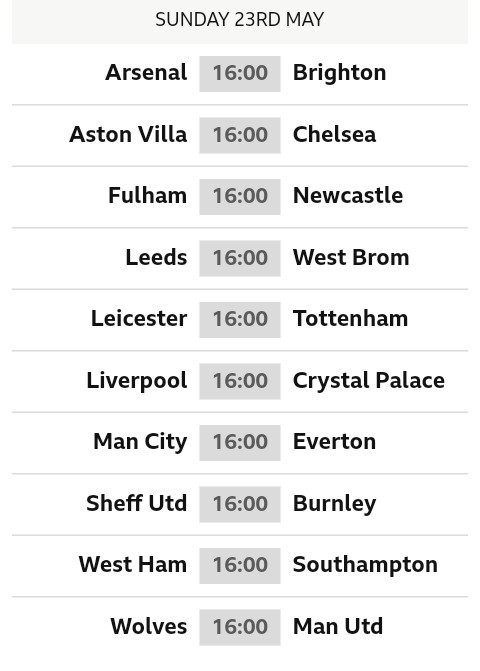 Extra determinant fixtures:
Arsenal Vs Brighton
Arsenal Victory will threaten Tottenham qualifying option
Man. City Vs Everton
Everton also on the battle for Europa league spot facing a team fighting for nothing except they decide to fight for pride.
West Ham Vs Southampton
West Ham are sixth but needs at least a draw to cement their place in the Europa League spot.
Chelsea not qualifying is a blessing in disguise as they are currently in Champions league Final and if they miss out in qualifying directly via top four finish can still make it by Winning Manchester City in the UCL FINAL and make EPL representatives increase to five with an automatic Champions league winning ticket.
Back to Serie A
SERIE A TOP-FOUR CONTEST
Inter Milan are already Champions on 88points with 10points lead over second placed Atalanta, that's on 78 points. Atalanta as qualified but failure to get at least a draw may imply that they'll end up as fourth, Ac Milan is Third on the log with 76 points same as Napoli with an Head-to-Head advantage as Head-to-Head is the custom of separating teams in Italy as Napoli do have an higher Goal difference but the defending champions; Juventus are sitted 5th currently on 75 points and a bad Head-to-Head position against both Ac Milan and The Naples.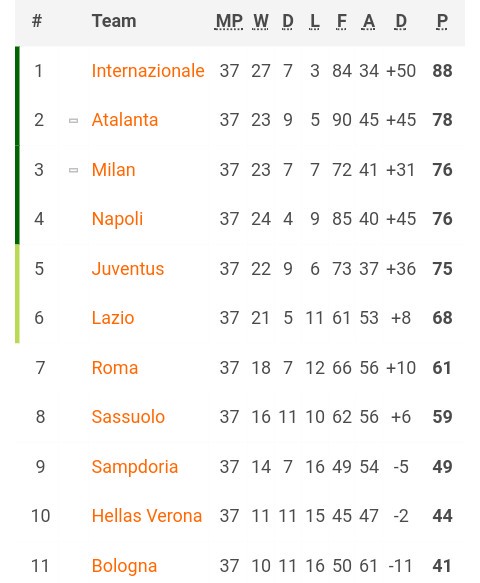 WEIGHING FINAL DAY FIXTURES
Atalanta vs AC Milan
Bologna vs Juventus
Napoli vs Hellas Verona.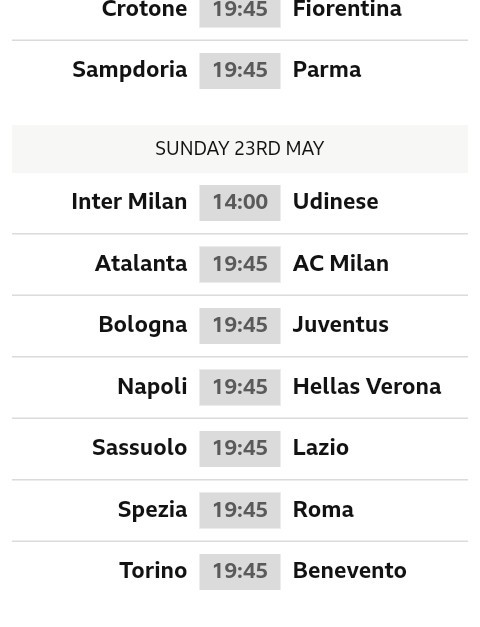 Atalanta vs AC Milan is definitely the decider of the battle and it lies singly in the hands of the Atalanta's team with a victory or draw implying the end of the road for Milan and losing the game to Milan is the end of the road for Juventus and Atalanta finishing 4th as the Old Ladies and Naples Should possibly get a Victory.
A FIRE FUELED END OF SEASON BATTLE
✍️ Mategghead