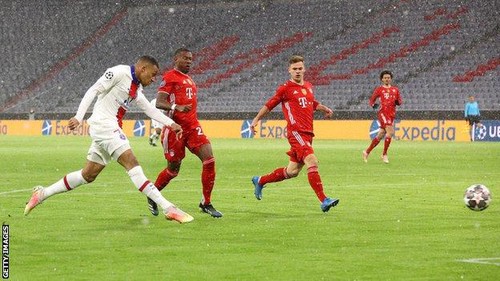 It's a night of wonders in the prestigious UEFA Champions league as the unexpected happened, we expect surprises but I guess it wasn't up to the extent it got to speaking of the mind of most Football FAITHFULS.
I tipped both Chelsea and Paris Saint-Germain sides to qualify but wasn't expecting it to be that easy, it is an easy qualification for both sides. In football it is usually mentioned that IT IS NOT OVER UNTIL IT IS OVER but for this two games I write off both Porto and defending champions; Bayern Munich off already.
Bayern Munich conceded 3 home goals from away P.S.G as the Parisans sealed the victory with 2 goals from Mbappe and two assists from Neymar as both players were too tough for the Munich defense to handle.
Lewandowski was absent but I feel too much damage as been caused already plus the fact that P.S.G. defense is a force to reckon with and a hard rock to break.
Chelsea on the other hand played as though they had only one leg to play thereby taking good care of the Portuguese teams which found it tough trying the break the London-based team defense with Experienced Thiago Silva leading the park in defense and an inclusion of Ngolo Kante to make sure their defense is solid.
Whoelse concurs that both BAYERN AND PORTO are OUT , Any contrary opinion share let's discuss