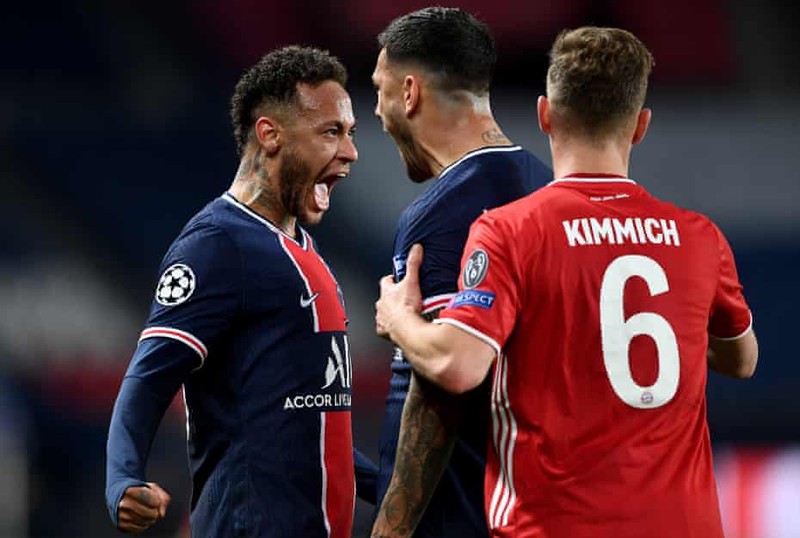 Neymar though was the man of the match as he held on possession for his team lost a couple of clear chances which caused problems for the Parisans as they had less time with the ball yet Neymar consistently being dispossessed and in front of Neuer he couldn't convert any of the opportunity set before him though same goes for Mbappe as PARIS SAINT-GERMAIN had more clear-cut opportunities than the Bavarians.
Bayern won 1-0 yet out of the competition what a way to end the Champions league run of the defending champions. Choupo Moting hunted his former side; P.S.G. scoring the lone goal in the game from a rebounce as he competed strongly in the air with PSG captain; Kimpembe.
I wrote sometimes last week that both BAYERN and Porto are definitely out of the competition after conceding 3 and 2 goals at home which was a basis for their exit considering the Away-Goal rule.
Lewandowski couldn't feature because of his lack of fitness though he should be back by weekend against RB Leipzig but a sorry case for him as his team are out of the prestigious competition.
Porto on the other hand came all out aggressive same as the Blues but both sides lost a couple of chances more kudos to the defenders on the night for clinical clearances and Tuchel's men could have suffered it if Porto had converted some chances before that wonderful world class goal scored at the dying minutes of the game.
PARIS SAINT-GERMAIN AND CHELSEA ARE THROUGH TO THE SEMIFINAL of the competition as the latter is to face the winner from Man. City and Dortmund and the other from Real Madrid/Liverpool contest tonight.
It can only get tougher...Real Madrid has an edge considering 3-1 advantage from first leg and a 2-1 advantage for Man. City.
Don't miss tonight as we expect the unexpected.
It's da prestigious UEFA CHAMPIONS LEAGUE
Yours da Beloved
Mategghead✍️