With the departure of Mighty Arsene Wenger, Unai Emery has ignited the fire of new Arsenal era. The Spaniard has particularly put his focus on the defending side of the club. With 5 new signings and most with defending skills. Lucas Torreira, Stephan Lichtsteiner, Bernd Leno, Sokratis Papastathopoulos and Matteo Guendouzi.
Lets not talk about defenders here as i am here to talk about the midfield.
So we have seen that Emery's favourite formation is 4-2-3-1 and 4-3-3.
Offence side of Arsenal seems pretty good with Aubameyang, Ozil, Mkhitaryan, and Lacazette.
He has been using 4-3-3 frequently then the other. Emery likes his fullbacks to push high up the pitch and overload the opponents.The main problem has been in the midfield as the midfield line has not been able to cover their 2 center backs.
Let me give you my thoughts on which players should start as midfield trio.
Lucas Torreira (The destroyer, tackler or ball-winner)
22 year old Lucas was signed from Sampdoria for a fee around £26.4m. He is a defensive midfield with an ability to dictate the game and use his great agility to break opponents attack. He has shown that he is great at his work. I would play him at the center of 3 midfield man who will be that wall infront of the center backs. Not only that, Lucas is great at set pieces and has good control on the ball. He has shown promises of great ball winning and passing ability.
2. Matteo Guendouzi(Ball playing midfielder)
19 year old Matteo was signed from Lorient for a fee around £ 7m + add ons. The French youngster is a defensive midfielder, much in a similar mold to Barcelona star Sergio Busquets. Guendouzi reads the game well, with strengths lying in his ability to intercept while turning defense into attack quickly.His main strength lies in his reading of the game with his penchant for interceptions although he is not good at it. His mate Lucas will do it for him. Guendouzi was one of his team's best passers last season and is known not only for his accuracy but the danger he creates as he favors long diagonal balls or sharp passes down channels between full-backs and center-backs.
3. Aaron Ramsey(Box-to-Box midfielder, Engine)
We do not have to talk about Ramsey's history as he has been one of the best player of Arsenal. He was player of the season last year. Ramsey has a great engine as he is the one to cover most distance than any of the player from arsenal in most games. He is a great goal scorer, provider and is pretty good at winning balls too. As a whole Ramsey is great up front with his goal scoring ability and can play up wide.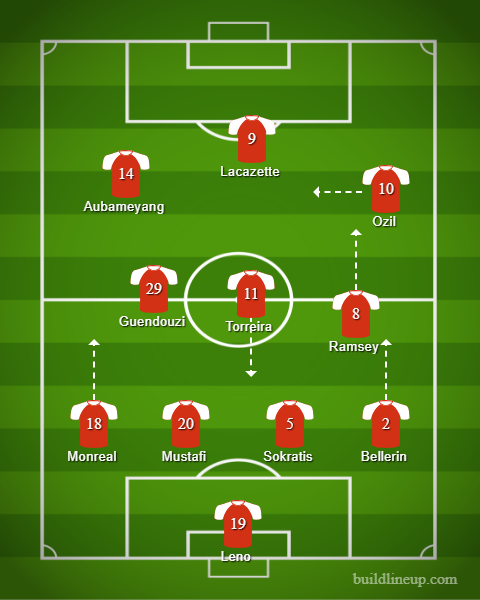 Conclusion and Summary:
** A Ball-player, Destroyer and an Engine**
Torreira shows a great potential as a defensive midfielder and will do great at protecting the center backs.
With little bit more position sense, long and diagonal passing, through balls between the opponent defenders, Guendouzi can boss the Arsenal midfield.
Ozil can drop into the middle as we know he is one of the best number 10 today. Connecting that defense to offence string during a transition and provide those beautiful assists [i seriously miss that ozil :(]
Ramsey will take Ozil's position and play wide as he can both create and score.
Team may look like during the transition: