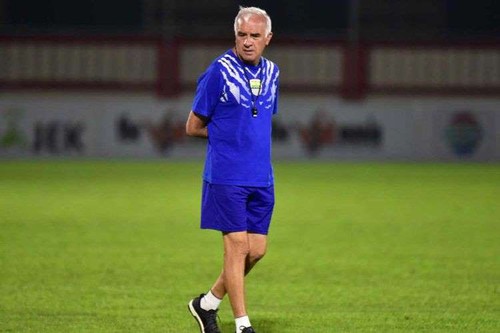 Persib coach Mario Gomez. Persib.co.id
Persib Bandung coach, Roberto Carlos Mario Gomez, was chosen to be the Best Coach of the 18th Week of League 1 2018 version of the Technical Study Group (TSG).
This award cannot be separated from the results achieved by Maung Bandung in the latest game. Monday (07/30/2018), Patrich Wanggai and colleagues won an away victory with a score of 3-2 over PS Tira.
The performance in that match also led Jonathan Bauman to be selected as Player of the Week 18 of League 1 2018.
"Thanks to the concoction of the strategy of this Argentine national coach, Persib is able to maintain a positive trend and remain at the top of the standings in the 18th week of League 1," according to the release of PT Liga Indonesia Baru on his official Instagram account as quoted by BolaSport.com.
As called PT LIB, the victory did maintain a positive trend for Maung Bandung.
The Kembang City team won four wins and two draws in the last six games in Indonesia's top caste competition.
For Gomez, this award is not the first time he received in League 1 2018. The 61-year-old man has been awarded the title of best coach this season three times.
Previously, Gomez was also asked as the most famous architect in the 10th and 13th weeks. This also means that Gomez is the architect of the 2018 League 1 club who is most often crowned as the best coach.
After Gomez, another quartet of coaches has been selected twice, namely Simon McMenemy (Bhayangkara FC), Widodo C. Putro (Bali United), Rahmad Darmawan (Sriwijaya FC), and Jacksen F. Tiago (Barito Putera).