Several days ago, as a naive American sports fan who is relatively new to rooting for soccer teams, I asked for your help. You did not disappoint me. I received over a dozen messages and a half-dozen great recommendations.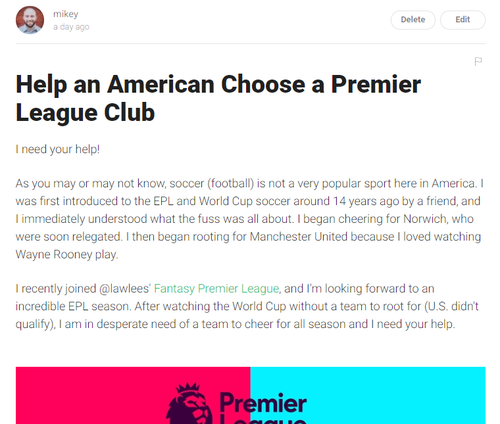 After reading through each response, researching the teams, and carefully considering my options, I have picked my team, and I'm very excited about it.
My New EPL Team Is...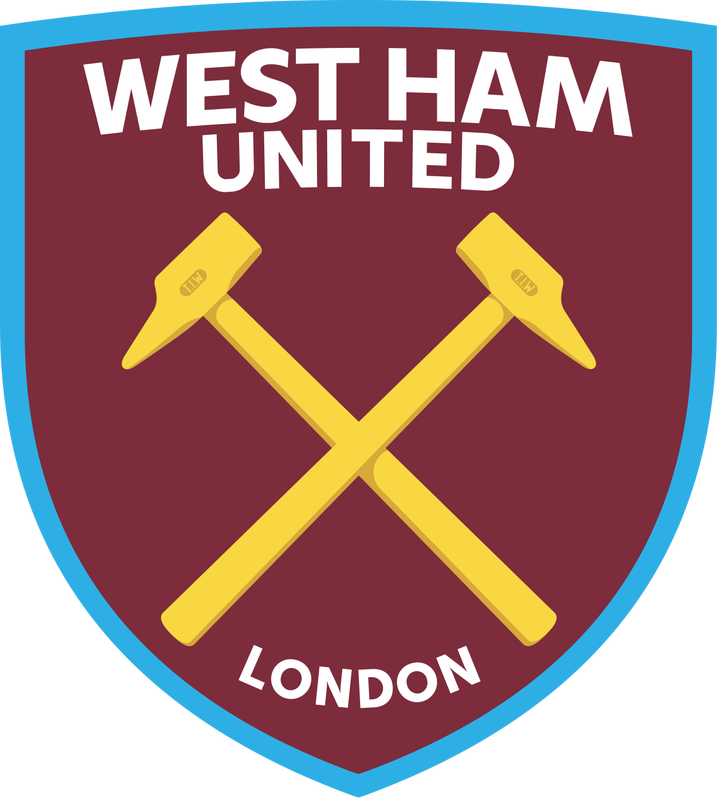 Nicknamed The Hammers, which is an absolutely fantastic nickname, West Ham United is located in Stratford, and has been around since 1895. Their last FA Cup victory was in 1980; however, the club finished second twelve years ago in 2006. They are never expected to be near the top of the league, but they have made some recent signings and hired a new manager (Manuel Pellegrini) to lead this team forward.
Casually following soccer and playing fantasy over the past year and a half, I recognize several names on the West Ham roster. Jack Wilshere, Javier Hernandez, Andy Carrol, Manuel Lanzini and others are all players I respect and enjoy watching. There is a lot to look forward to this season as a new Hammers fan.
The Winning Comment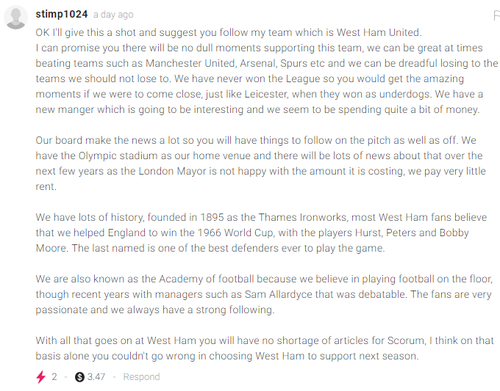 Thank you and congratulations to @stimp1024. Your comment made me look into this team and is the main reason I'm going all-in on the Hammers. As I mentioned in the original post, I will be giving you three full upvotes over the next week (so you can take advantage of the 1.6x bonus) as thanks for your help, and I look forward to cheering along with you this season as our Hammers climb the ladder to compete for the FA Cup.
What's Next For Me As A New West Ham United Fan?
I am taking my new role as a West Ham United fan seriously. My next responsibility as a fan is to learn more about the team, players, history, watch highlights, and read articles about the upcoming season.
As a fan, I also plan on purchasing West Ham United apparel. Most likely, I will start by purchasing this flag to hang behind my home office desk (what do you think?). As a 500-1 underdog to win the league, I also plan on placing a very small bet on West Ham to win it all.
The runner-up when making my decision was Tottenham, and it was a tough choice because Tottenham has a very skilled team that's fun to watch, and they appear to have a solid chance at competing for a championship. I really wanted a lovable underdog team to root for with some promise, and I think I found that in West Ham.
Thank you to everyone who commented on the previous article to help me find my new EPL club!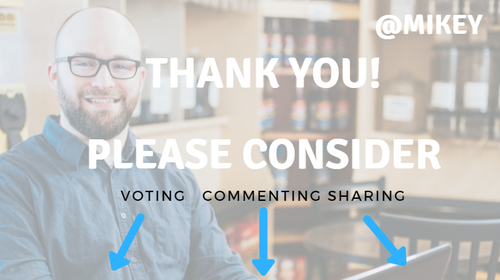 .What do you think of my pick? Please comment below.