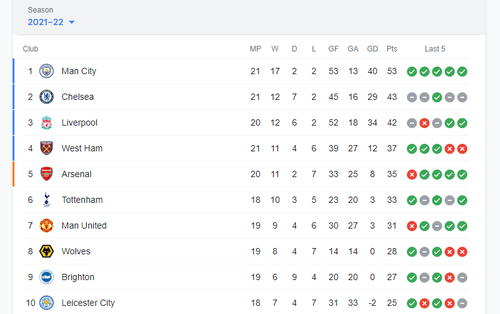 West Ham United has once again entered the top 4 in the EPL table after a month and a half full of subpar performances. After a hot start, the Hammers looked to be firmly stuck in the 6-8 range of the EPL table for the remainder of the season. After their third consecutive victory on Wednesday, and a loss by Arsenal, West Ham once again rose to claim a spot in the top 4. The move puts them in contention for a coveted Champions League spot.
West Ham dominated their match against Norwich City on Wednesday, finishing with a 2-0 win behind two goals by rookie Bowen. West Ham has another winnable match on Sunday against Leeds United, who they recently defeated in FA Cup play 2-0. After a match against Manchester United on 1/22, the Hammers play three consecutive matches against teams who are 10th in the standings or worse in Watford, Leicester City, and Newcastle.
As a West Ham fan, I continue to be shocked by their incredible play, but it's beginning to settle in. I'm not expecting a top 4 finish, but they feel right at home in the top 4 due to their high level of play. The match in a week and a half against Manchester United will show their true colors and if they do in fact belong in the top of the table.
What do you think? Is West Ham worthy of a top 4 spot in the EPL? Comment below!