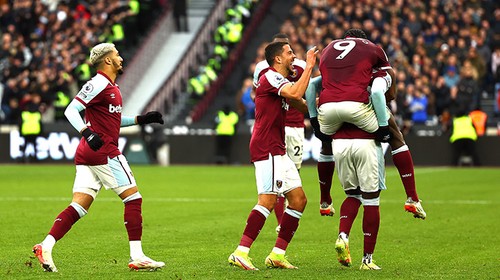 The West Ham United Hammers are traveling to Emirates Stadium to face off against the 6th-placed Arsenal Gunners today. While place 4th in the EPL table, West Ham are the underdogs in this contest, and for good reason.
As a West Ham United supporter, I am one of millions who have been shocked at the quality of play West Ham has displayed this season. Through 16 contests, the Hammers are 8-4-4, and have wins against Chelsea, Liverpool, Tottenham, and Manchester United (EEL play). If the Hammers want to hold onto 4th place in the EPL, and to secure a spot in Champions League play, they will need to hold off teams including Manchester United, Arsenal, and Tottenham, all of which are 3 points or less behind them.
That brings us to today's match against Arsenal. West Ham is the underdog (+225), despite recent win against Chelsea.
West Ham appears to rise to beat key opponents, while failing to take all three points from lesser opponents, as we witnessed on Sunday as West Ham was unable to score against Burnley, resulting in a 0-0 draw. But can they rise to the occasion against a side that is trying to jump them in the standings? With a win, Arsenal will jump ahead of West Ham to claim 4th place.
To keep their place in the standings and create separation from the rest of the pack, West Ham will need to come away with all three points.
Despite a great start to the season, I am skeptical that West Ham can keep up this level of play. Recent history tells us that West Ham still has to make improvements in order to truly contend for a top 4 spot in the EPL.
What do you think? Is West Ham worthy of a top 4 spot in the EPL? Will they win today against Arsenal?
Prediction: 2-2 Draw
Honestly, I will be a happy fan if West Ham can leave with a draw against Arsenal. Let's see what happens.