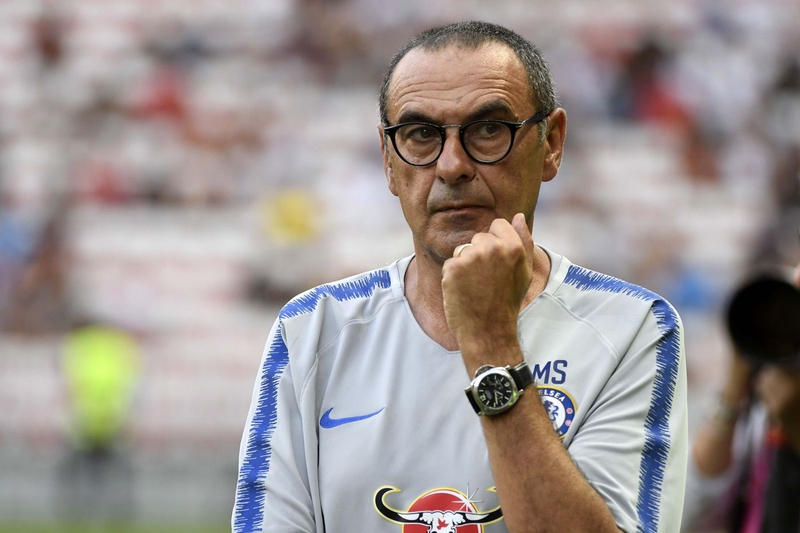 We all know how infuriating this summer has been for Chelsea thus far. While our rivals also haven't exactly been flying out of the blocks to sign players, there have been enough of those annoying announcement videos from other club's Twitter accounts for us to know that we have been lagging behind. Of course, we also know what appears to be causing that delay; the surely/probably/hopefully/soon-to-be imminent arrival of Maurizio Sarri to Chelsea - presumably he's been paddling his way from Naples in a canoe for a few weeks - as well as the club seemingly having misplaced their adverts for the director of football position.
These two predicaments are obviously creating some issues in terms of our player recruitment as well as causing apparent unrest among our current players. But, if (and this is a massive if) our managerial - if not DoF - saga is almost at an end, as all outlets are currently suggesting, then a stunted transfer window could be the making of some of our current younger players. For a start, we have to consider the incoming manager - Sarri is a manager who is known to like working with what he has got, and who much prefers keeping his nose out of transfer business as noted by our sister site. Consider the players in our squad who could benefit from real coaching rather than just being buried behind other options: Barkley came here after a horrible injury, during which he dropped from being one of England's hottest prospects to an also-ran in our squad - if Sarri can add greater technique and tactical awareness to his imposing frame then he could find that Sarri's 8/10 role that Hamsik made his own could be his calling. It is a similar story with Bakayoko, who began to show signs of life only at the end of a very disappointing campaign for him, with his personal nadir coming with the worst 30 minutes I've ever seen from a Chelsea player against Watford. But he too has attributes that could make him an absolute machine in the Premier League, if only he gets the trust and coaching that Sarri can provide. Morata - should he stay - is obviously someone who needs an arm around the shoulder and plenty of encouraging words in order to play at his best. I don't think Conte's second season was particularly full of hugs and kisses, which means that Sarri could be the one to remind him that he's a top quality striker, who has succeeded at two of the biggest teams in the world and should sure as hell be coming up with the goods at Chelsea.
All these players would benefit hugely from the sort of coaching that Sarri is famous for, but Chelsea's youth should also feel very excited about both Sarri's arrival and our lack of transfer market activity. Now that the 'Sarri doesn't play youth' narrative has been successfully debunked - Napoli's youth team is utter garbage, which is why Sarri didn't utilise them often - we can start to look at some of the players who might play a role next season. I won't go into much detail on our academy graduates, for fear of being ridiculed once they get loaned or sold, but the likes of Hudson-Odoi, Ampadu, Mount, James and of course Ruben Loftus-Cheek could all find a role in the new Chelsea system - to varying degrees of probability - if their pathway is not blocked by too many new signings. We also must remember that Chelsea will be playing in the Europa League next season, which is a great breeding ground for young talent as we have seen with the likes of Marcus Rashford and Harry Kane in recent years. If Sarri's rotation in the Champions League last season is any indication (although I am aware Napoli heavily prioritised Serie A, for obvious reasons) then he will make use of a whole load of fringe players, which could be hugely exciting for Chelsea's young prospects. As we have recently seen with Panzo, and last season with Solanke, our top prospects are increasingly recognising their value and looking away from SW6, in order to get their big break. Utilising our youth is a superb way of keeping player costs down, making the most of our best asset, and ensuring that we don't allow players we've invested in to leave on the cheap, and is something that I'm sure has been stressed by the Chelsea board.
All this is definitely not to say that we won't sign any players this summer - of course we will and we would be naive to think otherwise. This article merely hopes to show that even if we miss out on major targets, our current players with a few younger additions to the squad will be enough for Sarri to work with and improve. It seems as though after the Mourinho/Conte eras, we might be getting back to the transfer policy that brought us KDB, Lukaku, Hazard and Salah - identifying young players with huge potential and securing them before they've really broken out. Hopefully we don't fall back to old habits and older players and instead invest in the players we have with a few choice, young additions.