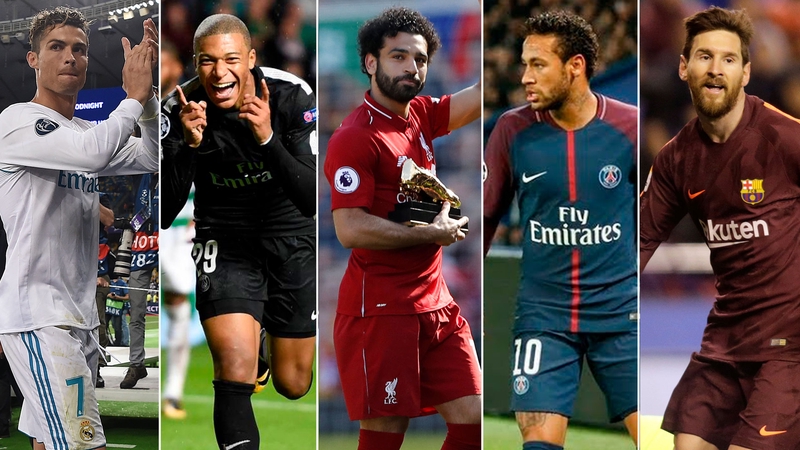 The 2018 World Cup in Russia ended July 15 and France won second place after 1998 and Croatia as runner-up - a new history for Luca Modric cs.
Not only the team, as many as five players crowned as the best of 731 other players. They are Luca Modrid (Croatia) earned Golden Ball, Kylian Mbappe (France) won Best Young Player, Harry Kane (England) top score 6 goal gets Golden Boot.
Furthermore, Eden Hazard (Belgium) earned a Silver Ball, Antoine Griezmann (France) earned Bronze Ball & Silver Boot (4 goals, 2 assists), Romelu Lukaku (Belgium; 4 goals, 1 assists) awarded Bronze Boot, and Thibaut Courtois (Belgium ) earned a Golden Glove.
Starting XI
In addition, FIFA has started the Starting XI or 11 best players for one team. Here's where:
Goalkeeper: Hugo Lloris (France)
Right Back: Kieran Trippier (England)
Center back: Raphael Varane (France)
Center-back: Dejan Lovren (Croatia)
Left-back: Ashley Young (England)
Defensive Midfield: Paulinho (Brazil)
Defensive Midfield: Luka Modric (Croatia)
Right midfielder: Eden Hazard (Belgium)
Attacking midfielder: Antoine Griezmann (France)
Left midfielder: Neymar (Brazil)
Attackers: Kylian Mbappe (France)
In this Starting XI there is only the name of two Brazilian players, one of four teams that qualify to the quarter-finals. While the names of players from Uruguay, Sweden and Russia go into it.
Then reap the controversy, among which goalkeeper Hugo Lloris not worth it because more deserving Thibaut Courtois (Belgium). Left Back position Ashley Young (England) better suited Lucas Hernandez (France). Paulinho also considered not suitable to be in Starting XI.
Other players are ignored as Harry Kane, Paul Pogba, N'Golo Kante, Kevin de Bruyne, and Ivan Persic.
Post-World Cup
While now the world cup talks are getting faded, where the players will return to their respective clubs to face the league competition 2018/2019 season. Of course some of them will be anchored in a new club or stay gradually in the old club.
Appropriate performances some of them in the world cup, their market prices also increased or decreased. As I quoted from the site transfermarkt.com, July 19, 2018 morning Indonesia time.
Down
The price of star players are down like Cristiano Ronaldo (down 20 million from 120 million euros), Robert Lewandowski (down 5 million from 90 million euros), Luis Suarez (down 15 million from 85 million euros), Thomas Muller, Sergio Roberto, Gonzalo Higuain each down 5 million euros from 60 to 55 million euros.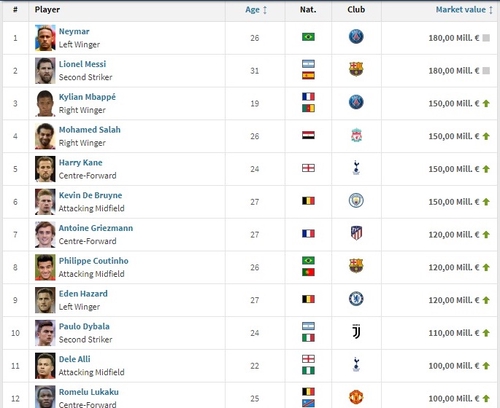 Standard
While Neymar (180 million euros), Paul Pogba (90 million euros), Ousmane Dembele (80 million euros), Sergio Busquets (80 million euros), Toni Kroos (80 million euros), Marco Asensio (75 million euros), Isco (75 million euros), others began to price 70 million euros down and still remain at previous prices.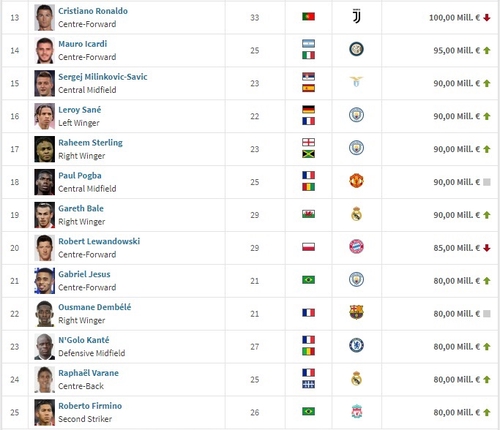 Rising price
Very remarkable, Mohamed Salah who could not bring Egypt away from knouct-out market prices jumped sharply as much as 70 million euro. Now the False Price is 150 million euro and the previous 80 million euro.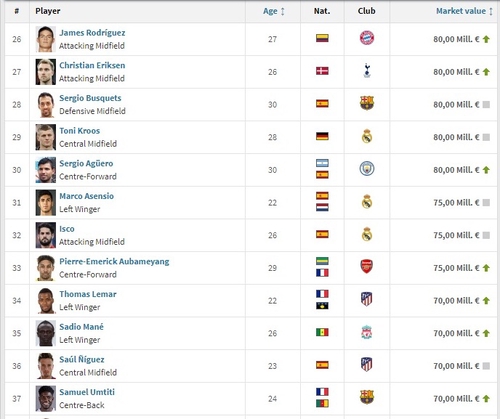 Furthermore Kevin De Bruyne rose 40 million euros from 110 million to 150 million euros. Kylian Mbappe and Harry Kane were up 30 million euros, from 120 million to 150 million euros. Antonio Griezmann and Philippe Coutinho up 20 million euros from 100 million to 120 million euros. Eden Hazard and Paulo Dybala up 10 million euros.