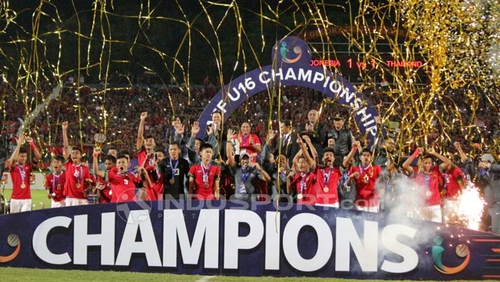 Tonight (Indonesian time), the Indonesian national team won the 2018 ASEAN Football Federation (AFF) Under-16 Championship after defeating Thailand on penalties at the Gelora Delta Sidoarjo Stadium, East Java, Indonesia, Saturday 11 August 2018. This victory is history new to Garuda Muda - Indonesia's junior nickname.

The Fakhri Husaini concoction team defeated the War Elephants - the nickname of Thailand on penalties. The two teams initially played a 1-1 score until an extension of 2x40 minutes. Then in the penalty shootout round, the score ended 4-3 victories for hosts Indonesia.

Indonesia went ahead through a substitute goal, Muhammad Fajar Fathurahman in the 32nd minute. Fajar scored just touching with his left foot after receiving an assist from Andre Oktaviansyah in the middle of the field.

A reply from Thailand in the 72nd minute was created by Apidet Janngam. Janngam scored after receiving an assist cross.

Penalty Shootout
While on penalties, Indonesian goalkeeper Ernando Ari Sutaryadi became a hero. He managed to stem two penalty kicks from Thai children.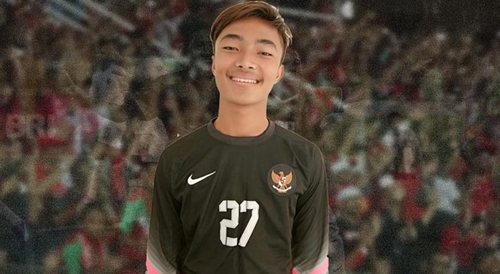 Player composition:
Indonesia (4-3-3): Ernando Ari Sutaryadi; Amiruddin Bagas Kaffa, Komang Teguh Trisnanda, Fadillah Nur Rahman, Mochamad Yudha Febrian; David Maulana, Brylian Aldama, Andre Oktaviansyah; Muhammad Supriadi, Amiruddin Bagus Kahfi, Amanar Abdillah. Coach: Fakhri Husaini.
Thailand (4-4-2): Anuchid Taweesri; Arthit Bua Ngam, Chatmongkol Rueangthanarot, Jakkrapong Sanmahung, Pongsakorn Innet; Thanarin Thumsen, Sarawut Soawaros, Thanakrit Laorkai, Sattawas Leela; Sitthinan Rungrueang, Thodsawat Aunkongrat. Coach: Thongchai Pungreangleas.
History
This victory is not just an Indonesian AFF U-16 Championship champion, but more than that, where this champion is a new history for the Indonesian junior national team. As long as it was held in 2002 and Indonesia 3 times had become the host, not even though they won the championship. 4th host, Indonesia's new junior champion.
Indonesia's highest achievement for 12 times has been staged backwards, Garuda Muda Indonesia was only runner-up in 2013 in Myanmar. Currently Indonesia is losing on penalties from Malaysia, scores 1-1 (2-3).

In addition, it only ranked third after defeating Malaysia in 2002 when it hosted. Finally, fourth place in 2007 in Cambodia after being defeated by Vietnam.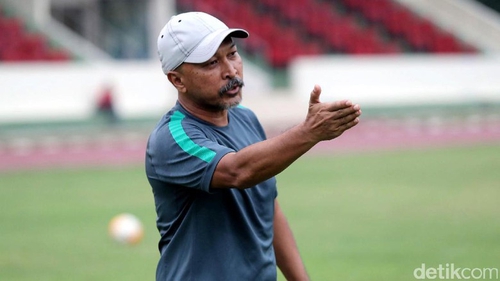 The AFF U-16 Championship Final Match
2002: Myanmar 4-1 Laos in Malaysia-Indonesia
2005: Myanmar 1-1 (4-3) Thailand in Thailand
2006: Vietnam RR. Myanmar in Vietnam
2007: Thailand 3-2 Laos in Cambodia
2008: Australia 1-1 (5-4) Bahrain in Indonesia
2009: Canceled in Thailand
2010: Vietnam 1-0 China in Indonesia
2011: Thailand 1-0 Laos in Laos
2012: Japan 3-1 Australia in Laos
2013: Malaysia 1- 1 (3-2) Indonesia in Myanmar
2014: Canceled in Indonesia
2015: Thailand 3-0 Myanmar in Cambodia
2016: Australia 3-3 (5-3) Vietnam in Cambodia
2017: Vietnam 0-0 (4-2) Thailand in Thailand
2018: Indonesia 1-1 (4-3) Thailand in Indonesia
Champion Collection
Thailand: 2007, 2011, 2015;
Vietnam: 2006, 2010, 2017;
Myanmar: 2002, 2005;
Australia: 2008, 2016;
Malaysia: 2013;
Japan: 2012;
Indonesia: 2018.
The 2018 AFF U-16 Championship
This year the AFF U-16 Championship was held in two cities in Indonesia, namely in Gresik (Gelora Joko Samudro Stadium) and Sidoarjo (Gelora Delta Stadium), East Java Province. Starting from 29 July to 11 August 2018 or this evening ends after Indonesia wins first place in history.
Under Indonesia, runners-up were won by Thailand, Malaysia won third place and Myanmar won fourth place. This year followed by 11 countries from 12 members of the Southeast Asian Football Federation (ASEAN Football Federation (AFF). Australia is absent from this championship.

The 11 countries are Indonesia (hosts), Myanmar, Vietnam, Timor Leste, Cambodia and the Philippines are in group A. Indonesia and Myanmar qualify for the knockout. While Thailand, Malaysia, Laos, Singapore and Brunei Darussalam are in group B. Thailand and Malaysia qualify for the knockout.