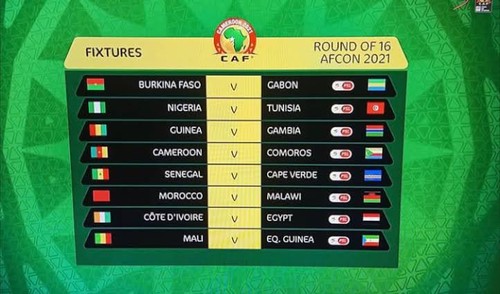 The AFCON 2021 group stages match came to an end yesterday evening in group F when Gambia defeated Tunisia 1-0 to finish 7 points behind Mali who also defeated Mauritius by 2-0. The round of 16 is always the round where the smallest teams start fizzling out for the big boys to show their strength against each other. Some countries left on their own we prefer to meet some other countries; may be the weaker ones to have an advantage to advance to the next round and the strong teams will try as much as possible to avoid each other till later stage of the tournament. Some of the teams tips to be the favorites to lift the trophy have done excellently in the group stages are Senegal, Egypt, Cameroon, Nigeria, Ivory Coast and Algeria: unfortunately have been knocked out of the competition.
One of the most interesting features of the round of 16 will be the match between two African champions Ivory Coast of West Africa facing their North African counterpart Egypt. Ivory Coast finished with 7 points after defeating Algeria 3-1 in last group E match while Egypt finished second in group D with six points.
Nigeria who finished with 9 points will square up with Tunisia as best losers of group F following their 1-0 defeat by Gambia.

The host country Cameroon will face newcomers Comoros following victory against Ghana in one of the most interesting game of the AFCON 2021 tournament.
Senegal one of the tournament title favourite highest FIFA ranked in Africa will have to face Cape Verde.
Whichever team that must win the tournament must not be afraid of who their next opponent will be but should rather prepare and focus on winning the next game.