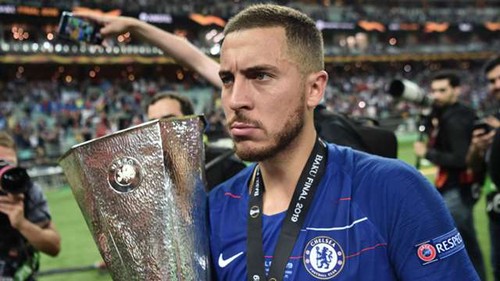 It will be a great disservice to me on my keyboard not to celebrate one of my own players who flew the Chelsea flag with dedication and determination. Have given his best for Chelsea, Hazard decided to go adventure to the club of his childhood dream. Not distracted my the media and every attempt, Eden Hazard never allow his ambition distract his colleagues and that ultimately earned him the highest honor and love on the blue jersey. Though am not a big fan of individuals awards but l must not neglect to celebrate Eden like most Chelsea fans will agree with me.
Chelsea former player and talisman Eden Hazard has been crowned the Europa best player of last season. Hazard whose two goals in the finals against fellow London rivals Arsenal helped he blues to silence their neighbors. He made Eight appearances throughout the competition.
.
Hazard had to beat his former team mate Oliver Giroud to the award. Recall that, Giroud was the tournament highest goal scorer and his goals against his former side contributed in Chelsea 4-1 triumph over Arsenal. Hazard who departed Stamford Bridge to Real Madrid came above his team mate Luka Jovic who was excellent with Eintracht Frankfurk in their run to the semi finals. Hazard made 52 appearances last season scoring 21 goals: his highest in a season and assist 17 times.
.
Hazard was a wonder kid from Lille haven won the French player of the year before coming to Chelsea at the wake of lifting the Champions league title in 2012. He immediately established himself in the team and went on to be the key member of the squad. In his 352 overall games for the Blues, the Belgian international scored 110 goals and assisted 91 times.
.
Hazard won every trophy on blues shirt except the Champions league. He is forever loved my Chelsea faithful as we wish him best at Real Madrid.
Visit scorum for all you football prediction and analysis. The best sport site in blockchain.