This is my entry for happy moanday post: a contest design by @pete to encourage both new and old blogger on this platform. However, l have learnt a lot writing about peoples on happy moanday. Follow the link below to participate
https://scorum.com/en-us/extremesports/@pete/happy-moan-day-may-13th-2019
Life can never be interesting without challenges and moments of surprises in our daily life. Such was the fate of Manager Chris Husghton as he was issue a sack letter 24 hours after the final match of the 2018/2019 English Premier League season by the chairman of his club side Brighton and Hove Albion. He may have wondered on what bases he was asked to leave a club he has managed for four and half year, bringing them from lower division to the main stream football .

Despite securing them a ticket to next season premier league as well his team reaching the FA Cup semi final, it wasn't enough reason to secure his job. This he had achieved when Brighton escaped relegation zone with two more matches to go to finish 17th on the log ahead of Huddersfield, Fulham and Cardiff City. Well, every pundit may admit that the punishment the Seagulls melted on Husghton was inappropriate being the first manager to take them to top flight football experience for two seasons running. He was the 7th longest serving manager in the league across all English football leagues only bettered by Tottenham Pochettino Mauricio, Burnlry's Sean Dyche and Bournemouth's Eddie Howe.
It was no fault of his when he lost his last game for of the season by 4-1 against the league Champions Manchester City. Liverpool fans sarcastically may have hoped that a small club whose players value is less than $80m will cause an upset by at least drawing Pep Guardiola men with half a billion dollar investment on players. whether chairman Tony Bloom was angered by the fact the Manchester club's sparking title celebration in from on the home fans at Amex Stadium and the following morning confirmed the immediate relieve of Hughton's job is my sarcasm while the club's Anti-discrimination group ''Kick It Out'' apologized to Husghton and the large fan base on behalf of the group head of development Troy townsend who is an interview with Daily telegram said ''the drive for more minority ethnic coaches to be given opportunities was now at worse than square one'' was never in any way affiliated to ethnicity.
The club decision was stemmed from Brighton poor second half season performance that saw them won only 3 of their 23 premier league matches which the chairman said was posing a big risk to the club that recorded their last victory on March 9th when they defeated crystal Palace.
Troy Townsend fumed
''What people don't understand is the real difficulties for black managers getting through the bottle neck at the top of football'' he said in an interview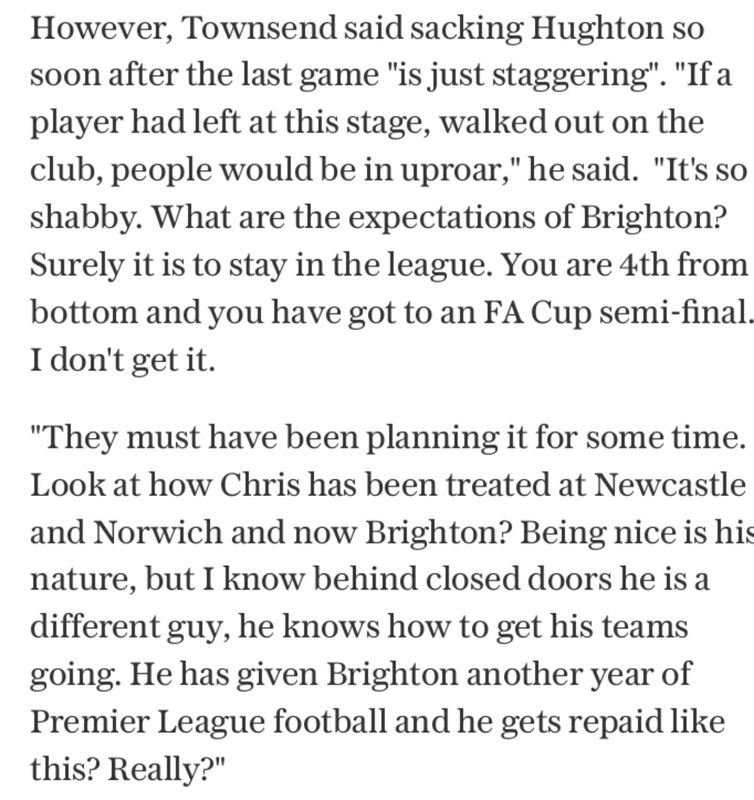 Following Chris Husghton sack at the helm of affair at Brighton, his assistant Paul Nevin who is regarded as one of the England's best young black coach will also leave the club as part of the changes being made by the club management. This now leaves Nuno Espirito Santo only black, Asian, and minority ethnic (BAME) manager in EPL with none in Championship after Darren Moore was controversially sacked by West Bromwich Albion while still in contention for promotion while Sol Campbell was forced to take his career in management at Macclesfield Town, who were already bottom of League Two.

Chris Husghton is aware before now that the nature of their job is so volatile that issue of this nature shouldn't be a surprise at all and since it has come to his domain, he should accept it good fate, prepare himself for a new challenge else where and very so, just very soon will land another job seeing the works he did with Brighton and Hove Albion.
''You never know how strong you are until being strong is the only choice you have" Bob Marley